HOME | BOOSTER | CEMETERIES | EDUCATION | GHOST TOWNS | HEADSTONE
MINOTTO | PICTURES | ROADS | JACK SWILLING | TEN DAY TRAMPS
Arizona Pioneer & Cemetery Research Project
Presentation
<![if !vml]>

<![endif]>
T H E  H I S T O R Y
O F
C U L L I N G' S  W E L L
By
Carlos L. Hernandez<![if !vml]>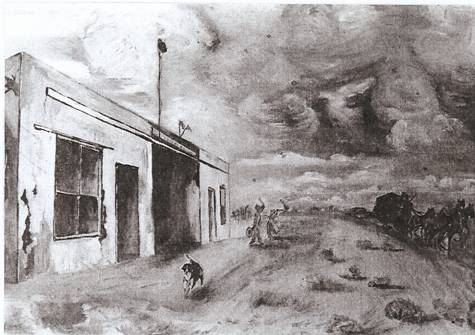 <![endif]>
Copyright © 2000 by Carlos L. Hernandez
All rights reserved
Reproduction by the Arizona Pioneer & Cemetery Research Project for the internet was authorized, sanctioned and approved by Mary Hernandez, wife of the late Carlos L. Hernandez as well as the approval of the Carlos Hernandez family.
A Special Thanks to My Son
THOMAS A. HERNANDEZ
For His Help in Researching the Drew and Culling Families
CONTENTS
Chapter                                                                                                            Page
                      PROLOGUE
I                     JOSEPH SAMUEL DREW                                                         1
II                    CHARLES C. CULLING                                                            6
III                   MARIA VALENZUELA                                                            15
IV                  LIFE AT CULLING'S WELL                                                     20
V                    A MOST DIFFICULT TIME                                                       40
VI                  BUSINESSMAN AND PROSPECTOR                                      44
VII                 JOSEPH DREW AND MARIA CULLING                                 49
VIII                RETURN TO CULLING'S WELL                                              65
IX                   THE LIGHTHOUSE IN THE DESERT                                       112
X                     CONCLUSION                                                                           124
                      EPILOGUE                                                                                 134
                      BIBLIOGRAPHY                                                                       135
Cover Photo: Culling's Well from a painting by Pauline With.
L I S T  0 F  I L L U S T RAT ION S
Plate I, following Page 1
Plate I Joseph S. Drew - Keeper of  The Lighthouse in the Desert.
Plates II through X, following Page 5
PLATE           II           Mining Camp of Vulture, Arizona Territory (Circa 1885).
PLATE           III          Vulture Mine (1900).
PLATE           IV         Part of Mining Camp (1900).
PLATE           V         Assay Building and Weight Scales (1900).
PLATE           VI         Vulture Mine and Mill (1903).
PLATE           VII        Main Shaft and Power Plant at Left (1990). 
PLATE           VIII       Main Shaft and Power Plant (1990).
PLATE           IX         Main Shaft (1990).
PLATE           X         Ball Mill (1990).
Plates XI through XII, following Page 8
PLATE           XI         Front View of the Buildings at Culling's Well (Circa 1880).
PLATE           XII        Ruins of Old Culling's Well Stage Station (Pete Messey, who owned Culling's Well in 1951, is shown in the foreground).
                                    Plates XIII through XIV, following Page 19.
PLATE           XIII       Maria Valenzuela Culling Drew and Daughter Melina "Addie" Drew.
PLATE           XIV      Maria Culling Drew and Children.
PROLOGUE
Dozens of articles have been written about Culling's Well and of the Lighthouse in the Desert.
Some of these articles have been fairly accurate but some are too far-fetched and were not based on the true story of this historic site.
I have based this publication on facts as recorded by the daughter of Joseph S. Drew and Maria Culling Drew, Adelina "Addie" (Drew) Loza, and on other historical documents.
My wife, Mary Laura (Drew) Hernandez, is the granddaughter of Joseph S. Drew and Maria Valanzuela Culling Drew.
Numerous members of the Drew and Culling families still survive and this book is dedicated to these families.
Carlos L. Hernandez
August 13, 1990
THE HISTORY OF CULLING'S WELL
CHAPTER I
Joseph Samuel Drew
"He swung a lighted lantern from a tall pole mounted on his well frame. The light was visible for many miles along the trail, and for years it guided the weary travelers to water and safety. Thus came into being the paradox of a lighthouse on a sea of sage and sand."
This is the true story of Joseph S. Drew, the founder and keeper of the Lighthouse in the Desert at Culling's Well.
Joseph was born in Brooklyn, New York, on September 14, 1845, to John S. Drew and Sarah Pope. Both John and Sarah were born and married in London, Eng­land. They came to the United States in 1832 and resided in New York and various places in the East until they moved to Burlingame, Kansas on May 18, 1855.
The history of the Drew family is chronicled in C.R. Green's "Early Days in Kansas," Vol. II, and is well-documented.
John Drew was one of the oldest "pioneers of Osage County, Kansas. He was a well-known figure there until his death in the city of Burlingame, Kansas, on October, 1897, at the age of 98 years and 6 months. Sarah Pope died at Bur­lingame on July 31, 1874.
John and Sarah's family consisted of George, Sarah, William Y., Josiah R., Elizabeth, Naomi, Charles P. and Joseph S. (the youngest).
George and Sarah were born in England. Sarah died there. The rest of the children were born in the United States.
<![if !vml]>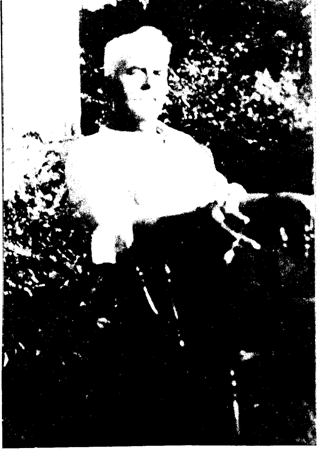 <![endif]>
PLATE I
Joseph S. Drew
Keeper of The Lighthouse in the Desert
- 2 -
George served as a Lieutenant in Co. I, 11th Kansas Cavalry and was wounded on December 7, 1862. After the Civil War he was appointed a clerk in the War Department at Washington, D.C. and served in this position until his death.
William Y. also served as a Lieutenant in the Civil War in 1861 in Co. D, 2nd Kansas Infantry. After the War he served as county clerk until his retire­ment.
Josiah R. filled the Office of Deputy Treasurer for many years and also served two terms as County Treasurer in Lyndon, Kansas. He served in three or­ganizations during the War of the Rebellion, from 1861 to 1866: The 2nd Kan­sas Infantry, as a Private; Co. I, 11th Kansas Cavalry, as a Sergeant; and 2nd and 1st Lieutenant of the 18th U.S. Colored Troops.
Elizabeth was born in Boston. She married Nathan Densmore who died on the first anniversary of their marriage. Their only child, a daughter, was seven weeks old when Nathan died, and she only lived to be six months old. This was a very tragic life for Elizabeth, who remarried eight years later to W.P. Dem­ing.
Naomi, John's youngest daughter, also met a tragic death at the age of seventeen. She drowned while on her way to a Fourth of July celebration.
Charles P., fourth son in the John S. Drew family, did service in Co. I, 11th Kansas Cavalry, as· a Corporal, was wounded in the engagement at Prairie Grove, December 7, 1862, and remained in service throughout the war. He later was Captain of the militia company in Burlingame. He was appointed Adjutant General in the Kansas State Militia, and, as of October, 1915, was residing at Topeka, Kansas.
Joseph, the youngest of John Drew's family, whose story is being written here, struck out for himself in early life.
Approaching maturity at the close of the Civil War in 1865, Joseph engaged
- 3 -
in mercantile pursuits in various Kansas towns, latterly at Fort Dodge, whence he came to Arizona.
Joseph was a medical student in his youth but the California Gold Rush, which lasted from 1849 to 1860, lured him to the American \vest.
Joseph's first stop upon arriving in Arizona was Prescott. He had the appointment of sutler (a follower of an Army camp who peddled provisions to the soldiers) to the Sixth Cavalry while enroute from Kansas.
By the time Joseph Drew arrived in Prescott, the city had already been the site of the capital from 1864 to 1867. Almost immediately, Prescott had saloons, stores, government offices and a $5,000 theater. The Ninth Legislature moved the capital back to Prescott from Tucson in 1877. The capital was moved to Phoenix in 1889.
The return of the capital to Prescott contributed substantially to the growth of the community.
Although Joe Drew's first stop upon arrival in the .Arizona Territory was at Prescott, he and a gentleman by the name of Ruggles decided to pool their resources, formed a partnership, and decided that the place to make a fortune would be at Vulture, where they did become very successful.
Vulture was fourteen miles southwest of Wickenburg and was one of the lar­gest communities in the Arizona Territory and nearly became its capital.
In 1863 Henry Wickenburg discovered the Vulture Mine, one of the richest in Arizona's territorial history. There are various stories concerning how Wickenburg stumbled across the mine. One is that he shot a vulture and on picking it up noticed gold nuggets lying on the ground. The second says that his burro ran away and in anger Wickenburg threw rocks at it until he noticed that one of the rocks contained gold. Another reports that Henry Wickenburg noticed a number of buzzards hovering over this peak at the time he made his
- 4 -
discovery.
After the mine was in operation for several years, a community grew at the millsite known as Vulture City. There were forty-six dwellings and nearly two hundred inhabitants in 1870.
After the cottonwood trees and mesquite had been cut to feed the mill, it was moved down the Hassayampa to Seymour. In 1879 the newly-formed Central Arizona Mining Company built twelve miles of six-inch pipeline and erected an eighty-stamp mill at the mine. Soon Vulture City shifted from the Hassayampa to the new milling operation at the Vulture. The town grew to support three hundred residents in the mid-1880's.
Although Vulture City grew rich am lusty, it was reportedly an extremely dull camp. Stage robberies provided some entertainment.
The Prescott Weekly Arizona Miner, dated October 22, 1875 had this to say about Joseph Drew's initial venture at Vulture: "Another store – C.W.N. Ruggles and Jos. Drew have arrived here with a stock of general merchandise from Kansas, and having leased a lot from A.L. Moeller are building a store house between Asher and Co's new store, corner of Montezuma and Goodwin Streets, and Frederick and Heenan's tin shop. The building will be 24 x 50 feet and front on Montezuma street, three doors north of the Miner Office. Ruggles and Drew had the appointment of sutlers to the Sixth Cavalry while enroute to Kansas here and now propose to settle into a regular trade." Joseph Drew was thirty years old at the time.
These two entrepreneurs sold everything from mules (Weekly; Arizona Miner, December 3, 1875), to groceries (Weekly Arizona Miner, March 3, 1876), to Gen­tleman's hats (Weekly Arizona Miner, April 14, 1876).
On May 19, 1876 Joseph decided that being a storekeeper was not exciting, and prosperous enough for his tastes, so he closed out his stock of groceries
- 5 -
and liquors to devote himself to mining and prospecting (Weekly Arizona Miner,
May 19, 1876).
Joseph joined forces with R. Pittibone, Frank Shultz and Len Sivyer, and together they went in search of riches and fame.
The Weekly Arizona Miner had this to report on June 30, 1876: "Drew, Pettibone, Sivyer, Keys and Shultz and Co. have made another discovery on Cherry Creek this time and are sinking on it. Len Sivyer was in town day before yes­terday and took out a bellows and other blacksmith's tools, some grub, etc., and. say may have a good prospect, but are not prepared to say how good just yet un­til they prospect a little further."
Joe Drew was well on his way to becoming a successful miner and he had no way of knowing that what was happening at Culling's Well, some thirty-eight miles west of Wickenburg at the time, would change his life completely.
<![if !vml]>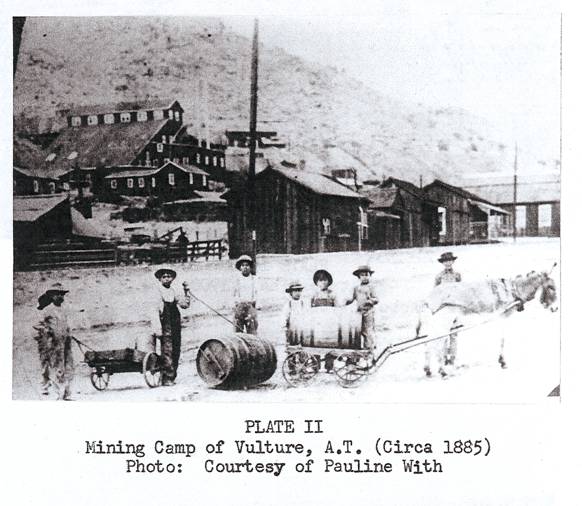 <![endif]>
<![if !vml]>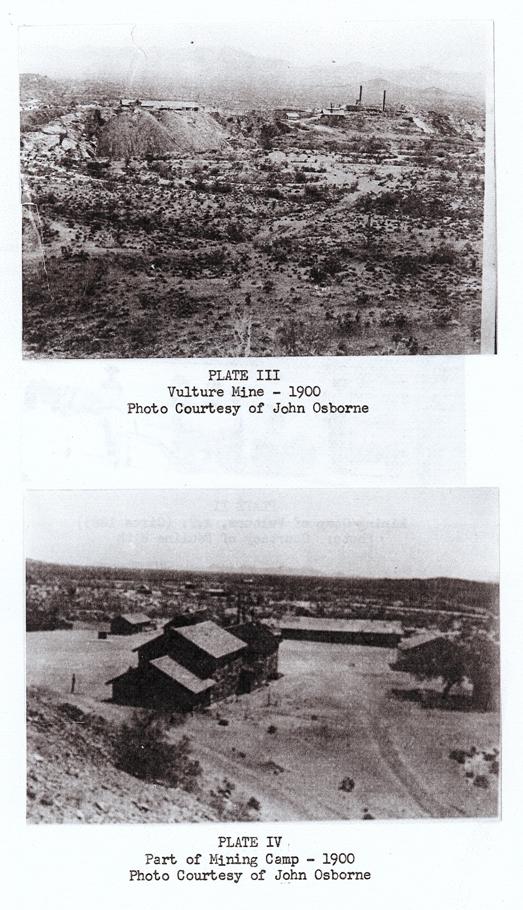 <![endif]>
<![if !vml]>
<![endif]>
<![if !vml]>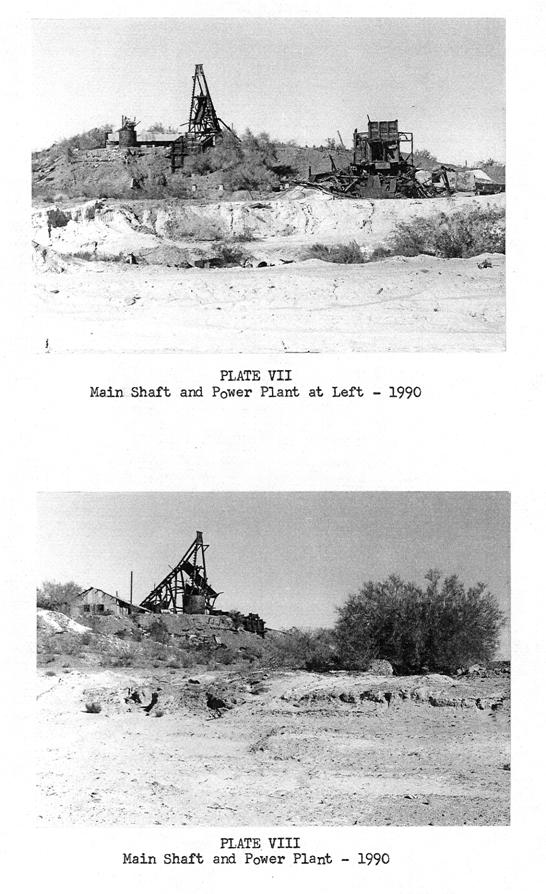 <![endif]>
- 6 -
CHAPTER II
Charles C. Culling
Charles C. Culling was born in London, England about IB25 and was a saloon keeper before leaving that country.
After the notoriety of California t s gold fields swept 'round the world, ad­venturers of all kinds -- from every walk of life, turned their faces west ­obsessed with one thought: sudden wealth. For many of them, the long, arduous trek in California ended in death; for others it meant only disappointment and disillusion. Many had thrown caution to the wind -- had burned all bridges be­hind them. When they found no gold, they were lost -- life held no purpose for them. Some tried ranching. Some went to work on the clipper ships. And some moved into the unexplored wilderness that was the Arizona Territory. One such was Charles C. Culling.
When Charles Culling arrived at Arizona City (now Yuma) in 1864, and upon boarding a sturdy little steamboat, piloted by Captain Isaac Polhamus, on the Colorado River for La Paz, his mind took him back to his home in London; to the many years he had spent at sea in that country, and he wondered if he would ever see Great Britain again.
After a short stay at La Paz, he settled in Vulture City and was one of the first employees of Henry Wickenburg at the famous Vulture Mine. He then pros­pected the Weaver country in company with William H. (Bill) Kirkland, notable Arizona pioneer.
Excerpts from the Special Territorial Census of 1864, taken in Arizona, shows Charles C. Culling at 40 years of age, single, length of residence 9 months, occupation - miner. On April 4, 1864 Culling signed a petition to have the capital located in the Walker-Weaving Mining La Paz District. This, of course, never materialized. (Weekly Arizona Miner, April 4, 1864).
<![if !vml]>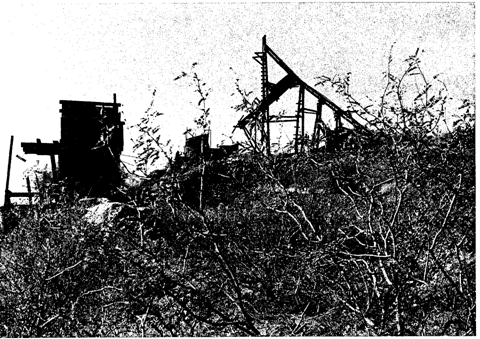 <![endif]>
PLATE IX
Main Shaft - 1990
<![if !vml]>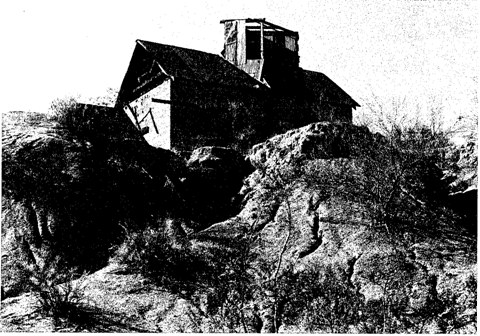 <![endif]>
PLATE X
Ball Mill - 1990
- 7 -
La Paz, located seven miles north of present-day Ehrenberg, was a very rich and extensive gold-mining district. It had its beginning when Captain Pauline Weaver, noted Arizona frontiersman, discovered gold near the Colorado River in 1862.
The first surge of people flooding into the area had little to eat besides mesquite beans and fish, but it did not matter. Gold was the answer to all problems. In the evenings miners and gamblers would spread their blankets on the dusty street and play cards for the heavy nuggets.
La Paz grew by leaps and bounds. A year later the town, thronging with Mexicans, Indians and white men, numbered about fifteen hundred citizens. It became an important landing and freighting point on the Colorado River, and was the county seat of Yuma until 1871. La Paz was previously considered as a pos­sible capital for Arizona Territory.
Gradually the Colorado River changed its course, leaving La Paz abandoned as a steamboat landing. Placer gold began to give out, and people scurried away to the more promising settlement of Ehrenberg down-river.
Charles Culling was a visionary and he was aware that the California and Arizona Stage Company ran two stages daily, one to the east and one to the west, from Ehrenberg to Wickenburg and Prescott, and he also knew that this same route was used extensively by freight teams.
It was at a site where the road forked, the right hand branch going forty-­five miles eastward to Wickenburg, and the other more northerly via Camp Date Creek, forty-five miles, and thence to Prescott, a total of 105 miles.
In the latter part of 1865, Charles Culling decided to establish a stage­coach station at the location where these roads intersected, but before doing this he had to locate water in the immediate vicinity.
Here, in this desolate location, in what is known as McMullen Valley, the
- 8 -
headwaters of the Centennial Wash, between the Harquahala Mountains to the south and the Harcuver Mountains to the north, Charles Culling set up a tent and with the help of a Mexican by the name of Jesus Altamarino, and other workers, they dug a well, some four miles from what was to become Culling's Well, to 200 feet, but they failed to find water. Undaunted, and with a fierce determination, Charles refused to give up and then moved to the Culling's Well site where at 240 feet his tenacity paid off when a good flow of water, sweet and soft, was struck. He continued down another 25 feet to insure a plentiful supply.
Thus was established Culling's Well, an oasis in the middle of a lonely and dangerous road frequented often by hostile Apache Indians eager to loot, plunder and kill any unwary traveler.
Charles rounded up some men and erected a large adobe building for protect­ion against the Indians. In time he was to add additional rooms to accommodate his family and occasional weary travelers who stopped by for room and board.
The well furnished a fine and unfailing supply of water. The water was cool and was drawn up from the darksome depths of the well in a great bucket made from a wooden barrel. The revolving drum above the mouth of the well was operated by a blindfolded mule that knew - to an inch - just how many rounds were required to be made before the dripping, clanking bucket would reach the top and automatically empty itself into a trough. At other tanks and troughs - a short distance from the station - always stood cattle and horses purchased by Culling from time to time, and. which were turned loose on the range, but came there to drink of the life-giving water.
In addition to the daily stage each way (at first they had been weekly), many freight teams stopped at Culling's Well. Here animals were watered at twenty-five cents per animal, or fifty cents per barrel. Culling was shrewd enough to obtain a contract with the stagecoach line to have all their stock
<![if !vml]>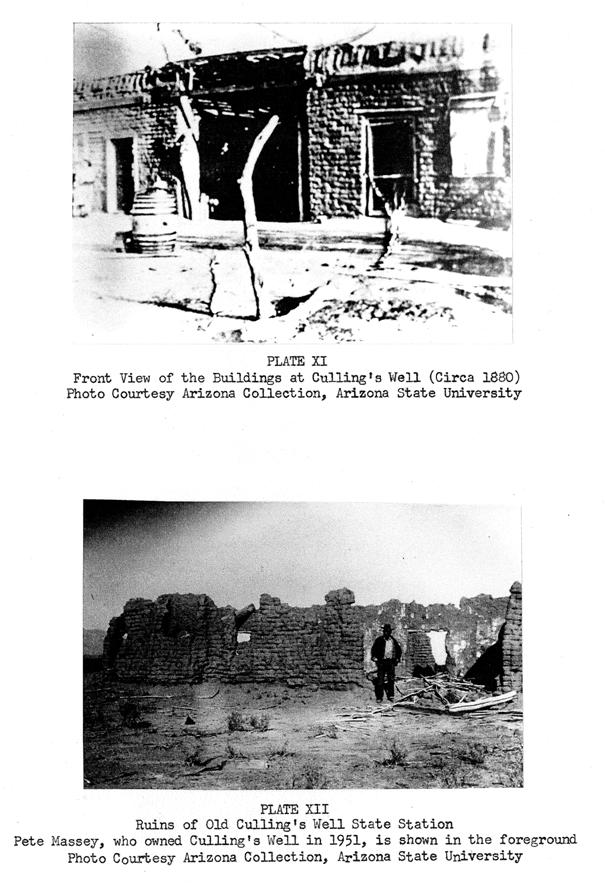 <![endif]>
- 9 -
watered at the well. His business soon became very profitable, to say the least.
The Butterfield Overland Mail promoted adequate service across Arizona. The stages that passed daily were six-horse affairs.
The movie-style Concord stage was used on the eastern and western ends of Butterfield's run, but for crossing the deserts and mountains the firm used a light-weight "Celerity Wagon" specially designed for the route. It had up­holstered seats which could be folded down to make beds.
Stagecoaches of that era had an oval-shaped body resting on straps slung between the front and rear axles. This type of suspension enabled the body of the coach to roll rather than jerk or bounce when the wheels hit obstructions. Nine to twelve people could be seated inside depending on the model and addition­al passengers rode on the top. Mules, instead of horses, were used on the "Cele­rity Wagons". These mules were more adaptable to rough mountain and desert travel.
In her book, "Ghosts of Adobe Walls, It Neil Murbarger writes: "It is not now known, or will it ever be known, how many lives were lost in the course of sixty odd years of staging in Arizona Territory. Indians, bandits, accidents, heat and cold and thirst, each took its toll of the hard life of staging -- a life that of times demanded the last ounce of courage from horses and mules, drivers and swampers, station tenders, and passengers."
Charles purchased small amounts of food at the Goldwater's store in La Paz in 1867 and 1868. He also obtained stocks of food for the station from the government, which he distributed to the Indians. He hired a Chinese cook to prepare the food.
By now Culling's Well was becoming well-known.
The Weekly Arizona Miner published this item on December 17, 1870: "Mr.
- 10 -
Calvin White of the firm of Allen & White, arrived home on the night of the 13th from San Bernardino, California and had this to say regarding Stations and Sta­tion-Keepers along the route: 'He is not very lavish in his praise of a majority of the station-keepers along the route, and the manner in which they keep their stations, but speaks in high terms of Charles Culling, keeper of the station at Culling's Well, who, he says, has a nice, clean place, and takes pleasure in treating travelers well. Wish the others would copy after Charley. He know it would be to their profit to do so.' "
The Arizona Miner of March 14, 1868 published a notice to all teamsters and. travelers showing the "Safest and Best Route from the Colorado River to the Interior of Arizona," which included Culling's Well, had this to say about the route: "Abundance of water for men and animals at all times. There is plenty of feed on this route. The Indians are peaceable on the route."
Approximately a year later the Indians were not as "peaceable," for on February 26, 1869, the stage traveling from La Paz to Wickenburg, carrying the mail and two passengers, and driven by Bill Tingley, was attacked by Indians who had hidden beside the road at Granite Wash (between the present towns of Hope and Salome). As the stage approached, the Indians began shooting at the stage, which scared the horses driving them right into another band of Indians concealed in the high grass nearby. Driver Tingley, however, managed to swing the team around and continued on towards Wickenburg while passengers held the Indians at bay. During the fight both Tingley and passengers were wounded but the horses finally outran the Indians and they made it safely to Culling's Well.
The Apache Indian problem had its beginning in the southwest in early 1861 when Lieutenant Colonel Pitcairn Marrison detached Second Lieutenant George N. Bascom and approximately sixty men to recover a white boy and. some cattle that
- 11 -
had supposedly been stolen by the Chiricahuas earlier. Although Cochise, the Chiricahua chieftain, came into Bascom's camp voluntarily, accompanied by sever­al of his relatives and friends, Bascom had them surrounded and demanded the return of the boy and the cattle declaring that Cochise and his party would be held hostages until both were brought in. Cochise protested his innocence to no avail. Sensing that the Lieutenant meant what he had said, Cochise drew his knife, slit an opening in the side of the tent and escaped unharmed. One war­rior followed his chief through the hole in the tent but was killed. The other six, mostly relatives of Cochise, were seized as hostages. This tragic and needless episode became known as the "Bascom Affair."
The "Bascom Affair" so enraged Cochise that he launched a long and terri­ble war, intending no less than the total extermination of all Americans in Arizona.
With the New Mexico Territory stripped of troops due to the Civil War, the odds lay with the Chiricahuas. In two months they slashed their way through dozens of white settlements in the Arizona country and took 150 lives.
Most of the early governors identified the hostile Apache as the chief ob­stacle to civilization in frontier Arizona.
Governor Goodwin, who had been appointed as governor to the Territory by Lincoln on August 18, 1863 although the Territory of Arizona was not formally established until December 29, 1863 at Navajo Springs, requested. that a suffi­cient number of federal troops be sent to round up those Indians who persisted in plundering and desolating the Territory.
In 1865, because of the Indian depredations in the Territory, the district of Arizona, a part of the Department of California, was placed under the command of Brigadier General John S. Mason, who came east from California with 2,800 men to re-garrison the old posts and to establish new ones. But little was accomplished
-12-
by these troops as the Apaches continued to raid at will, Then on April 15, 1870 the district was detached from California and made a separate department.
Under the command of Brigadier General George Stoneman, a new policy was in­itiated based on the theory that the Indians would respond to kindness, religious instruction, and training in agrarian methods.
Stoneman made treaties and established reservations with those Indians who would accept them, and by feeding the Indians when they agreed to these terms.
The "Carnp Grant Massacre" of April 30, 1871, in which a citizen army from Tucson, composed of approximately fifty enraged Americans and almost one hundred Papago Indians, attacked a reservation for the Aravaipa Apaches near Camp Grant and killed one hundred and eight of the Indians and carried off twenty-nine chil­dren into captivity, only enraged the Apaches that much more.
Lieutenant Colonel George Crook arrived in the Territory on June 4, 1871 and took command of the Department from Stoneman. His job was to undertake a field campaign to force the renegades to reservations. Cochise and the Chiricahua Apaches signed a treaty in which they were given a reservation in southeastern Arizona. He honored this treaty until his death on June 8, 1874.
After Cochise's death, his oldest son, Taza, became the head of the Chiri­cahuas. Due to his lack of strong leadership the tribe split with some of the tribe remaining in the reservation and the rest of malcontents fleeing to the mountains determined to continue their open warfare in 1876 under the leadership of a rising war leader, Geronimo.
Charles Culling, in the meantime, continued to distribute government food, mostly flour and staples, and was generally not bothered by the Apaches until January 18, 1871.
On January 23, 1871 a letter was written to the Editor, Arizona Miner, from Camp McDowell, Arizona Territory, which reads as follows: "I suppose are
- 13 -
this reaches you, you will have heard of still another outrage at Culling's Well on the La Paz road. About daylight Wednesday morning, the 18th, the Indians ran nineteen head of horses and mules belonging to Mr. Culling, and seven head of oxen from the train of M. Cavaness. As soon as the loss was discovered Messrs. Culling and Cavaness started in pursuit, following them into the White Tanks. Finding the party was too large for them to cope with, and the trail leading in the direction of the Verde, they started at once for this post, and arrived here Saturday morning about 8 O'clock. As every available horse was out with Major Veil, after the stock of W. B. Helling & Co., Colonel Sanford was compelled to mount fifteen men part of them Infantry, on mules of the Q.M. Dept. Lieu­tenant J. M. Ross was placed in command and started in immediate pursuit taking a straight course to the Verde. About eight miles from the post, the trail was struck crossing the river. Following it for nine miles they suddenly came on the Indians, who were encamped, cooking and eating an ox. The troops charged them, but the country being exceedingly rough and almost impassable for horses, the Indians succeeded in getting off, though leaving in their precipitate flight, every single thing they possessed. Nine horses, three mules, and three oxen were recaptured, besides bows, arrows, knives, blankets, etc.
As Lieutenant Rose's animals were completely used up and his party too small to enter far into the dangerous country, he was compelled to return to the post, arriving here safely the same night, with all the recaptured stock."
(The article goes on to rake the government over the coals for not mounting the Infantry, so they could be twice as effective against the Apaches, etc.)"
Another raid by the Indians occurred at Culling's Well sometime in February 1871. During this raid a party of Indians shot one horse, which they could not drive, and drove off another horse and six head of cattle. The raiders were
- 14 -
pursued and the cattle recaptured. In this vicinity the Indians had confined themselves to stealing corn, etc. (Weekly Arizona Miner, February 11, 1871).
This was followed by yet another raid, which was reported to the Weekly Arizona Miner on February 18, 1871 by the driver of Grant's Stage.
On November 4, 1871 occurred what became known as "The Wickenburg Massacre." This happened when a stagecoach bound for California, with seven men and a woman aboard, was attacked on the Ehrenberg road, nine miles west of Wickenburg. Six of the men, including a well-known scientist, and a New York Tribune correspondent named Fred W. Loring, were killed by Apaches. The two wounded survivors, William Kruger and a Miss Nellie Sheppard probably were able to escape because the attackers began an orgy on the "firewater" they found in the lucrative loot.
- 15 -
CHAPTER III
Maria Valenzuela
Things had quieted down at Culling's Well and construction was progressing on the station when Charles Culling, now age 46, met Maria Valenzuela, who was to become his wife and to share his life at Culling's Well for the years to come.
Maria Imperial Valenzuela was born in Sonora, Mexico, on February 1857.
Her mother, Martina Imperial, had married Marcial Valenzuela in Mexico but Marcial died when Maria was still a baby. Martina left Mexico with Maria in tow and came to the United States when Maria was just three years old. She came with her two brothers, who were cattlemen, and settled in the lush region of what is now Imperial Valley, California. The Valley was named after the Imperial family.
Martina was described by her granddaughter, Adelina (Drew) Loza, as "small, independent, and industrious and refused to depend on her relatives for subs­tenance."
There was very little work to be had by women in those days, so Martina de­cided to go to the gold rush camp of La Paz to try to set up a boarding house. She was an excellent cook and the miners were in sore need of good food.
As mentioned previously, gold was discovered in La Paz in 1862 and was a boom town of 1,500 inhabitants when Martina and her child, Maria, made the trip there.
Building materials in the mining camps were almost nonexistent. Most in­dividuals lived in tents, so Martina put up one large tent with suitable tables in the center, which would serve as a dinning place, and to one side she set up a small kitchen. Another tent she kept for herself and Maria. When she opened for business, she was literally swamped with customers. There were just too many and she could not possibly cook for them all. Nevertheless, she took in as many
- 16 -
as she was able to and in this way, even though the work was hard, she made a good living and felt happy and secure.
Things went well for Martina. She became quite independent by having her own little business, and a good income. Indeed, she never lacked customers in all the years she maintained her boarding house. Whenever possible, she would purchase a cow, thus supplying the miners with fresh milk and cream for their steaming hot cups of coffee. Her day started around 4 a.m. with a cold bath summer or winter. In a large trunk she kept her clothes and undergarments folded neatly and carefully. Dressing quickly, with her hair parted in the middle, and drawn tightly in a bun, she would head for her kitchen and another day of hard work.
Martina prepared three meals a day for the miners: Hot biscuits, delicious roasts, and a favorite that was enjoyed by all -- baked ribs with almond chili. This latter dish permeated the whole area with a mouth-watering aroma. If the miners wished to take a lunch with them, she would prepare one tortilla rolled up with a filling of chili-eon-carne, another with refried beans, and another with chopped green chili, onions and tomatoes, seasoned with garlic, salt and pepper. These would stay hot and fresh until they were consumed and represented a hearty and well-balanced meal to the hard-working gold miner. This menu cer­tainly beat the steady diet of mesquite beans and fish that these workers had been used to prior to Martina's arrival at La Paz.
It was here at La Paz in late 1865 that a gentleman by the name of Charles C. Culling made his appearance at Martina's boarding house. He introduced him­self as an Indian Agent authorized by the government to set up a station and briefly described the proposed side between Wickenburg and Ehrenberg. He asked if Martina would board him for a few days until the well was dug at the station. She agreed as Mr. Culling appeared to be a very kind individual. The well completed,
- 17 -
Charles returned to Culling's Well to oversee the management of the station. Maria was now eight years old.
The boom lasted about two years at La Paz and after the Colorado River changed its course, and La Paz was abandoned as a steamboat landing, Martina pulled up stakes and, like most of the inhabitants, moved to Ehrenberg. Here she lived, busy and content, doing what she loved most -- cooking. It was now 1869 and Maria was twelve years old.
It was here also at Ehrenberg that Martina, after years of austere living and tedious hours spent at her work, that she decided to remarry, for she wanted security and companionship for herself and Maria. Unfortunately, her marriage to Jesus Osuna turned out to be more of a tragedy than a blessing for Jesus was a miserable, abusive wretch who demanded to be catered to and expected both Martina and Maria to wait on him hand and foot. To him both Martina and Maria were nothing but servants and treated them as such.
He took Martina's hard-earned money to spend on liquor, and who knows what else, for he never did any work. Most of the time he stayed drunk and had a violent temper.
Maria, for nights at a time, would lay shivering in fright as Jesus in­flicted abuse upon her mother, not knowing when he would burst into her room shouting and raving at her also. Maria lived in constant fear of him and when she would see him coming, especially if he was intoxicated, she would run over to a neighbor's house to get out of sight.
Things got so bad at home, putting up with her abusive stepfather, that Maria even thought of leaving home, although the thought of leaving her mother was almost unbearable.
Charles Culling never lost touch with Martina and as the years went by, and with the station making daily progress, he returned to Ehrenberg in 187l
- 18 -
but by now, fully aware of the miserable life Maria, now age 14, had been ex­periencing, he decided to discuss Marla's situation with Martina.
Jesus Osuna, Maria's stepfather, had absolutely no respect for Charles or Charles' presence there so it was obvious to Charles that Maria was under a terrible strain and it pained him deeply to see her thus.
Charles was not unattractive, was 46 years old, and he had endeared him­self to Martina and to Maria by his kindness and thoughtfulness during the time he had boarded with them. Charles told Martina that he had been seriously thinking of Maria and that perhaps he could offer this young girl a happier life than the one she was facing now. Martina told Charles, with tears in her eyes, of all their suffering am unhappiness, and said that she had just about decided to send Maria away to live with some relatives. Charles then asked Martina's permission to marry Maria and he went on to assure her that he would make a good home for her and to take care of her always. Martina hesitated be­cause of Maria's age, who was still playing with dolls, but she knew deep in her heart that Charles meant all he had said and she also knew that Maria would only suffer more there with her stepfather. In the end she told Charles that she would talk this matter over with Maria, being careful not to press her, but letting her make the final critical decision.
In the meantime Charles returned to the station to await Maria's decision. The more Maria thought of marriage to Charles, the more it seemed to her a blessing, an answer to all of her problems. She was not in love with him but admired and respected him very much and this was akin to love. She even felt a gladness in her aching young heart at getting away from her abusive stepfather, she came to a decision.
When Charles returned, rather apprehensively, to Ehrenberg in December of 1871, Maria told him the news he had been so anxious to hear. Yes, she would
- 19 -
marry him and this pleased and made Charles very happy.
Charles Culling and Maria Valenzuela were married with Martina's blessing. This item appeared in the Weekly Arizona Miner, December 23, 1871: "Married at Wickenburg, December 17, 1871, by W.K. Ferris, J.P., Mr. Charles Culling and Miss Maria Valenzuela, both of Yavapai County. The ceremony was celebrated with wine, chickens and other good things."
Later, because Maria was Catholic, they were married by a priest.
<![if !vml]>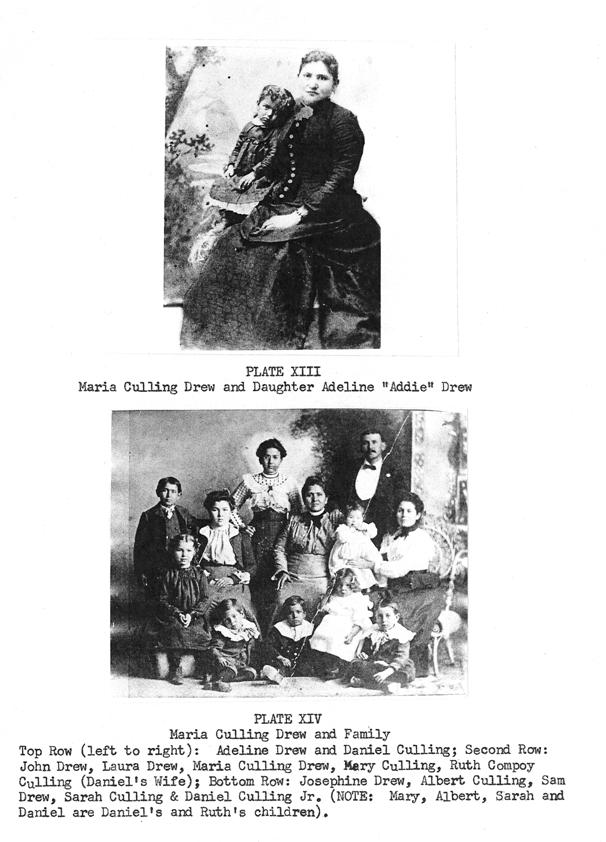 <![endif]>
- 20 -
CHAPTER IV
Life at Culling's Well
You have heard of men who fought and died for gold and silver. You know of those pioneers who struggled to raise cattle on the frontier. You have seen a motley assortment of men and women -- all seeking, fighting, dreaming.
There was a man who found what he sought not in a vein of gold or a herd of cattle but in a stream of crystal clear water. This man was Charles Culling.
Yes, Charles had found two treasures: The crystal clear water in McMullen Valley's Centennial Wash and he had found. Maria Valenzuela -- now his bride.
At first the desert was very lonely and quiet and Maria was the only girl at the station. Also, she was young and full of fears, especially of the Indians, who attacked isolated settlements like theirs without warning. Charles reassured her by telling her that the Indians had already heard of these stations which supplied them with food and for this reason he doubted they would be harmed. As it turned out, Charles was quite right. Food was very precious to the Indian and he would not do anything to jeopardize this gift of the white men, although he regarded the intent with deep suspicion. That the Indians were close by, however, was apparent in the loss of stock in 1871.
Charles tried hard to win Maria's confidence and, since he was a wise and kind person, he realized that she was young, not yet over the trials of the past few years, and not ready for .the responsibilities of marriage. He knew also that she missed her mother very much and promised her to take her to Ehrenberg to see her mother soon. In the meantime he bought her a gentle pony and a new saddle. Maria was delighted with her pony and spent much time exploring this wide and lonely countryside. There was not much for her to do at the station since Charles already had a cook and other workers to do the chores.
- 21 -
Maria was a good rider and enjoyed this newly found freedom immensely. Charles cautioned her not to wander too close to the mountains since they were occupied by large bands of renegade Apaches.
A few of the Indians had already ventured down to the station and Charles had distributed some food. This action seemed to please the Indians for they were always hard-pressed for food. They eked out a bare supply of food from the desert and had very little meat.
The station had been constructed in 1868. Using what Indian and Mexican labor he could muster. The large dwelling finally erected resembled a fort.
It consisted, at first, of four rooms with a wide hall running down the center. The stage station walls were of unusual thickness, consisting of adobe bricks made at the site. Pine poles were placed across the roof, and a layer of brush was piled on next. After that came a heavy layer of dirt, well-packed down. It is said that this roof never leaked. The walls were all whitewashed with lime. Later some storage rooms were added to the central building. Adjacent to it was a small corral enclosed with an adobe wall about five feet high, with only one gate entrance.
Charles had stocked a large supply of food and goods, such as roadside stores handled in those days, and he also stacked a goodly amount of liquor. The station also served as a mail drop.
The Indians were coming down from their dwellings in larger numbers, as Charles had anticipated, but never making a hostile move. Usually they would linger at a distance to watch the station's activities.
Maria, riding side-saddle on her pony, had become a familiar sight to the Indians and they never harmed her in any way as she took her daily rides through the desert. The fact that they did not harm her will seem quite remarkable to anyone when you consider that these same Indians were ambushing the stages and killing the settlers.
-22-
The Apaches were a handsome people - standing straight and tall and with regular, bold features. The women, as a mark of beauty, had their chins tatooed in straight lines, running from the lower lip to the bottom of the chin. The women of the tribe did most of the work in addition to some basket-weaving and pottery-making.
The Indians began to come every day to the station for food and they were extremely curious about the station and everything in it. They gathered in the doorways or stood at the windows looking at the furniture, the wood stove, and especially at Maria as she went about her duties. Occasionally Charles would show them how to prepare some of the food and they seemed willing to learn.
David S. Chamberlain (1848-1933) was a relatively well-known Arizonan. He lived in Tombstone for a short time and while there, developed some of that city's first wells. Later he became a millionaire in the manufacture of patent medicine. In his early years he did a great deal of prospecting in the Arizona Territory. His views of Culling's Well in 1871 appeared in the Arizona Republican, dated April 20, 1932, and titled "Journey to Arizona in 1871."
"Our last stop was Cullen's (sic) Wells, which was also a stage station. The regular stages ran weekly, but another weekly mail was carried between times by a buckboard, without carrying passengers. We arrived at Cullen's (sic) Wells early in the morning. Cullen (sic) had a small corral, enclosed with an adobe wall about five feet high, with only one gate entrance. We got our animals inside the corral, and proceeded to get breakfast. I remember buying half a dozen eggs from Charles Cullen (sic). A lot of Indians from the Date Creek Agency were there. I fancy there must have been at least 150. They wanted to get into the corral and were begging for something to eat. I ordered them to vamos but they seemed very persistent so I took my six-shooter and told them to 'pronto
- 23 -
vamos.' My partner was very much alarmed, thinking that I was starting a fight and that we would both be killed but we got them out and kept them out. It was very hot and dusty and we had little rest, as only one of us slept at a time, the other sitting with a Henry rifle over his knee. Frequently, some of the Indians would peak over the wall but none of them entered in."
David Chamberlain and his partner, for the matter, were rather lucky in their dealings with these Indians. Later that same year was when the "Wickenburg Massacre" took place less than forty-five miles from Culling's Well.
The stage station grew during the following months. Freight wagons brought new doors and windows and some furniture from San Francisco. New additions were made to the already existing structures, and Culling increased his herds of cattle and horses, and added flocks of chickens.
However, all was not fun and profit. Another Indian raid took place in 1872.
This item appeared in the Weekly Arizona Miiner on March 9, 1872: "F. Hawthorn, who came up this week from Culling's station, informs us that he, himself, lost four mules; S.O. Miller, of this place, two mules; and William Yerkes, one horse. And coming back next day, the same party of thieves took a horse out of the herd while Ed Lamley was doing his best to drive them away. Hawthorne, Charles Culling and some Apache-Yuma Indians followed the trail of the thieves but did not catch up with them."
Another disaster befell Charles and 14aria on July 1872.
This time a band of Apache Indians raided the station and stole some more stock. Maria did not witness this attack. During 1872 a series of raids on the station netted the Indians 132 head of stock; they partly destroyed one corral; burned 200 tons of native hay.
On several occasions, Charles and his hired hands would give chase but, except
- 24 -
on one occasion when Charles and the cowboys retook the stolen stock, the Indians usually got away leaving not a single trace.
This was not all because on September 14, 1872 the "Weekly Arizona Miner" published this article: "On the night of September 4, Apache-Mohave Indians stole eighteen head of animals from. Culling's station, and five more from a. station further on the road, towards Ehrenberg.
This we learn from a note from A.O. Noyes, who, with his family, had got that far on his way to California."
It was around this time that one sunny day the stagecoach arrived as usual at the station. By now Maria had become quite bored with life at the station and she decided she would learn to cook. She had been very annoyed for some time with the Chinese cook, who considered the kitchen his personal domain and resented Maria's presence there. He let it be known that the kitchen was off-limits to everyone, including the boss's wife, and would definitely not tolerate anyone fussing around and getting in his way. This didn't deter the stubborn Maria, for she was determined she would learn to cook regardless of the consequences. The way she went about this was to peek in through the open door when the Chinese cook had his back turned and watch him prepare the meals. In this way, she at least learned the basics of cooking and made up her mind that as soon as she became proficient she would give this arrogant cook his "walking papers."
The stagecoach stopped and Maria, who by now felt that she was capable of preparing the meals, prepared the hot meals for the passengers while the drivers watered the horses at the well.
On this particular day, a friend of Charles alit from the stagecoach much to Charles' surprise and joy. His name was Christian Berry.
Christian Berry, a native of Charleston, South Carolina, had enlisted as a Private in Company H, 7th Regiment California Volunteer Infantry on November 6, 1864
- 25 -
and mustered on December 9. He saw service in California and Forts Yuma and Mason, Arizona Territory before being discharged at Drum Barracks on March 1, 1866.
"Berry," as he was called by everyone, worked at the Vulture Mine, Wickenburg, after his discharge. The 1870 Census taken on August 20, 1870 shows him at Vulture at the time. Although it is not certain if Charles knew him from there or not.
By occupation, this five-foot, seven-inch, fair-complected and blue-eyed and blonde Southerner was a miner.
Upon arrival at Culling's Well, Christian Berry's intention was to visit with Charles for a while before continuing on his way to look for a job.
Somehow Charles persuaded him to remain at the station as an employee.
During the evening meal he had noticed the short temper of the Chinese cook, which was rather obvious. He told Charles that he had been a cook in the Army and offered to take over the kitchen duties as part of his job there. Charles and Maria were delighted and told him that the job was his. The excellent, but sullen Chinese cook quit in a fit of temper, which saved Maria the trouble of firing him.
Berry turned out to be clean and efficient and an excellent cook. He taught Maria the finer points of meal preparation. His favorite meal was barbecue. He would dig a pit in the ground, surround the interior of the pit with pre-heated rocks, then he would place a couple of large choice cuts of beef in the pit. The pit was then covered and the beef allowed to cook the entire night. In the morning the beef was extracted and it was so tender that it could be sliced with a fork. He also prepared corned beef and taught Maria how to make butter and cheese since milk was plentiful. There were always large rounds of cheese and butter on the table and large pitchers of molasses to pour over Berry's golden, flaky biscuits.
- 26 -
Berry also helped with the heavy chores around the station and with the stock. In fact, Berry had found his place in life at Culling's Well and became the major domo, or jack-of-all-trades, of the establishment.
On October 12, 1872 Charles Culling was appointed Precinct Inspector for Precinct Deep Wash at Culling's Well for the general elections scheduled for November. What this job entailed is not known but obviously Mr. Culling was well known in the Territory by this time.
Although Culling Station was rather isolated from other white establishments, there were always travelers passing through to keep Maria from becoming too bored or lonely.
On one occasion, she even invited a friend of hers, Mary, from Wickenburg to come and visit with her at the station.
Winter passed quickly and in early spring, Mary finally arrived at Culling's Well to the delight of Maria.
This was a particularly beautiful time of the year in this desert country. The early morning air was always cool and refreshing and the world seemed permeated with the faint scents of mesquite and creosote blossoms. The washes would be carpeted with wild flowers creating a riot of color from marigolds, poppies, lilies and blue lupine. The sounds of birds were everywhere, as if welcoming the joy of spring, and it was into these surroundings that Maria and Mary rode their ponies almost daily.
One particular day as these two tomboys were riding fairly close to the mountains, which were extremely dangerous due to the Indians lurking nearby, they happened upon a large nest in a Palo Verde tree. The tree being rather shady was an open invitation for them to sit under its green branches to rest from their ride. As they sat under this tree, both kept wondering what kind of bird would build such a large nest.
- 27 -
Perhaps an eagle had built it but Maria had never seen an eagle in this area. Curiosity got the best of Maria and scrambling up the tree she peered into this nest only to be confronted by a rather large lizard which hissed at her. The lizard, nearly two-feet in length with a stout body and covered with black, orange and yellow scales, resembling beads, was a Gila Monster -- a venomous lizard that is capable of inflicting sometimes fatal wounds. This startled the brave Maria, who jumped down from the Palo Verde with the Gila Monster following close behind. What this creature was doing up the tree is uncertain but Maria learned a very important lesson, beware of the desert. Maria and Mary needed no urging to sprint for their ponies and gallop back to the station.
Upon arrival at the station they could see a number of Indians gathered as usual around the doors and windows, talking and gesturing amongst themselves and pointing at different things, which were all foreign to them. They had never seen a wood stove nor dishes or other furniture. They had no idea how the white man prepared his food, how this food tasted, or even what they ate. In time, Charles would hand out to the Indians different dishes that had been prepared as they could sample them. The rest would gather around eagerly to watch. First the sample dish was smelled then cautiously eaten. It always amused Charles to watch this ritual and to see the surprised, almost comical, expressions that came over their faces. They seemed to relish every dish, so Charles gradually began to give them a little more variety of food and often showed them how to prepare it.
Maria began to venture out on her daily rides with more confidence. The Indians seemed friendlier somehow, perhaps it was the way Charles treated them. At any rate there was little hostility in their attitude toward Maria and Charles as compared to what it had been earlier. Charles felt that perhaps they had finally reached some sort of understanding with the Apaches.
- 28 -
One day an old squaw, who gave her name as "Chacha," appeared at the ranch and told Charles that if he would go with her to a certain mountain, she would show him where a large gold mine was. She indicated this in sign language as she spoke only a few words of English. Charles was quite familiar with the Apache sign language and was able to communicate with her. Charles was rather skeptical about the squaw's information and he feared that perhaps this woman was trying to lead him into a trap. After all, some of the renegade Apaches were still on the warpath although those visiting the station seemed friendly enough. While these thoughts were running through Charles' mind, the old squaw stood by quietly waiting for a sign from Charles. In the end Charles decided to go with her but asked one of the cowboys working at the station to accompany them. When the squaw understood what Charles wanted to do, she shook her head decisively and indicated that either Charles went alone with her or the deal was off and she firmly refused to budge. The lure of gold was too strong to resist so Charles agreed to go with her but, as an added precaution, he slipped a six-shooter into his pack before they departed.
The range of mountains where "Chacha" told Charles where the gold was to be found was some seven miles from the station and were known as the Harquahalas.
Harquahala means "running water" or Ah-ha-qua-hale – "water there is, high up" to the Mohave Indians. An earlier name for the mountain was Penhatchapet (1865), probably because on their south slope was a spring called Pen-Hatehai-Pet water. By 1869 this same spring was being called Hocquahala Springs and the name was gradually used to include the mountains themselves. The attempts of white men to wrap their tongues around this word has resulted in various spellings, among them Huacahella Mountains and Har-que-halle Mountains. They are, name and all, the most massive in Central-Western Arizona.
- 29 -
"Chacha" led Charles towards these mysterious mountains until they arrived at a sort of divide and then she stopped close to a spring of cool water. She dismounted and sat down on a large flat rock. Charles, thinking that she was tired and thirsty, started to sit down also in the shade of a mesquite tree. She would have none of this and insisted that Charles keep on looking for the gold. She was very superstitious about revealing locations of gold or treasures of any kind to a white man. She believed that if she did show him the exact location of the gold, she would be denied entrance into the "happy hunting grounds" in the hereafter. On the other hand, if this white man found the gold by himself, she would not be guilty of this offense.
Charles, by this time, was in a frenzy of excitement thinking that he was within sight of this fabulous gold mine, so putting aside tiredness and heat, he wandered around the area, poking here and. there, lifting rocks and digging into sand and dirt with his pick until exhausting himself completely.
Finding nothing, and with the evening shadows creeping up gradually, he decided to spend the night near the spring and return to the search the following morning.
Early the next morning, just as the first rays of the sun made their appearance, Charles began the search again, almost frantically, but to no avail. All day he toiled with the "gold fever" deeply burning into his already tired body. This effort produced absolutely no trace of any gold or gold ore and, in anger, decided to end this useless search for the legendary treasure. Picking up his gear, he disgustedly took one more look at these taunting mountains and started back to the station as the deepening shadows blanketed the Harquahalas concealing their earthly treasures, perhaps forever.
The squaw, a smile upon her rugged features, shrugged, mounted her horse and followed silently.
- 30 -
Ironically, in 1869, just three years before Charles Culling went searching for the allusive gold mine, it was reported that a Pima Indian had made a big strike in the Harqhahila (sic) Mountains but the San Francisco Chronicle asserted many years later that an Army officer first struck gold there, only to be driven off by Apaches. The same newspaper stated that five prospectors had managed to slip into the area while the Apaches were on the rampage a take $36,000 in surface gold before clearing out several days later.
In fact, as early as the 1860's, reports had filtered out that gold had been discovered in the Harquahalas by three Frenchmen who had come to Yuma and had deposited eight thousand dollars in gold at George Hooper's mercantile establishment. Although attempts were made to follow these miners back to the source of the gold mine, neither the Frenchmen nor the mine were found. It was assumed that the Apaches had killed the Frenchmen before they revealed the location of the bonanza.
Charles, of course, had no way of knowing this at the time.
The Lost Squaw Mine was discovered in Spanish times. The conquerors of Mexico found the mine in the Adonde (now Copper Mountains) Range near Baker's Tank, and took out several million dollars in gold. For some reason known only to them, they abandoned the mine after some years.
There are several contradictory versions regarding the Lost Squaw Mine.
Indians knew where the mine was located but kept it a secret. One generation after another described its location to their young men, with the admonition that to disclose its site to an outsider meant death. Squaws were never told the location of the mine because they talk too much. One young Indian woman did learn about the mine in spite of the effort to keep the information from females.
Another version places the Lost Squaw Mine in an area somewhere south of
- 31 -
Cullen's (sic) Well. The Prescott Courier was the original source of this tale.
According to the Courier, "back in 1872, when General George Crook was chastising the warring Apaches, a sick squaw appealed to Charles Cullens (sic) to allow her to remain the area rather than be removed to a reservation. Cullens (sic) granted her request.
While talking to the old squaw, Cullens (sic) noticed that she had ear rings of gold. He asked where she got them and she replied that the gold came from a mine far to the west in the desert. When Charles asked if she would take him to the mine, she agreed to take him part of the way because of his kindness. After the woman took him some distance and gave him directions, Cullens (sic) went on alone. Before he was able to find the mine his water ran out and he had to give up the search. Cullens (sic) died without having found the mine."
The legend of the Lost Squaw Mine was to pop up again in the late 1880's and early 1890's.
The year was 1873. Maria was now sixteen and a half years old and was expecting her first child. Since the station was so isolated, it was decided that Maria would stay with her mother, Martina, at Ehrenberg while the baby was delivered, and for a short time after, or until she felt well enough to return to Culling's Well.
Charles left the ranch in Berry's very capable hands and he and Maria set out for Ehrenberg. Daniel L. Culling was born on August 18, 1873. Charles was overjoyed over his birth. He hastened back to the station to make preparation for the new baby. He ordered a crib, garments, and other essentials that Maria would need for the newborn and he and Berry anxiously awaited their return.
Maria was soon back on her feet, feeling strong and healthy. Her mother's excellent care and equally good food put a bloom in Maria's face, and the baby was doing well. In due time she came home to the station and took up her house-hold duties.
- 32 -
Now that she had an infant to care for, the time flew by with busy days for them all. Berry loved the baby too and aided with his care and welfare whenever Maria needed him.
One day, not long after her return from Ehrenberg, Maria was working in the kitchen when a squaw silently entered unannounced. By now Maria was familiar with these Indians and had even picked up some of the Apache language. The squaw had a little boy with her. He appeared to be about nine years of age and seemed quite shy. She approached Maria and taking the youngster's hand gave him to Maria telling her that the boy was being offered to her to have as her son. This was rather unexpected and Maria was, to say the least, astonished beyond disbelief. She stood there, practically in shock, looking from the squaw to the lad and could not believe what was transpiring. Her first impulse was to refuse, for she had her hands full with her own Daniel and the work to be done at the station was tedious enough without having to worry about a nine-year old child. Maria was hesitant and did not respond immediately but the squaw kept insisting that she take the Indian boy as her own. Maria's heart melted as she gazed at the little boy, who was obviously frightened. The squaw was looking hard at her with narrowed eyes. Perhaps this would be an insult of the worse kind to refuse, she thought. Perhaps it would prove dangerous to the people at the station. She nodded her head in agreement and the squaw left abruptly without even a thanks for Maria's compassion. The Indian boy was left sitting there looking very forlorn and lost.
Under Maria's tender care and love, the boy responded and gradually overcame his shyness. The household named him "Apache John."
"Apache John" was obedient and quick to learn. After he had been at the station several months he arose in the middle of one night and ran across the desert, and back to his home in the mountains, without losing his way in the darkness.
- 33 -
Maria and Charles were worried since "Apache John" was no where to be found and they couldn't imagine what had become of him. Charles and some of his men searched high and low for the boy without success. Soon a small band of Apaches came to the station and explained to Charles that "Apache John" had returned to the tribe. This, Maria thought to herself, is the end of "Apache John's" stay with them. However, a few days later the same squaw appeared again at the station with "Apache John" in tow insisting that Maria keep him there. Apparently "Apache John" was the son of an Apache chief but he seemed relieved to be back with Charles and Maria.. This same episode was repeated several times over as it was obvious that "Apache John" had mixed emotions regarding the Cullings and his own tribe. After Maria accepted the young boy's peculiar behavior and all went well.
The Apaches were at it again when they pulled another raid on Culling's Well in 1874. This time they got away with twenty milk cows and one bull. It was suspected that during these raids, Yuma, Mohave and Hualapie Apaches were involved. This was based on eyewitnesses.
That same year, while Charles was camped at Black Tanks, about twenty-five miles northwest of the station, the Apaches stole three horses and thirteen of his mules.
In May, 1875, when Daniel was only two years old, Mrs. Martha Summerhayes, one of Arizona's earliest and most interesting historians, stopped off at Culling's Well. She was the young wife of Second Lieutenant John Wyers Summerhayes, of the 8th U.S. Infantry, who was on duty in the Territory from 1874 to 1878.
Mrs. Summerhayes was on her way from Fort Whipple, Prescott, to Ehrenberg on the Colorado when she reported: "The third day brought us to Cullen's (sic)
- 34 -
Ranch, at the edge of the desert. Mrs. Cullen (sic) was a Mexican woman and had a little boy named Daniel; she cooked us a delicious supper of steamed chicken, fried eggs, and good bread, and then she put our boy to bed in Daniel's crib. I felt so grateful to her; with a return of physical comfort. I began to think that life, after all, might be worth the living."
1876 was a year filled with joy and tragedy for Charles and Maria.
Their joy was the birth of their second son, Charles, who made his grand entry into this world on March 1876. Again, the birth of another son filled Charles with extreme happiness.
Two months after the birth of Charles disaster struck. The Weekly Arizona Miner of May 5, 1876 summed up the entire tragedy in just seventeen words: "Cullen's (sic) station below Wickenburg was almost entirely destroyed by fire, including clothing and household effect."
Culling launched into an immediate rebuilding program; a year passed before the station was restored to its previous condition. In his work the Englishman was greatly aided by Christian Berry.
The Arizona Sentinel had this to report in its March 10, 1877 edition: "Charlie Cullen's (sic) new house at Cullen's (sic) Wells is rising like a Phoenix from the ashes of his old one and he is in a fair way to make good the losses he sustained by fire."
Apparently Charles was in a hurry to complete the station because in the same paper, the following item appeared: IMMIGRATION -- Captain Mellon tells us that he was told at Ehrenberg that at least 150 families were on the road between Indian Wells and Ehrenberg on their way into Arizona. Plenty room for more.
The Wickenburg road is fairly lined with travelers on foot, horseback and in vehicles of every description drawn from one to sixteen animals. Station keepers are doing well and getting rich. We might be doing the same if "Griff" would do
- 35 -
more and talk less about the road from here to the railroad terminus."
Not that Charles was becoming rich, but he was doing quite well financially. Not long after the birth of "Charlie," as he was called, the stage came to the station as usual one particular day and to everyone's surprise out stepped Maria's mother, Maria was very excited and happy to see her as it had been a while since she had seen her mother. Martina was on her way to the Vulture, Mine, which was now one of the biggest mining camps in the Territory, and she, Martina, intended to open a boardinghouse there. Her purpose of being here at the station was to spend a few days with her daughter, her son-in-law, and her young grandchildren. Martina had four other children now with Ramona, about six years old, being the eldest. So mother and daughter talked and laughed and had a pleasant visit during the short time Martina was there.
One afternoon they witnessed a very strange phenomena, something very few people have ever witnessed.
It was one of those clear and bright afternoons, so typical of the desert. Maria and Martina were seated in the hallway, which acted as a breezeway. Even on hot days, this breezeway was cool and pleasant. The children were taking their afternoon nap, their siesta, when suddenly Maria and Martina heard a low-roaring noise. They both scrambled outside to determine what was creating this peculiar noise. Coming directly toward the station, from the southeast, they saw, to their astonishment and horror, what appeared to be a huge ball of fire. It was quite low and moving extremely fast. This object had a long tail of smoke and passed directly overhead, so close that the children awoke crying and frightened out of their wits. They stood there, side by side, in shock, as the mysterious heavenly object disappeared over the mountains. This meteor was also witnessed by Berry and some of the ranch hands. This experience not only left Maria and Martina awed and frightened but they wandered what this omen meant for all of them.
- 36 -
Things returned to normal again at the station after Martina departed for Vulture Mine. Maria and Berry were doing all the cooking for the hired help and the stage passengers. Besides, now Maria had three more mouths to feed: Daniel, Charles and "Apache John."
Christian Berry had become so attached to the station that he often told Maria that he would never live anywhere else. Maria and Charles could not have gotten along without him as he did most everything around the station. Once, in the course of a conversation with Berry, the subject of why he had never married arose. He explained that he had experienced a great disappointment when as a youth he had fallen in love with a beautiful girl and even became engaged. All their plans had been made, the wedding date set, and she had already purchased her wedding gown. Such was not to be, for the day before the wedding was to take place, this lovely girl died suddenly. Disappointed, Christian Berry made a vow never to marry. He had found his place here at Culling's Well and here he would remain, with Charles' permission, until the day he died.
With his business in good hands, Charles took frequent business/pleasure trips to Ehrenberg, Wickenburg and Prescott. The Prescott Arizona Miner often wrote of Charles Culling respectfully. On August 12, 1877 this item graced. page 3, column 3, of this newspaper: "Charles Culling of Culling's Station on Ehrenberg road, known to nearly every man, woman and child in this section, is in town. A more accommodating man does not exist."
And the April 26, 1878 edition of the Weekly Arizona Miner praised Mr. Culling for saving two children from death: "BUIlD A FOOT BRIDGE -- Yesterday, as Mr. Chas. Culling happened to be passing Granite Creek, he espied two small
- 37 -
children rolling down the stream, crying for help. They were passing the creek on a plank that served as a temporary bridge when they lost their balance, or became frightened, and fell in. The current, which is quite swift, carried them away, and had it not been for the timely aid given by Mr. Culling, the smaller of the two would certainly have been drowned."
This was followed by an item in the Arizona Enterprise of April 27, 1878: "Charley Culling of Culling's Well, on the road to Ehrenberg, is in town looking younger than when we first knew him. He says the road is now well stocked with freight teams, all bound for Prescott."
The following month, on May 3, 1878, the Weekly Arizona Miner further praised the station keeper: "Chas. Culling, a kind hearted gentleman and owner of a good station on the Ehrenberg Road, has been doing our town for the past few days; however, having completed the business which brought him here, he took his departure yesterday for his home. Mr. C. has probably given food and shelter to more destitute persons during the last ten years, then any other man in the Territory."
Daniel, age 5, Charles, age 2, and "Apache John" had become good companions. Maria was making plans to improve the living quarters of the station in order for all of them to live a more comfortable life. Not only that but with another child on the way, she was in a hurry to get things going.
Just when it seemed that things were finally going well for the family, Charles suddenly, and unexpectedly, came down with a very high fever and it was evident that he was, in fact, very seriously ill. No one at the station knew what to do for him, or even imagined what was the cause of the illness. Maria and Christian decided to take him to Wickenburg to see a doctor, but before anything could be accomplished, Charles became progressively worse. Help was summoned via the next stage but before help arrived Charles was dead and Maria was
- 38 -
stunned by the sudden turn of events and. her grief was obvious. Charles was fifty-four years of age when he died on August 4, 1878.
There was not a newspaper in all the Territory of Arizona at that time which did not carry an obituary eulogizing him.
The Arizona Enterprise of August 7, 1878 offered this obituary: "A brief note from Mr. C. Berry, dated August 4th, informs us of the death, on that day, of Charles Culling at his station, on the Ehrenberg road. Mr. Culling was long and favorably known to travelers and residents in the Territory. He was an old settler here and has lived at the place that bears his name, for several years. He was a native of England, and. was about 50 years old. Was a good, whole souled, jovial man, and. his hearty welcome and pleasant countenance will be missed by his old friends along the route. No notice of the burial was received."
This was followed by the following in the Weekly Arizona Miner of August 9, 1878: "We have received the sad news of the death of Chas. Culling, the friend of all. Mr. Cullling was stricken with paralysis on the 2nd last, and on the 4th just 48 hours after his spirit had left the body, and passed to that sphere of which but little is known. Mr. Culling was one of Arizona's oldest and best citizens. He settled where he died, about 12 years ago, and has ever since continued to reside at Culling's Station, where the weary were welcomed and found rest, the hungry whether accompanied by plenty of the needful or otherwise, food. There is not a person who ever knew Charley Culling but what will mourn his loss. He was Englishman by birth, and at the time of his death, about 54 years of age."
Finally, the Arizona Sentinel published this brief obituary on August 10, 1878: "Charles Cullen (sic) died a few days ago, at his station, of paralysis."
Upon Charles Culling's death, some soldiers came to the station immediately
- 39 -
and buried him right there at Culling's Well, a short distance from his beloved station. His grave was surrounded with a small, white picket fence and a large wooden cross to mark his final resting place.
Charles C. Culling's desire to see his sons grow to manhood; his wish to once again return to England, the country of his birth; his dream of perhaps sailing on the high seas; his desire to locate the legendary Old Squaw gold mine, were never fulfilled, but he left a legacy which was hard to duplicate in the years to come.
- 40 -
CHAPTER V
A Most Difficult Time
Marla was devastated after the death of Charles. She realized she could not manage the station without Charles around and so she made preparations to take her children and temporarily move to Yuma where some of her relatives re­sided and until she could sort things out. "Apache John" was sent back to his own tribe in the mountains. Since he had practically become a member of the Culling's family, his departure was a tearful one. Charles had not left any funds to speak of, although the station and stock were rightfully hers.
Maria appeared in the Probate Court of Yuma County (Docket No. 75) on February 8, 1879 regarding the estate of her deceased husband. At that time the value of his property was stated as: Real Estate - $2,000, Personal Pro­perty - $1,000.
Sometime between the date Charles passed away, August 4, 1878, and Maria's appearance at Probate Court, on February 5, 1879, a third son, Albert, was born. Charles would have been as proud as a peacock if he had lived to see the latest addition to his growing family but it was never meant to be.
Maria thought that by moving to Yuma she could find work of some kind there.
Christian Berry offered to stay on and look after the station and the stock. He convinced her that he would take care of everything until she made up her mind whether to remain in Yuma or return to Culling's Well at a later date. Maria felt that the station was in very capable hands under Berry's supervision and she eventually packed hers and the boys personal belongings and left the station with a heavy heart, not certain if she would ever return to this place of so many pleasant memories where she so happily lived with her husband for nearly seven years.
- 41 -
The Weekly Arizona Miner of September 13, 1878 and the Arizona Sentinel, Yuma, of September 21, 1878 reported that "Culling's Station was now in charge of Peter Doll, a noble hearted fellow and one of the oldest residents of Yuma County."
Peter Doll was formerly Justice of the Peace at Ehrenberg. Christian Berry remained on as chief cook and bottle washer and top hand at the Well.
Maria was lucky to have such good relatives in Yuma. They were well-esta­blished members of the Imperial family. Her cousin, Bridgida, took Maria and the boys in and treated them just as if they were her own family. Maria was only twenty-two years of age when widowed. Bridgida had several children of her own but still was able to help Maria all she could, finding little sewing jobs and other light work that Maria could do and Maria felt that she could never re­pay her cousin for all her kindness.
Maria had been seriously considering entering a Catholic convent -- She had always followed a strong spiritual life -- and she felt drawn to the monastic life. On the other hand, joining a holy order meant being separated from her be­loved sons and this she could not possibly do. She thought long and hard about all possible options left for her, which were very few, and decided to make a trip to Culling's Well.
A year had passed since she had departed the station in grief and during her stay in Yuma, she was able to accumulate a small amount of cash. She was an excellent seamstress and, since all garments were done at home on a treadle-type Singer sewing machine, which had been patented in 1851 by Isaac Merrit Singer. She had done quite a bit of sewing for others and this had been her sale source of income. Moreover, she knew that if the stock was not rounded up soon, the Apaches would readily help themselves to them and she also felt that Christian Berry did not have that much help at the station. All things considered,
- 42 -
she packed her bags, left the children with Bridgida, and took the stage to the station.
Christian was glad to see Maria when she got off the stage. The station had not changed any since she had last seen it one year ago and Maria could not help but reflect on all the happy years she had spent there with Charles, the employees, and her family. Berry was in good health and happy to be there. Maria and Berry talked over her problems and Berry informed Maria that not much stock remained and he was certain that they were being stolen by the Indians as he had seen them roaming around on their ponies near the station. Although Berry had not been harmed by the Apaches, he had noticed that less and less of the stock came to the station for water. Maria then decided to return to Yuma, hire a cowboy to round up what stock remained, and sell these before they all disappeared.
Maria did return to Yuma with a heavy heart and very discouraged by what she had observed while at the station. Her visit to Culling's Well left her rather depressed and only reminded her of the burdens she must now bear since Charles died.
The good news, upon returning to her cousin Bridgida's home, was the im­pending marriage of Beatrice, Brigida's younger sister, in the very near future. The news brought Maria out of her depression and gloom and she got into the spirit of things by helping with the wedding preparations.
On the day of the wedding, Beatrice suddenly developed feelings of doubt regarding her marriage and nearly left the groom standing at the altar, but be­tween Brigida and Maria they convinced her that she was doing the right thing and that Beatrice was only experiencing a slight case of the jitters.
The wedding was performed without a hitch and Beatrice and. her husband did have a very happy and fulfilling marriage with both being blessed with a number of children as time went by.
- 43 -
Maria, when alone, reflected on the events of this happy, and at times con­fusing, marriage and she could not help but feel a twinge of envy as she felt remorse for her being left without a husband and now left facing a dark and lonely foreseeable future. If she had only looked deeper into the future, per­haps she could have detected a "beacon of light in the desert" beckoning to her a ray of life-saving light coming from a "lighthouse" somewhere in the wide ex­panse of the desert.
Maria returned to the station in due time with her hired help. Between them they were able to round up a few head of cattle which would be sold even­tually in order to bring in what little money the stock would sell for. Heaven knows that every cent was needed at the time in order to make ends meet. One consolation was that Culling's Well was in good order, thanks to Berry's and Mr. Doll's capable management.
-44-
CHAPTER VI
Businessman & Prospector
While Charles Culling was busy restoring Culling's Station after the disastrous fire of May 1876, Joseph S. Drew was still busy with his prospecting and mining ventures after giving up the merchant business for the time being.
The Weekly Arizona Miner, July 21, 1876 mentioned this: "Len Sevyer was in from the Black Hills the other day and says the mine which he, Joe Drew, H. Pettibone, Keys and Frank Shultz are opening looks better and better as they sink on it, but they are not ready yet to give any figures, as they want to be certain of what they have got, before they make any blow about it."
Joe and company continued their search for wealth in the Black Hills, sink­ing shaft here and searching un-relentlessly. By September 1, 1876, they had sunk a shaft twenty feet deep and located a promising ore vein.
On October 6, 1876 the Weekly Arizona Miner reported that Joe Drew was having his house on Montezuma Street fixed up in order to rent it since he was still developing and working the mine near the Black Hills, beyond Agua Fria.
Although Joe Drew and his partners had located a new silver and gold mine on the eastern slope of Peck District by June 15, 1877, Joe had, in the meantime, decided to build an office and storehouse at Vulture in order to return to the general merchandise business.
The newspapers had nothing further to report on Joe Drew's mining adventures, or even if he had made any money from the mining business, for a year.
On June 21, 1878, less than two months before the death of Charles Culling at Culling's Well, this notice appeared in the Weekly Arizona Miner: "FOR SHERIFF -- To the voters of Yavapai County: I hereby announce myself as a candi­date for the office of Sheriff at the coming November election, and if elected,
- 45 -
shall use all honorable measures to discharge the duties of the office with fidelity and care. Prescott, A.T., June 17, 1878. Joseph Drew."
November, 1878, found Joseph Drew campaigning in northeastern Arizona and this was noted in the November 8, 1878 edition of the Weekly Arizona Miner: "A letter from Joe Drew, written at St. John's, Little Colorado, October 30, says the Mormons still speak highly of Woolsey and will no doubt give him a good vote. They also promised Drew a strong vote for Sheriff and he thought he should do well at all the camps he visited. This is the latest news we have had from that country and it will probably be some days before anything definite is heard from the election. Joe was on his way to Springerville when he wrote."
The person by the name of Woolsey, whom Joe Drew was referring to in his letter to the Arizona Miner, was Colonel King S. Woolsey, a well known Alabama born pioneer who came to Arizona in 1860.
Woolsey had joined the Confederacy but was prevented from active duty by illness.
In 1860 he established a ranch at Ague Caliente about eighty miles east of Yuma on the Gila River. In early 1864 he had established a ranch on the Agua Fria east of Prescott where he made a living selling hay to the Army.
In 1864, after raids by the Apaches had become too frequent, Woolsey or­ganized three armed expeditions, composed entirely of civilians, and. set out from the Upper Agua Fria Valley, marching across the Verde River, up the gorge of the Salt, attacking and destroying Indian camps and fields in what is now Gila County. During one of these expeditions, and while at council with the Apaches, he signaled the Americans to open fire, killing many Apaches and teaching the others to distrust Americans. This incident was labeled the "Massacre at Bloody Tanks."
- 46 -
In following years Woolsey became a large landowner in the Salt River Val­ley and owner of a flour mill in downtown Phoenix. He was only 47 years old when he died suddenly on his ranch near the city. He had served in the terri­torial legislature, performed brilliantly as a guide and military leader, earned a small fortune in ranching and mining, and at the time of his death was pro­bably the most influential private citizen in Arizona.
King Woolsey was not elected to the legislature in 1879 and Joseph Drew, although not elected Sheriff, was appointed Deputy Sheriff.
John Charles Fremont became Governor of Arizona Territory in 1878 and the capital was now located in Prescott. Governor Fremont in his first official message to the lawmakers during the Tenth Legislative Assembly in January 1879 stated that "the development of potential resources in Arizona depended upon the Improvement of transportation and recommended the expenditure of half a mil­lion dollars for the construction of good roads." Fremont was not really in­terested in what the legislature did. He was more interested in his personal mining promotions and ventures.
These actions by Governor Fremont may or may not have had any influence on the construction of a road from Gillett to the Tip-Top Mine, which had been dis­covered in 1875.
On May 30, 1879 the Weekly Arizona Miner had this to say on the subject: "Jos. Drew is in from the mountains hale and hearty as a prize fighter. He in­forms us that the Gillett and Tiger Road business is at a standstill waiting for an opportunity to sell the bonds, which are objected to by dealers, for the reason that they are signed by the Acting Governor, instead of the Governor in person, which seems to us to be a frivolous excuse, but the man with money will have it their own way and the Commissioners will be obliged to wait until Gov. Fremont returns and signs them before they can command the sinues (sic) of war to
- 47 -
proceed with the battle against the rocks." This was in reference to the condition of the road and to the fact that Governor Fremont was spending more time away from the Territory than at his office.
Joseph Drew had been appointed one of the Commissioners to build what was then known as the "Gillett and Bradshaw Wagon Road."
On October 17, 1879 Joseph reported to Weekly Arizona Miner:  "I arrived here from the Vulture Mine a few days ago and in connection with the other two Commissioners have commenced building the Territorial road in earnest. Would have commenced sooner but thought it better to wait until cooler weather set in. We shall endeavor to build a good substantial road just as far as the money appropriated will build it."
This was followed by another report to the Phoenix Herald on October 30, 1879: "We have now 40 men at work on the road. Wages $40 per month and board."
The Weekly Arizona Miner had these good words to say about Joseph Drew on October 31, 1879: "Joseph Drew, in whom we have unbounded confidence, is in town from the scene of operations on the Gillett and Bradshaw road. He is the superintendent of construction by appointment, and he has made up his mind to build a good road as far as he goes or until the money appropriated is expended, notwithstanding reports of parties to the contrary. A good road is certainly essential as a future appropriation can fill up any gap left unfinished, which will give to the county a property always valuable, merely skimming over the top of the surface washes away, with the first rains and. there nothing left to show for the money expended, therefore it is wise to do good work as far as the means will allow."
The Gillett-Bradshaw Wagon Road was completed by December, 1879 and obviously Superintendent Joseph Drew had done a superb job because a Dr. Day, who traveled from Prescott to Tip-Top, had these comments to the Weekly Arizona Miner on December
- 48 -
12, 1879: "All the Prescottites were found doing a prosperous business. W.C. Dawes, Johnny Behan, Rod Cate, John Taylor, Joe Drew, Ben Belcher, and the Sill­sbee Bros., and all the boys up and down the gulch were happy. Joe Drew has built a splendid road up the mountain. It is the best grade and construction the doctor has ever traveled over in the county."
- 49 -
CHAPTER VII
Joseph Drew and Maria Culling
Maria was still pondering as to what to do with the station as the year 1880 came and went. She was still making an occasional trip to Culling's Well from Yuma, where she and the boys were still living with her cousin Bridgida, and somehow making a meager living as a seamstress. The boys were growing rapidly and she knew that a miracle would have to happen if she were to provide sufficiently for Daniel, Charles and Albert. She also realized that she was still young enough to remarry and hoped that another kind and gentle man, like her beloved Charles, would come along astride a white charger and carry her away from all these cares and worries, to live happily ever after.
These were mere dreams and fantasies as she and Berry sat in the hallway of the station one afternoon talking about nothing in particular. Her thoughts were broken up when she heard a buggy, drawn by two very spirited horses, drive up and stop at the front of the station. She watched with some interest as two men aligh­ted from the buggy and saw them approach to where she and Berry were sitting. She also noted that both men were neatly dressed, more like businessmen, am upon reaching Maria and Berry greeted them very cordially.
One of the gentlemen, for he must indeed be a gentleman with such refined manners, was tall, well-built, with thick, dark, wavy hair. He looked at Maria and Berry with brown penetrating eyes as if trying to read their very thoughts. He introduced himself as Joe Drew and his companion as Ross. The introductions over, Joe asked Maria if he and Ross could indulge in a meal there and perhaps obtain lodging for the night. He further explained that they were on their way to La Paz on business from Vulture City. They, he added, would be at La Paz for several days before making the return trip to Vulture. Maria explained that,
- 50 -
although she was the station's owner, she no longer resided there but that she would leave it up to Berry to decide one way or the other. Berry, who was not as young as he used to be, grumbled unenthusiastically but agreed to prepare a meal for these two hungry men and to put them up for the night.
During the meal, and afterwards as they were all sitting around the table talking, Joe seemed genuinely interested in Maria and inquired about her life, the station and other minor things. Maria told him about her marriage to Charles and of his death; about her children; about the situation regarding the station. She also mentioned that she had been imposing on her relatives for too long a time now and would have to be on her own soon. She, of course, had not intended to burden this stranger with her tale of woe and certainly didn't want him to think that she was crying on his shoulder. She also said that she had great faith in God and felt that things would work out for herself and her chil­dren. Joe knew what hardships Maria had endured and he felt sorry for this strong-willed, attractive, black-haired young lady. He suggested that he might be able to help her in some way, perhaps help her find suitable employment of some kind.
Joe and Ross stayed overnight and early the next morning after breakfast they left on their trip to La Paz, but before departing he asked Maria, rather hestingly (sic), if she would be at the station upon their return some days later. Maria answered in the affirmative.
By this time, Joe Drew had gone back into the general merchandise business. He also ran a boarding house and owned a hotel. The Phoenix Daily Herald men­tioned the hotel in their September 23, 1882 edition: "The supper was prepared by Mr. Drew's hotel, and they tell me it was the best supper ever prepared in the city, and you know when he goes in to do a thing he does it." Joe also owned a lumber yard and a livery stable.
- 51 -
By now Joseph Drew became Tip-Top's mining camp leading merchant and prospered exceedingly.
A consistent Republican in his political convictions, he was universally liked by all who knew him.
He was appointed to the Executive Republican Central Committee, Phoenix, Arizona Territory, on October 9, 1882 (Phoenix Daily Herald, October 11, 1882).
Joe did return to Culling's Well some days later, as he had told Maria he would, and Maria was at the station when he arrived in the same buggy and with the same two lively horses. Joe seemed very glad to see Maria again and during his stay at La Paz had been thinking about this pretty young lady that somehow had come into his life. Maria had a wonderful personality, was warm, sincere, friendly and had a great sense of humor. Joe carried all of these outstanding traits of Maria's in his mind. Maria was a slim and graceful young woman with long, black, heavy hair, which she wore drawn back into a bun at the nape of her neck and a cluster of shiny, black ringlets curled over a rather high forehead. Her skirts were wide and full, in the style of the era, with a glimpse of an im­maculate white, ruffled petticoat noticeable when she held her skirts, so as not to brush the stove or the table. Her hands, as she held her skirt, were beauti­ful with long, tapering fingers, and her-eyes were a deep brown. All of these things Joe noticed as she greeted him warmly and as she went about her business.
Maria and Berry had been expecting Joe and Ross and Berry had prepared a meal and, again, arranged for them to spend the night at the station. They spent a quiet evening in pleasant conversation and the following morning, as Joe and Ross made their preparations to leave, Joe invited Maria to Vulture for a visit. It seemed that a gala was scheduled for sometime in the future and Joe wanted Maria to attend these festivities, which were being conducted in honor of the mine superintendent and his wife, who were arriving from the east. Besides, Joe
- 52 -
knew that Martina, Maria's mother, was now residing at Vulture and felt that this was an opportune time for Maria to spend some time with her mother and away from the cares and worries that continually plagued her.
Maria made no commitments, although the thought of seeing her mother again was in itself an incentive for making the trip. Christian Berry highly encouraged her to go, for Maria might be able to find employment in Vulture and eventually send for her young sons, who were still in Yuma with Bridgida. In the meantime she had the hired hand round up the rest of the stock and asked him to take them to Yuma and to sell them.
Time seemed to drag by for Maria for by now she had made up her mind to make the trip to Vulture to see her mother but eventually she hopped on the stage on her way to Vulture.
Martina was overjoyed upon seeing her daughter and wept from sheer joy as she was very emotional and thought the world of Maria. Martina seemed to have aged considerably since Maria had last seen her. She was working harder than ever as she had a number of children to raise and feed. Her useless and abusive husband had been shot to death in May, 1880 by a man named Martinez at Norton's Landing, which was really no great loss to her or to the children, but she was carrying a heavy load on her shoulders, am worrying about Maria and her grand­children only added to the burden. Nevertheless, all was forgotten as she greeted her daughter, asking questions and just gabbing away like mothers and daughters have a tendency to do.
Ramona, Maria's half-sister, was old enough to help with her brothers and sisters, and was affection ally known as "little mother" by them. She did much to alleviate Martina's load. A very obedient and devoted child, she could not do enough for Maria, for she loved Maria as only young children can love and Ramona enjoyed waiting on her older sister, fetching this and that so that Maria might be more comfortable.
- 53 -
After a good night's rest, Maria awoke refreshed and happy the morning after her arrival. The morning was pleasant and cool with the sweet smell of the mesquite filling the air, while a myriad of wildflowers was visible every­where. The early morning hours in the southwest deserts are more enchanting, with jackrabbits and cottontails scurrying about, while linnets and other song­birds carry on their cheerful singing. It was a gorgeous spring morning and Maria was happier than she had been in ages. Forgotten were the cares and worries of the station. Now she was alive and she felt like she had been re­born again.
Maria told her mother about Joseph Drew and his visits to Culling's Sta­tion. Martina knew who Joseph Drew was since he was such a prominent figure there.
Maria still hadn't made up her mind about attending the ball, which was to take place shortly but she decided to pay Joe a visit at his mercantile store anyway.
When she walked into the store, she was wearing a rather plain, dove-gray dress with a full skirt and her bonnet was tied with a pale pink ribbon. Joe was talking to some customers but upon seeing Maria enter, he excused himself and strode quickly over to her. Taking her hands in his he told her how glad he was to see her again and asked if he could call on her that evening as he had so many things to discuss with her.
That evening as they were strolling down one of the small paths that lead through town, conversing quietly, Joe again asked Maria if she would attend the ball with him. Maria hesitated and told him that she was still undecided, al­though what she failed to tell him was that she had left her best clothes in Yuma and certainly couldn't see herself wearing something less appropriate to
- 54 -
such a function. She wanted to go in a bad sort of' way, however, and there was no way that she and Martina could be capable of making a dress in such a short period of time. There just was no way in the world that she could make it to the grand ball and she felt depressed. Her indecision didn't deter Joe one single bit and he told Maria that he would drop by her mother's home the following even­ing, the day of the ball, whether she had decided to go or not and with this they parted.
Martina had a very good friend and neighbor who just happened to drop in at Martina's home for a visit the following morning. Maria and Martina were dis­cussing the problem regarding the lack of an appropriate gown for Maria. Maria was unaware that, like the Cinderella of fairy tales, she was about to acquire a "Fairy Godmother." Upon learning that Maria could not attend the social fun­ction due to the missing gown, the neighbor surprised her by saying that not only would Maria get a gown fit for a princess, but that she would attend the ball with "Prince" Joseph Drew. She then escorted Maria to her home where she showed her the gown. Maria could not believe her eyes and her good fortune.
The gown her "Fairy Godmother" was showing her was lovely. It was a pale laven­der organza with tiny sprays of purple flowers. The bodice was tight-fitting with a rather low neckline, which was framed by two graceful ruffles on which a deep purple bow was centered at the neck. From this bow, a small row of tiny purple buttons ended at a basque of sheer purple satin. The sleeves were long but in a wide circle just above the wrist from which ruffled and heavy cream­-colored lace peeked forth. The skirt was very wide and full and encircled with a cascade of tiny ruffles starting at the waist and flowing down the length of the skirt. Dainty purple bows were scattered here and there on the skirt.
The dress fit as if it had been made especially for Maria and when she looked into the mirror, she could hardly recognize herself. Impressively, she
- 55 -
twirled around, the skirt billowing around her. She could not believe that this was actually happening to her. Her face glowed with happiness and excitement. When Maria asked her "Fairy Godmother" where this beautiful gown had come from, she answered that she had made it for herself for this ball but due to circum­stances beyond her control she would be unable to attend the affair. Maria could not thank this kind and generous lady enough as she prepared for the festivities.
The evening was cool, with soft breezes playing amid the branches of the golden-blossomed Palo Verde trees, and the air seemed fraught with excitement as Joe arrived at her mother's house, as he said he would. He didn't know that Maria had decided to go to the ball with him after all and he had resigned him­self to spending the evening with Maria at Martina's. He was pleasantly sur­prised, when she answered his knock on the door, seeing her standing there in all her loveliness. The lavender and deep Purple of the dress complimented the honey-­tone of her skin and, glossy black hair. He thought she was undoubtedly the loveliest person he had ever seen.
The moment Maria felt the beautiful gown slip over her shoulders, the day had taken on a dream-like quality. She was on cloud nine and she didn't care if the entire world knew about it.
She would not have been surprised at all if this handsome gentleman, Joseph Drew, had galloped up to the house, clad in shining armor, and mounted on a white prancing steed instead of in a horse-drawn buggy.
The ball was a huge success, with prominent people laughing and beautiful skirts billowing as the women twirled to the soft, slow music coming from the orchestra.
Maria, surprisingly enough, was the belle of the ball. She danced with all the gentlemen and somehow the superintendent of the mine always managed to dance with her time and time again, which somehow embarrassed Maria not knowing how his
- 56 -
young wife was taking all the attention her husband was showering on Maria. Maria did not have anything to worry about because the superintendent's wife was a very sweet and understanding lady and seemed to be enjoying herself thoroughly. Joe, on the other hand, felt cheated, so every chance he got he cut in, in order to dance with the enchanting Maria and thus they danced away this entrancing evening until they seemed as if nobody else existed on the dance floor. The dance eventually came to an end and as they said goodnight outside Martina's home, both Maria and Joe knew that things would never be the same again for they had fallen deeply in love.
It was truly a night to remember for Maria and she knew that fairy tales will come true if you are patient and never lose faith. That night, as she knelt down for her evening prayers, she gave thanks to God for making all of this possible; for giving her Charles and the children; for her mother and cousin; for her "Fairy Godmother;" It for a most beautiful evening with Joseph Drew.
The following day Maria's thoughts were more realistic and she felt a long­ing to see her sons since they had never been separated for any length of time. She decided to return to Yuma at the earliest opportunity ani continue on with her life, but before the day was over, Joe came to Martina' s home and asked Maria to take a stroll with him, as he had a very important question to ask her.
Maria's heart beat a bit faster for she suspected what that question would be. Yes, Joe asked her to marry him and she eagerly accepted. They arranged for Marla to return to Yuma for the boys and in the meantime Joe could make all necessary arrangements for the wedding and. find a suitable place for all of them to live.
Maria was reluctant to tell her mother of Joe's proposal and his plans for the future. Martina did not really know Joseph Drew well enough to form an opinion of him although she was aware of the fact that he was a successful busi­nessman. She didn't want her daughter to experience a let-down due to the short ­time that Maria and Joe had known each other.
57
Maria returned to Yuma without saying a word to her mother but departed with a light heart and excited over the turn of events that seemed to have ma­terialized practically overnight.
Her cousin, Bridgida, was elated upon hearing Maria's story of her visit to Vulture, of the ball, and of her engagement to Joe Drew. Daniel, Charles and Albert were overjoyed upon seeing their mother and in no time they were busy putting their things together in preparation for their trip to Vulture and to a new life.
When Maria eventually made her return trip to Vulture, she had her three sons with her and went directly to her mother's home. Martina greeted her and her grandsons warmly and thought nothing of Maria's arrival since she assumed that Maria's move to Vulture was to find a job and to eventually settle down there permanently.
Joe had been busy while Maria was in Yuma and in time was able to prepare a suitable apartment above his store for his future bride and her three sons to live in.
Joseph S. Drew and the widow Maria Valenzuela Culling were pronounced man and wife at Vulture, Arizona Territory, by Father J. Bloise on October 15, 1882. Joseph was 37 years of age and Maria was a young 26 years old when both said, "I Do." Maria had been a widow for four years and her sons were growing up to be fine young men.
Martina did not know about Maria's and Joe's marriage until the following day. Martina was understandingly very surprised and somehow hurt but, seeing how happy her daughter and. her son-in-law were, all was forgiven. She hugged them and gave them her blessing, which was what Maria was hoping for. Martina now felt great confidence in Joe and all her fears were dispelled. Yes, she
- 58 -
knew that Maria had made the perfect choice in Joseph Drew.
Joe had decorated the apartment in such a way that it looked attractive and. cozy to Maria. He had brought some furniture while on a trip to Phoenix and the "Icing on the cake" was the beautiful, thick, plush carpet covering the floor, for these carpets were indeed rare in the 1880's in Arizona. They were very happy there and the boys were thrilled with their new home and immediately accepted Joe as their own father.
Maria's life was now complete. She felt comfortable and completely at ease.
Daniel and Charles were now enrolled in the local school and she had only Albert to look after. Her half-sister, Ramona, loved to visit Maria and to help her with the housework and with little Albert. She and Maria were always chatting and laughing as they spruced up here, dusted there, and as they polished the furniture.
Ramona, being a very devout Roman Catholic, had prepared a small altar in one corner of her small room at her home where she always recited her prayers. She had secured a small sandalwood box lid from somewhere and on this lid she had carefully pasted a series of holy pictures of the Blessed Virgin, the In­fant Jesus, and of the Sacred Heart. The lid was propped up against the wall and on either side she had small vases where she kept fresh flowers. Ramona had started this practice when she was still a child. Years later Adelina (Drew) Loza, while going through her mother's (Maria) old trunk, found this sandalwood box lid with these holy pictures still intact.
Joe put in long hours at the store and usually did not return home until midnight, but he never forgot to bring home some beer and a tasty snack for Maria, as he knew that she would be up waiting for him. He also knew that Maria enjoyed these snacks.
Joe was doing well at the store and this was evident by an article that
- 59 -
appeared. in the local paper on October 21, 1882, which mentioned that "Drew's store is crowded with customers doing business there."
He was also very involved in the Republican Party and was appointed. Ins­pector for the Vulture Precinct during the polls in October 1882.
It seemed that everything was going well for the Drews, but lurking some­where in the background was the grim reaper just waiting to create havoc amongst the residents of the mining camp of Vulture. Quickly, and without warning, an epidemic of Diptheria engulfed the town in 1882. In the 1880's this contagious disease was nearly always fatal and no one knew how to treat this bacteria-caused disease except to try to get the fever down and keep the throat from closing.
Also, absolute bed rest was necessary for recovery. Even then it was a slow and pain­ful death and due to its contagious nature, there were few families in Vulture who were spared from this sickness, and eventually even Maria came down with Diptheria.
Joseph was frantic. He sent Daniel and Charles to their grandmother so that, with the help of Ramona, he could manage little Albert.
The mining camp had an aura of death as groups of somber-clad residents could be seen walking through town and following the coffins of their dear ones in mourning.
Joe stayed with Maria as much as possible and Ramona, who had been spared from this disease, was there every morning to do her part, even though she also had to care for her ailing siblings at home.
Maria, before losing consciousness, lay in bed with a raging fever and every day during this ordeal young Albert would peak into her room from the doorway and ask his mother if she was better. Ramona would then place a cool, damp cloth to her burning forehead and this soothing affect would send Maria into a deep coma and she remembered no more.
- 60 -
One day followed another with little progress being noted until one bright morning Maria opened her eyes dazedly and she realized that the fever had dis­appeared and thanked God for sparing her life from this critical illness. Joe had been sitting by her side, as he often did, and when Maria opened her eyes he, too, offered a silent prayer of thanks.
Maria, not seeing her children nor Ramona around, wanted to know where they were and became rather apprehensive as to their whereabouts. Joe told her that the older boys were with Martina but said nothing about Ramona. The weeks passed by and when Maria had regained her strength, and had recovered sufficiently, she was told the devastating news regarding her family. First, young Albert had died, then God took Ramona. This was followed by the deaths of Martina's two younger children. Only Val, Martina's other son, survived the epidemic. For­tunately, neither Martina, Joseph, Daniel nor Charles contracted the dreaded disease.
Maria had by now completely recovered from her illness but the losses of her loved ones were just too much for her to endure and she suffered a relapse. Her mother was there to console Maria and to be by her side and this helped both of them to pull together and to survive from these tragic happenings. Maria was soon back on her feet but still unable to reconcile herself to the fact that her dear little sister, whom she loved so much, and her precious baby were gone. Everything in the house reminded her of Albert: The little garments, a toy. And she cried her heart out in uncontrollable grief. Sometimes, when she was in her room resting, she could imagine Albert at the doorway peeking in and asking her if she was better. She became extremely nervous, lost her appetite, and had dif­ficulty sleeping at night, which concerned and disturbed Joe greatly.
One night she had a strange dream. In this dream she was being escorted, by persons unknown to her, to a small window. When she opened the window and looked in, she knew
- 61 -
that this had to be paradise because she felt an indescribable joy and the beauty was awesome. There, before her, to her utter delight, was a golden crib and in this crib, fast asleep, was her baby Albert. Tiny cherubs fluttered about the crib. Albert looked very happy and content and, although she wanted to, she could not make herself to take the baby away from this beauti­ful place. She knew that she could never have him back. When she awoke the following morning she felt relieved and resigned, and soon was her old self again to the relief of her husband.
The town gradually recovered from this fearful sickness and it was evident that it had nearly been wiped out as death had taken a terrible toll of Vulture.
Joseph went back to work at the store and it seemed that things were get­ting back to normal and the future seemed bright.
Maria and Joseph were the proud parents of their first child, a girl, in 1883. They were very happy and the ordeal of the previous year seemed lessened by the arrival of this blessed event, whom they christened Martha. Their hap­piness was short-lived, for death was not finished with this family yet—it was only lurking in the shadows nearby. When Martha was about six months old, an illness claimed her young life. This was another bitter blow to the Drew's but they carried on somehow.
Many years later, when Maria's daughter, Adelina, was going through her mother's old trunk she came upon a small pocketbook made of a white shell in the shape of an egg. She carefully opened. it and there on the delicately pink lin­ing she found a strand of soft brown hair tied together with a little blue rib­bon. It was a curl of hair from her sister Martha.
In 1884 another child, a boy this time, was born but died shortly there­after and both Maria and Joseph were devastated by this final, crushing blow. Joe was terribly discouraged so he decided, after consulting with Maria, to sell
- 62 -
his businesses at Vulture and move to Phoenix. He felt that medical facilities were more readily available there, besides, Daniel's and Charles' schooling had to be considered.
The day finally arrived and in 1884 the Drew family packed their belongings and made the move away from the town where they had suffered so many heartaches. They would leave the past, their three children, and Maria's kin buried deep in Vulture with high hopes to a better future.
Prior to their move to Phoenix, Joseph had purchased six acres of land there. It was here, near a canal and facing Van Buren street, that Joe built a small adobe house where they would reside. The rest of the acreage was to be utilized for growing vegetables, which in due time grew in abundance. The vege­tables were sold to markets and to individual customers in town and provided the family with a nice cash crop. Maria and Joe wanted to save as much money as possible in order to restock Culling's Well, which was still Maria's legal pro­perty, and to start raising cattle there.
Joseph Drew ran for Sheriff in Maricopa County on the Republican ticket on November 1, 1884. Although he lost the election to H.N. Broadway by 126 votes, he, nevertheless, was considered a force to be reckoned with. In those days to be Sheriff was greater than to be king.
When Joe built his house in Phoenix, he first constructed a basement. Here he placed a wood stove, a large table and chairs where they ate their meals, and above this basement were added the bedrooms. The wood stove kept the room warm and cozy and a stairway led to the bedrooms. The basement was constructed in such a way that windows were placed just above the ground level. These windows supplied natural light and ventilation.
In October 1885, a daughter, Adelina "Addie", was born to Maria and Joseph Drew in the newly constructed adobe house on Van Buren Street.
- 63 -
Joe, by now was a familiar face in Phoenix and that same year he established a livery stable at Central and Washington Streets. This new venture added cash to their savings.
Phoenix was first settled in 1868. At first the little community that sprung into existence was called Pumpkinville as a result of crops of barley and pumpkin being grown in the area. But by 1870 the three hundred settlers there thought the name too undignified. A mass meeting was called at which Darrel Duppa., an English exile, suggested the town be called Phoenix after the legendary bird that lived five hundred years, was consumed by fire, then was born anew from its own ashes. Duppa thought the name appropriate, for the town was growing from the ashes of the ancient Hohokam Indian civilization. The residents liked Duppa's suggestion and adopted it.
By 1873 the first building actually built as a school in Phoenix was cons­tructed on what is now Central Avenue between Monroe and Van Buren streets. By 1883 a larger building was needed and this structure was demolished.
The original Phoenix townsite was located in an unheard desert in an un­populated and largely unexplored section of the country. Railroads were several decades away from entering the Territory, and the nearest body of water suitable for commerce and travel was roughly a thousand miles away. Water within the state seemed always to be either too scarce or too abundant, the latter when mountain streams thawed and sent cascades of water into the Valley. The early settlers strove to provide merely the necessities for their families. It would be half a century before the amenities could be available. It was not a wild west town. The drama of early Phoenix was not in frequent gunfights and stage robberies as much as in the perseverance of a people determined to survive.
Phoenix may not have been a "wild west" town but in 1882 President Chester A. Arthur warned Arizona that he would place it under martial law unless it
- 64 -
showed respect for law and order. As if to confirm the lack of respect for law and order in Arizona, in 1883 the Twelfth Legislature met and declared that "carrying deadly weapons in villages, towns or cities was illegal."
And so it was that Adelina Drew arrived in Phoenix, Arizona Territory - a town that was to grow to immense proportions as she grew up. She was a healthy child and both Maria and Joseph spoiled her, as did Daniel, age 12, and Charles, age 9. She was given the nickname "baby" by the fami1y and, being a fairly good child, Joseph never scolded her even though sometimes she deserved it. The boys were a great help to their father and, when not attending school, they were busy working in the vegetable gardens.
The surrender of the Apache war leader Geronimo to Lieutenant Charles B. Gatewood of the U.S. Army at Skeleton Canyon, south of present highway U.S. 80 (between Douglas, Arizona and Rodeo, New Mexico) on September 4, 1886 finally brought an end to a struggle that had begun in the 1860's, and. peace once again reigned in the Territory.
- 65 -
CHAPTER VIII
Return to Culling's Well
Joe and Maria continued to operate Culling's Well. Eventually Mr. Doll left but the faithful Christian Berry carried on.
Joe, with the help of Berry had begun to stock the station with cattle and the stock thrived as the abundant rains created lush grazing areas near the station.
On occasion Maria and the family would stay in Phoenix all year, with the exception of the summer months. During the entire summer she and the children would spend that time at the Wel1. The children would enjoy their long school vacation very much. Joe would remain at the station all year long, with fre­quent trips to visit the family in Phoenix.
In Phoenix, Daniel was always helping Maria about the house and, as "Addie" recalls in her memoirs, "He took charge of me as soon as I became a. little older. He would wash my face, comb my hair every morning, and tie ribbons on my braids. I wore pigtails and high-button shoes. However, all these buttons proved too big a problem for me, so I would just step into my shoes and forget about it am the tops would flop down around my feet when I walked. This used to annoy Daniel, so when he heard me flopping around, he would take the button hook and go to work. What a time he had with those high-but ton shoes in those days."
This article appeared in the Phoenix Daily Herald on February 14, 1887:
"Joseph Drew is having built the derrick for sinking the artesian well on the courthouse plaza. He looks for the well machinery any day now, it having been shipped in sufficient length of time to be at Maricopa."
What happened is that Joe was given a contract by the county to sink a well in the hope of developing artesian water. He had undertaken this monumental
- 66 -
task between trips to and from Culling's Well.
On March 5, 1887, the Phoenix Herald reported, referrirng to Joseph Drew's
endeavors: "Artesian Prophets guess the courthouse plaza well must sink all the way from 400 to 2,000 feet before water will be reached. The margin of safety is perfectly satisfactory. Water not found at 2,000 feet probably was beyond."
According to Melina, in her memoirs, she states that the reason her father, Joseph, undertook this project was that the city of Phoenix had offered ten thousand dollars to anyone who could locate an artesian well close enough to the city to be of practical use. Apparently Joseph Drew was fairly accurate in his knowledge of water tables and the decision to drill at the courthouse plaza was his. The city fathers were rather skeptical about Joe's findings but decided to let him go ahead and prove his point.
Joe had to have machinery for this job so he decided to go to Chicago, where this equipment was available, and purchase what he needed.
Upon his return to Phoenix, Joseph brought Maria a beautiful pearl and gold rosary and a gold thimble, For Adelina he brought a small jack-in-the-box toy and a delicate pink silk bonnet.
The beautiful rosary that Joe gave to Maria met an untimely death. It so happened that on Sunday, while attending Mass at St, Mary's Catholic Church, which had been established in 1881, "Addie" dropped the precious rosary down a, knothole in the floor of the church and the rosary was now history. It may have been fun for "Addie" but it was a great loss to Maria. No, she wasn't punished. for this mischief.
Problems were experienced by Joe while drilling. First, the engine had to be modified to increase its speed according to the Phoenix Herald of March 11, 1887. Next, the drill struck solid rock and it broke. The Phoenix Herald, dated May 27, 1887 had this to report on the progress of the artesian well:
- 67 -
"Joe Drew, who is sinking the artesian well in the plaza, has discovered a new way of overcoming the obstacles which have been holding him back for the past three weeks. At the foot of his boring rod was a large boulder which as the drill kept striking it on the edge, would revolve instead of breaking. Last night he grew tired of that nonsense and dropped a capped and primed giant powder car­tridge down the pipe. The explosion could hardly be heard on the surface but the obstruction is removed and today the drill is making depth again and from the course sand and gravel, which the sand pump brings to the surface, he thinks that the bed is not far off."
Joe was running out of money and new equipment was needed to complete the job. The county then decided to pursue the enterprise no farther. The project was abandoned. Ironically, some thirty years later the artesian well broke through the crust of rock and the water gushed up and flowed allover the court­house grounds. This well was eventually capped and continued to produce the allusive water for years to come, but Joseph Drew never lived long enough to see the fruits of his labor, for it was believed that Joe's drilling efforts
was the cause of the well gushing forth. Incidentally, Joe did not collect any­thing for his untiring efforts as a written contract was never found in his possessions.
There was much to be done at Culling's Well and Joe had put off the trip long enough while he was drilling for the legendary artesian well, so he gat­hered Daniel and Charles and left Phoenix for the station, leaving Maria and Adelina behind.
Besides the cattle, Joe also had purchased some horses and upon arrival at the station, they immediately started repairing the stock corrals and construct ­new watering troughs, plus doing a variety of other chores to keep the place from falling apart. Christian Berry was glad to have Joe and the boys around
- 68 -
since it hadn't been easy managing the station by himself since Mr. Doll had left. In no time they had a. nice batch of calves and the welcomed rain created some good grazing areas. The stock thrived and grew fat and things were finally looking great at the station.
With the development of train transportation in 1882-1883, extensive stage travel almost ceased to exist in the Arizona Territory, but there still were some stages and a little freighting going on, so Culling's Well survived, but more attention was now being given to the cattle and other stock, and crops at this location, than ever before. The Parker branch of the Santa Fe Railroad ran down the entire length of the Centennial Wash.
There were a number of interesting characters stopping at the station even during those days. One of them was "Hi-Jolly."
This child of a Greek mother and an Arab father was born somewhere in Syria about 1828.
In 1855 Secretary of War Jefferson Davis (later to become President of the Confederate States of America) convinced the U.S. Congress to appropriate $30,000 for an Army experiment to see if the use of camels as beasts of burden in the Southwest was practical. Naval Lieutenant Edward Fitzgerald Beale, a veteran of the Mexican War, undertook the task of surveying a good wagon route across north­ern New Mexico Territory, along the thirty-fifth parallel.
Under Beale's direction, thirty-three Bactrian camels reached Indianola, Texas in 1856. The following year another forty-four camels arrived, and all were located at Camp Verde, Texas (sixty miles northwest of San Antonio).
Accompanying the camels from the Middle East were two drivers. Their names seemed unpronounceable to Americans and were soon corrupted into "Greek George" and "Hi-Jolly." The amiable Syrian's real name was Hadj Ali (Beautiful Pilgrim) and known to everyone as "Hi-Jolly." "Hi-Jolly" proved useful to Beale from the
- 69 -
time they left Camp Verde on June 25, 1857 until the end of the experiment.
Each camel carried six to eight hundred pounds and traveled twenty-five to thirty miles a day. The survey party finally reached the Colorado River in January, 1858. Beale was convinced that camels were the answer to the Army transportation problem but with the opening shots of the Civil War in 1861, the Congress refused to appropriate any additional money for the Camel Military Corps and it was disbanded and the beasts sold at public auction. Some were bought to pack ore in Arizona, others to pack salt in Nevada. A few escaped to run wild in the desert where they were shot on sight by prospectors and hunters,
who regarded them as pests and nuisances.
"Hi-Jolly" remained a civilian employee of the Army off and on for years. He became a naturalized citizen in 1880, taking the name Philip Tedro. He mar­ried in Tucson and sired two daughters, but tossed off the role of family man in 1889, returning to the unsettled desert to prospect for minerals and keep company with any stray camels that might be passing by.
It was while making one of his frequent trips that "Hi-Jolly" dropped in at Culling's Well for a visit. Joe, Daniel and Charles were busy at the station at the time. "Hi-Jolly" presented Daniel with a small camel. Daniel kept it for a while until it got too big and began creating disturbances at the station. Then Daniel took the camel to an area considerably south of the station where he knew several of these camels were roaming a bout. Here Daniel's camel was turned loose to join the wild herd.
Old "Hi-Jolly" died in 1903 and lies buried on the desert he loved. A pyramidal stone marker was built over his grave in Quartzite, a marker contain­ing the remains of the last surviving camel from Lieutenant Beale's unusual ex­periment.
Adelina recalls their early home in Phoenix and several significant events
- 70 -
that occurred there, which are worth mentioning.
"I was about three and a half years old and I can still remember that cozy little house and the warmth of the kitchen. A few events come clearly to my mind. However, I recall this event because it frightened me so.
One morning I was seated in a little red high chair of mine. Charles was also at the table and we were waiting for mother to serve our breakfast. Joe and Dan had gone into town on some errand. Suddenly we were all startled by the sound of loud and heavy footsteps coming down the cellar stairs and there, looming up in front of us, was a man, wild-eyed and staring. He had something that resembled a white sheet, a gown of some kind, wrapped lightly around him and tied over his forehead in a big knot to keep this garment from falling off. My mother knew immediately that he must have escaped from the Assylum, which was built in 1885, and was only a short distance from our house. She kept her head and. calmly asked him to come in. She then offered him some coffee. He nodded his head and. mumbled something unintelligible while staring wildly about. My mother sat him down with his back to the stove, handing him the cup of coffee. While she was doing this, she was trying to signal Charles with her hands to go for help. Charles understood and casually left the table and walked slowly up the stairs. This wild man's bulging eyes never left Charles but did not suspect this boy of going after the authorities and said nothing.
The moment Charles was out of the front door, he took off like a deer in the direction of the Assylum. He had not gone far when he espied some Assylum attendants heading in the direction of Charles' house in a wagon pulled by a team of horses. He shouted at the attendants telling them that the escapee was in his house. They whipped up the horses and when they came galloping around, and by the windows, the demented man saw them and, throwing up his hands, he leaped up the stairs and was gone. Before the startled attendants could react,
- 71 -
the man jumped into the canal, which was nearby. He eluded them for a time by remaining submerged but when he came up for air they captured him and promptly returned him. to the Assylum."
Another incident that happened when Adelina was still a child and remained very vivid in her mind was the snake incident. She tells it this way: "Mom and dad used to go swimming in the evenings in the canal during the hot, stifling summer months.
One evening they took me with them. Mother spread a little blanket on the ground and cautioned me to lie down and not to wander off lest I fell into the canal. After much squirming about, I finally made myself comfortable on my back and was intently looking at the pretty clouds in the sky. Suddenly I felt something cool and smooth crawling over my stomach. I was terrified and screamed my lungs out. Mom and dad came running but I was so frightened that I was speech­less and could only point at some bushes where a snake was crawling into. Father saw it and hurried over to kill it but by that time the reptile had disappeared. As it turned out, the hideous thing was only a harmless bullsnake. I never for­got this incident and to this very day the sight of a snake, bullsnake or other­wise, terrifies me."
A humorous incident was recorded in Phoenix magazine, October 1970, regard­ing "skinny dipping" in Phoenix canals:
"Sometime in 1890 the Arizona Gazette came to the defense of men who chose to cool off by bathing in the big ditch north of the city. A lady living nearby had been attracted by the men's laughter. Armed with a pistol in one hand and a candle in the other, she had ordered them off the premises, punctuating her shouts with a shot from the pistol. The newspaper said it knew of no law pro­hibiting bathing in the ditches outside the city limits and could see no harm in such bathing at night when bathers could not be seen. The lady with the pistol,
- 72 -
apparently, did not discourage the man because the paper reported later, 'The boys still bathe in the ditch running along the city. The style of bathing suit used last year is still in vogue. It consists of a wad of cotton in each ear!' "
In 1890 Phoenix had 3,152 inhabitants and was now the capital of the Ter­ritory, having achieved this in 1889.
Joseph Drew was the type of man who loved to do things for Maria and his family. He was always surprising his wife with little trinkets and things to make her happy, and he just loved to pull something on her when she least ex­pected it.
Adelina was nearly four years old in 1889 and her mother was expecting another child.
Joe, at this precise time, and unknown to Maria, was preparing a wonderful gift for her before the arrival of the baby. He had purchased half an acre of land, half a block east of Seventh Street and facing what is now Portland Street. In 1889, Seventh Street was just a narrow carriage trail, lined with huge Syca­more trees from which hundreds of blackbirds set up a deafening chatter. The area near this street was planted in alfalfa.
Joe fenced in his property and hired some carpenters to build him a house of lumber. Most of the houses were still constructed of adobe bricks and only the nicest and more expensive homes were built of lumber. In time this resi­dence was sturdily built and Joe had it furnished throughout, again, without Maria's knowledge.
One particular day Joe suggested they go for a ride in their buggy to see a beautiful new home, which he had seen recently. They rode a short distance until they came to the "beautiful new house." He told her the house was vacant and they stopped in front, alit from the buggy, and escorted her inside.
- 73 -
Maria fell in love with the house immediately. It looked very neat and inviting. The bedrooms were spacious; the living room came with a fireplace; the kitchen was large and cheerful. The master bedroom was inlaid with a beautiful beige carpet with great, pink, cabbage roses. The headboard on the bed was a tall, hand-carved piece of Mahogany that reached halfway to the ceiling. The walls and ceiling were papered with cream-colored paper and in the middle of the ceiling there was a large basket of pink cabbage roses.
Maria had never seen anything so beautiful and told Joe how she felt. She even said that she wished she had a house like this one. Joe then told her that it was hers but Maria thought he was just kidding her. He then proceeded to ex­plain to her how he had it secretly built in order to surprise her and to make sure that their new baby would have a nice place to be born in. Maria went home in a daze and wondered if she was just having a pleasant dream. She had never been so happy and thrilled since Joe had proposed to her those many years ago at Vulture.
Joe sold his other home and farm and he, Maria, and the children eagerly moved into their new and beautiful home. Joe had purchased a small crib for the expectant baby. It was square with rail wall around it. In the crib were placed some soft, fluffy blankets and a downy baby· mattress, which "Addie" tried to con her mother out of for her own dolls but did not succeed.
The blessed event arrived in October, 1889, in the new master bedroom, which was decorated with roses. The day of the baby girl's birth was also the Feast of Our Lady of the Rosary. It was therefore befitting that she be named Laura Rose.
Laura Rose was a beautiful baby, with lovely, bronze, curly hair and dimples decorated her cherubic face.
"Addie" loved her little sister and she lost interest in her dolls now that a new live doll had arrived.
- 74 -
When  "Addie" entered the first grade in school, her mother let her take Laura to school with her and "Addie's" teacher, Miss Garlic, thought that Laura was truly a living-doll.
Towards the end of the year, Joseph and the boys were busy fixing up the grounds and. yard of the new home.
Joe, in addition to fixing things around his house in Phoenix, was also spending as much time as possible at Culling's Well. He was still adding more stock to his here and even got around to planting fruit trees and evergreens. From the back door he built a raised walk to the well. Over this walk and for its entire length, he built an arbor and planted grapevines there. He started growing alfalfa and even fenced in his property.
A traveler had this to say in the Florence Arizona Enterprise, on December 11, 1889:
''We camped the first night at a tank, called Cullen's (sic) Wells, in a cluster of cedar timber, with grass around and a few head of cattle here and there."
One summer, when the boys were on school vacation, the entire family de­cided to go back to Culling's Well with Joe.
During this trip, Joe and Maria decided to go in search of a gold mine, re­ferred to as the "Old Squaw Mine." While at the station, they would all take off towards the mountains in search of instant wealth. They, in fact, had contracted the dreaded disease known as "Gold Fever."
Adelina was still too young to be concerned with gold mines and instant wealth and she spent her time daydreaming, chasing the colorful butterflies, and plucking lovely wild flowers.
One day, while adventuring near the mountains, they came upon a cool, bub­bling spring of clear water, and following the spring's source, they found a
- 75 -
large cave. In the cave was a great earthen jar, which they assumed had been used by the Apaches for storing water. It was so large that it would have been difficult for them to move it around, so they just left it in place, filled with water, for their use during periods of drought when the spring dried up.
The jar was approximately five feet wide, made of a very thin clay and upon closer examination a crack was revealed. Joe and the boys removed it from the cave and very carefully placed it on the wagon in order to transport it back to the station.
Joe knew right away that this jar was very old and undoubtedly very valu­able. He made up his mind right there and then to donate this archaeological find to a museum.
The trip back to the station was very slow for fear of breaking the jar enroute, but eventually they reached their destination with the jar intact.
Joe immediately constructed a wooden frame and placed the jar within. This way the jar was protected from all sides against accidental breakage. It was filled with water and Maria packed gunny sacks all around it and planted some wheat in the creases and folds. The gunny sacks were kept damp and soon the wheat sprouted and the outside of the jar was one mass of green. It had been placed on the side of the airy hallway and the breezes helped keep the water cool and sweet during the summer months. All thought of donating this jar to a museum were all but forgotten.
In her memoirs, Adelina states that, "I have never tasted water to equal the delightful liquid from that jar."
The jar, like everything else in this world, met an untimely death sometime later in the year. It happened this way: One day a teamster with a large wagon, that was used for hauling freight, and pulled by two rather nervous horses, stopped
- 76 -
at Culling's Well for water. He had no sooner stepped down from the freight wagon when the horses, suddenly spooked by something at the Well, tore loose and, terrified, raced wildly for the wide hallway, wagon and all. Maria and the kids saw the beasts and wagon heading down the hallway and they scrambled for their lives. Fortunately, no one was hurt but the horses galloped through the hallway, smashing chairs and tables and smashing this antique jar into smitherings (sic), spil­ling the cool, sweet water allover the place.
The teamster somehow managed to mount one of Joseph's horses and took after the team, which could be seen heading to nowhere and creating a trail of dust as the wagon bounced crazily behind.
The family did not mind the furniture being broken up, but the loss of this jar, with its life-saving supply of water, was hard to accept.
The station had a feature not yet mentioned before and this consisted of an "underground attic," which was actually a brush and dirt-covered dugout-type of cellar. In it were stored old broken furniture, lamps, household effects, etc. One day, after an especially heavy rain, the entire "underground attic" collapsed. In it was some cowboy equipment belonging to Charles Culling, Jr. This "sunken cellar" was never dug up and somewhere near the station it still remains, just a few feet at most below the surface of the desert.
The following year, 1890, as soon as the boys were out of school, the family again returned to the station.
Upon arrival at Culling's We11, they discovered they had a neighbor, an Apache Indian squaw, a widow with two teenage children, a boy and a girl.
This squaw had put up a wikiup for herself and her family by the ranch and had made herself at home there away from the tribe and reservation. She was to remain in this choice location for many years.
The squaw, whose name was Lola, took a liking to Maria and respected her.
- 77 -
She was approximately fifty years of age, tall and wiry, and straight as an arrow. She was destitute and her ways were rather primitive. She was also very innovative for she utilized the white sacks, in which she received her share of government flour, to make dresses from.
The dresses the Indian squaws made then were all made in the same style. The blouse had a gathered yoke front and back and hung loosely down to about the hips. The skirt was very full with a large ruffle around the edge. Her daugh­ter, Chona, had a couple of bright red calico dresses trimmed with white braid. Most of the Indian squaws loved red and, with few exemptions, all of their dres­ses were of red or a red print with white rickrack.
Lola always went barefoot except when she had to go to the mountains for wild game or other desert foodstuff and then she wore a pair of white doeskin boots, which laced up the sides and fit snugly up to the ankle.
She wore her hair, as so did Chona, cropped short and with bangs.
Chona was lame in one leg, but she was a very pleasant and friendly girl despite her handicap. She would help Maria with the daily chores and in return Maria provided her with meals.
Chona was neat and kept herself clean. Her hair, which was blue-black, reached to her shoulders and she had short straight bangs. She wore a bandana shawl down her back. The shawl was made of bright red handkerchiefs, usually four, sewn together and they hung almost to the hem of the skirt in the back. The top was knotted around her neck but its purpose was unknown to Maria. All of these garments were homemade.
Lola's son, Tom, spent most of his time helping Charles with the stock or going off on long horseback rides into the mountains together.
Although Joseph was very generous by providing Lola with fresh meat when­ever he killed a steer, she preferred the wild game and whatever other food the
- 78 -
desert so generously provided.
Lola was an excellent rider and she would ride on her horse, making sure to pack food and water, and would make her way to the mountains where the Century Plants thrived. There she would remain for several days removing the spiky leaves of the plant, revealing only the heart that resembled a huge pineapple. She would gather large amounts of these hearts, put them in baskets and bring them back to the station for processing. The processing consisted of digging a pit, placing rocks in the pit, and heating these rocks. The fibrous hearts were then placed over the heated rocks, the pit covered and the hearts left overnight.
The following morning these roasted hearts would reach a consistency enabling them to be shredded easily. The hearts would then be removed from the ovens, shredded and pressed in order to extract the juice. This fermented drink was called Mescal, or Mezcal, and consumed by the Indians. These hearts, once roas­ted, which tasted Sweet and tangy, could be chewed for the juice prior to fermen­tation and it was known that this dispelled hunger pangs. This enabled the Apaches to survive without food for an entire day without feeling hungry.
In Mexico, this same process is used to make Tequila but the plants from which the hearts are extracted from, is from the Maguey Plant, a relative of the Century Plant. The juice of the Maguey plant is placed into large vats where sugars are added to create fermentation which takes four days. The liquid is then distilled twice before the Tequila is ready for consumption.
Lola also gathered other plants for food consumption from the desert. Among which were tender cactus buds that she harvested before they burst into bloom. These buds were cooked with a little salt and tasted somewhat like asparagus.
Another favorite desert-grown food of the Apaches was Saguaro cactus seed butter. The Saguaro produces a creamy white flower which opens at night and lasts into the morning hours. The flowers then develop into a red-purple fruit which
- 79 -
is edible. Inside the fruit are tiny black seeds. These seeds are dried, ground into a pulp, and then a little salt is added it creates a rich paste that tastes similar to peanut butter. The fruit, when dried, tastes like dried figs.
One day a band of Indians arrived at the station on their ponies. They were there to participate in a rabbit meat feast.
Since cottontails were abundant on certain times of the year, the Indians trapped these rabbits in a net by chasing and cornering them while on horseback.
The Indians then hung a large black pot from the branch of a mesquite tree. The pot was half-filled with water and a fire was then built directly under the pot. When the water had reached the boiling point, the dead rabbits were tossed whole, skin and all, into the boiling water. When the rabbits were done, the Apaches strung each one from a tree limb and pulled the skin right off and with a knife the rabbit was split down the middle and the entrails removed. They then sprinkled a little salt on the rabbit and, as they were seated in a circle, each Indian present was handed a rabbit to eat and they then gorged themselves until unable to move. Nothing else was eaten with the rabbit meat and as they ate they were laughing and talking.
Although these Indians seemed primitive in their ways, they were all young braves who lived near or in the mining camps. As a result, they wore white men's clothes: Levis and western-style shirts; however, they all wore their hair long, almost below the shoulders, which were braided and held in place with a broad band around their foreheads.
One particular day, Lola asked Maria to come to her wikiup to sample some freshly brewed mescal. When Maria arrived, Lola was conversing with an old Indian man, a friend of hers. Maria, although not fluent in the Apache language, had learned enough of the language to understand most of what they were saying. What it came to was Lola's discovery of what seemed to be a gold mine while she was at a place called Cunningham Pass.
- 80 -
­
Lola had gone there to make mescal when she came to a small wash that was littered with white rocks. She decided that this would be a good place for the mescal pit as it was deep and sheltered from the wind. She had camped there and while searching for firewood, as she intended to spend the night there, she had come upon a quartz outcropping and in the quartz she could see veins of yel­low gold streaking the quartz.
Maria, not wishing to reveal what she had heard, said nothing and Lola did not mention it again.
The days passed and one day, out of the clear blue sky, Lola told Maria in half-Apache, half-Spanish, that she wanted to show Maria the location of a gold mine, which she (Lola) had accidentally discovered, and in gratitude for Joe's and Maria's kindness she wanted them to benefit from it. Of course, Maria al­ready knew of this mine from Lola's and the old Indian man's conversation.
Maria was expecting her eighth child and she was hesitant about making such a trip in her condition, although she was feeling well and fit. But first she would ask Joe and if he agreed, she would attempt the trip.
Upon approaching Joe regarding Lola's discovery, and of the proposed trip up the mountains, he was strictly against this adventure and felt that the risk of her traveling alone was too great even if Lola's tale was true. On the other hand, if he or one of the station hands could go along" then he would agree to let Maria go.
Lola could not hear of the idea of bringing someone else along as she was very superstitious about a number of things.
Maria, half-pleading, finally convinced Joe that everything would be fine; that he knew how strong she was; that she was over endowed with stamina; that she was a good horseback rider. She went on to say that if she felt she couldn't go
- 81 -
any further, she would end the search and return to the station.
The mountain was about seven miles from the station and was the site of the legendary "Old Squaw Mine." It was very steep and the ground exceedingly rugged. Lola told Maria that on top of the mountain was a flat wash and in this wash she had seen the gold.
The following morning Maria and Lola left the station with an extra pack horse carrying blankets, food, water, digging implements, and other essentials. They made good time and that evening they camped close to the familiar spring. That night Maria could hear the eerie screams of a mountain lion, which had come down for water, and in the distance the mournful howling of coyotes seemed to fill the air with fright and apprehension. Maria only dug deeper into her blankets and covered her head from all these sounds. The horses were moving about nervously as they scented the cougar and Maria almost panicked and ran home but she, stubborn as she was, stuck it out and somehow survived through the night with very little sleep.
In the morning, after a hasty breakfast, Maria and Lola saddled their horses, packed their gear and started up the mountain. The terrain was much rougher and when they were halfway to the crest, Maria felt a sharp stab of pain. She told the squaw about it and they immediately turned back, traveling slowly and cau­tiously. Lola kept shaking her head and muttering to herself about how close they had come to the bonanza. They eventually arrived at the station, saddle sore, hungry and dejected. Maria took to bed and in a few days she was fine with no more false labor pains. Maria wondered if she would ever get another chance at the treasure that awaited her at the top of the jealous mountain, which refused to reveal its golden throve.
Maria and her family returned to Phoenix in the fall and Maria gave birth to a baby boy on September 12, 1890. They named their eighth child John.
- 82 -
Maria was now thirty-three years old and, despite having given birth to eight children and having led such a hard life as a youngster, she still looked beautiful. Her hair was still black and she kept the long tresses in a neat bun. Her capacity for work was as great as ever. She was still an excellent seam­stress and made all of hers and Adelina's and Laura's dresses. Her dresses were beautifully made, with rows of tiny buttons and laces.
"Addie' recalls seeing her mother getting ready to attend Mass on a Sunday, "dressed in a pale gray taffeta, her full skirts rustling as she moved about, pul­ling on a pair of soft doeskin gloves over her slender hands." Maria was a mem­ber of St. Mary's choir and enjoyed participating in the singing every Sunday.
"Addie" goes on, "Mother and dad found rare happiness together and we shared this affection so that when I glance back over the years to those days, this love still warms my heart."
As Phoenix prospered, so had its people. Phoenix was virtually surrounded by flourishing green acres which yielded grain, hay, and a variety of citrus and other fruit.
Range cattle were brought in from the mountains to graze in the rich alfalfa fields which also helped support a thriving bee-keeping industry.
A hint of foreboding overshadowed all of this, for prosperity would turn to poverty for many Phoenicians in the 1890's. Annual spring flooding was an ex­pected part of farming in those days, and the high water usually damaged the crude dams of rock and brush used to divert river water to canals.
But no one was prepared for the raging force which ravaged the Valley for almost a week in the spring of 1891. Having gorged itself on abundant snow, which had fallen on its lofty watershed area, the bloated Salt River rose 27 feet above its normal level, and stretched 8 miles wide in some places. The Tempe Bridge collapsed, and more than 100 homes were wiped out along with crops and livestock.
- 83 -
Adelina was now six years of age and it was the year that she started school.
Although she recalls that her first day of school was important, the floods stood out more clearly and more vivid than anything she could remember.
The Salt River, prior to the devastating floods of 1891, was a beautiful sight to behold. During the long, hot summer months, and especially on Sundays, everyone in town would go down to the river. The water was cool and shallow with a delightful sandy bed. Hundreds of little minnows swam in the deeper pools to the delight of the children who raced down the banks and threw themselves into the water with complete abandon, laughing and shouting as all children will do when excited.
The banks on either side of the river stretched a considerable distance. Many beautiful willows hung low over the banks and large cottonwoods grew in abundance creating a dense and invigorating shade. Families would arrive in the morning, spread out coverlets to sit on, bring a picnic lunch and spend the whole day swimming and having a grand time.
Joe and the older boys were still at Culling's Well when this fateful event occurred and thus were unable to experience first hand what his family did during those frightful days.
There was no way Maria could tell what was happening as they had no radios to listen to since this amazing mode of communication was not perfected until after 1906. As a result, she had to depend on rumor, which in most cases was inaccurate. Finally one night it was assumed that the whole city would be under water as Maria and the children could hear people coming down the muddy road, whipping up their horses and warning the people to leave the area. This went on the entire night. The first homes that went with the floods were those construc­ted of adobe bricks, for as the water reached them, they would crumble and were washed away.
- 84 -
Joe heard of the flood but he and the boys were unable to make it to Phoenix since the Hassayampa River at Wickenburg was also swollen and Wickenburg was flooded in some areas making it impossible to ford the river. There was just no way to get across with the horses and buggy as the present bridge across the river had not been built at the time. Joe and the older boys had to return to Culling's Well where they remained until things cleared up.
A neighbor of Maria's, who owned a lumber yard in Phoenix, had kept his horses hitched up to his lumber wagon and tied to a tree in the event that the flooding threatened Maria's home. Maria had packed some belongings for the girls and for baby John in order to be ready to leave at a moment's notice. Fortun­ately, after about a week, the waters receded and Maria thanked providence for their lives and for protecting their property from the ravishes of the flood.
The school that Adelina and the older boys attended was a rambling adobe brick building located on Ninth Street and Washington, which was built in 1880. Most of the school children walked to school and on quite a few occasions "Addie" plodded through mud up to her knees and sat the day through with soaked shoes and stockings.
This particular school accommodated grades up to the fourth grade after which Melina and the boys were transferred to another grammar school which was located where the San Carlos Hotel is now. This was called Central School and was cons­tructed on or about 1883. This was a two-story facility.
Education was more-or-less, compulsory in the 1880's. The only way you could be excused from classes was if you were sick in bed. Truancy was a no-no and playing hooky was unheard of. The schools then had no nurses to look after the children and this was a problem as colds, Influenza and Whooping Cough were prevalent.
- 85 -
Adelina reminisces about her school days: "We had happy days at school and my first teacher, Miss Garlic, was quite pleasant and kind."
"Addie" remembers coming home from school one day when she was still quite young. Daniel and Charles were suppose to accompany her home but they started running am chasing each other until she was forgotten and they were out of sight. Near Seventh Street she heard some commotion and observed a large herd of steers being driven up the road toward her. Both sides of the road were lined with high fences and she was unable to climb over them. All she could do was to press against one of the fences. By this time she was too frightened and stood there petrified in her tracks. Looking around she spotted a man in a buckboard coming towards her from behind. The gentleman noticed her plight, plucked her from the road and placed her alongside of him. No sooner had he done this then the herd thundered by but she felt safe and secure having been saved from certain injury or perhaps even death.
In the summer of 1891 the family had made their annual trek to Culling's Well and, due to some very generous rainfall in the McMullen Valley, the country­side was carpeted with wildflowers: Poppies, blue lupine, Indian paintbrush, primroses, etc., as far as the eye could see.
It was a joy being there, surrounded by all this beauty, with the horror of the floods almost forgotten, and with Joe, Maria and the entire family finally together after all these months.
Christian Berry was still at the station and he enjoyed taking the young­sters in the back of a wagon to search for firewood. While he collected the fire­wood, the kids would go romping through the desert looking for adventure and fun. In the washes grew daisies and small gourds and in the purple-shadowed mountains grew pale lavender flowers resembling Chrysanthemums. Another unusual shrub that dotted the mountainside produced what looked like bright red tassels. The tassels
- 86 -
were silken with yellow tips. This plant swayed with the breeze looking as if it really belonged on some garish Chinese lantern rather than out here in the wilder­ness. Adelina and Laura would pluck bunches of these colorful wildflowers but by the time they reached the station these poor flowers would be pathetically wilted. Nevertheless, it was fun sitting high on the pile of wood that Berry had gathered.
The following summer was hot and dry the family made their annual excur­sion to Culling's Well. The desert looked dry and barren, as it always did if not enough rain fell during the rainy season.
This year Maria decided to do something different to escape the heat at the station and of Phoenix.
Maria had met a widow by the name of Pierce and they had become very good friends, so she decided to take the children and travel to the coolness of Pres­cott, where Mrs. Pierce, her son Bill, and Bill's four children - two boys, Hardy (age 14) and Jim (age 2), and two girls, Bell (age 7) and May (age 3), lived.
Maria packed some clothes for the kids and left for Prescott. The thought of having other kids to play with filled Adelina and the kids with happiness as they finally arrived in what Adelina described as, "paradise."
The Pierce Ranch was located in Dale Creek Canyon near Prescott. The main building was situated near a mountain and it was surrounded by large willows and cottonwoods. A wide, bubbling creek wound past the house and from the mountains another stream trickled down and swirled about the roots of a huge tree. A dense, fragrant growth of peppermint grew alongside this shady tree. On some flat ground, next to the house, Mrs. Pierce had a garden where she grew corn, tomatoes, melons and other crops. Fruit trees had also been planted here to add to the other crops. The stream ran by the front door of the main building and emptied into a reservoir enabling Mrs. Pierce to have fresh water available all year around for her cooking and other domestic uses.
- 87 -
The kids were left to fend for themselves as Maria and Mrs. Pierce gabbed and visited with each other. The kids were warned to stay away from the nearby mount­ains as rattlesnakes were known to inhabit the area. The kids would don some old clothes and would go wading in a nearby river. In the center of this shallow river was a large flat stone which served as a diving board into deeper water. Screeching and laughing, the children would jump off this rock into the water pre­tending they were diving into a swimming pool. This was a daily ritual and to them this was the most enjoyable thing they had ever experienced.
In the evening they would be summoned to dinner. After all the exercise these hungry urchins were ready to devour every tasty morsel that Mrs. Pierce had pre­pared on that day. There were platters of sliced fresh cucumbers, ripe red to­matoes, and sweet melons. Large mouth-watering plates heaped with golden-fried chicken and rabbit decorated the table and the kids ate as if they had been starved for days.
These trips to the Pierce homestead, which sometimes occurred two or three times during the summer, helped Maria and the younger kids to cope with the heat and the monotony of the days spent at the station.
On occasion, Joe would come along also, leaving Daniel and Charles with Christian Berry to handle the chores at Culling's Well, but he never stayed at the Pierce Ranch for more than a week at a time.
Several summers were spent with either Maria and youngsters visiting Mrs.
Pierce and her family, or Mrs. Pierce coming to Culling's Well for a visit.
Some years later Mrs. Pierce went to visit Maria in Phoenix as she had some shopping to attend to. Her visit was as joyful and pleasant as ever and when it came time for Mrs. Pierce to return to Prescott with the promise of another visit yet to come in the near future, no one suspected that this was their last visit
- 88 -
together for that same winter Bill's son, Hardy, caught Pneumonia and died. He was buried on the side of the mountain that he loved, besides the shady tree and amongst the flowers, so that his grave could be seen from the house.
Mrs. Pierce was never the same again. Her jovial and pleasant face was now replaced by a somber and grave face. She seemed to have little interest in con­versation or of her surroundings. Her gaze would often wander to the grave where her grandson, Hardy, rested. Eventually, she sold everything and, together with her son and other grandchildren, moved back east.
Adelina never forgot the enchantment of the Pierce Ranch as it was before the death of Hardy.
Joseph Drew had acquired enough beef cattle so that by 1893 he had sufficient numbers which enabled him to sell the surplus animals to surrounding camps and mines for their use.
Joe also slaughtered his own cattle and sold the meat to mining camps.
Early one day Joe prepared to make a trip to a nearby mining camp to del­iver some of this beef and Adelina asked to go along.
The Bonanza Mining Company was newly established on the Harquahala Mountains by an eastern conglomerate and the trip took several hours, arriving there around noon.
Upon arrival at the camp, Joe pulled his wagon up before a large tent, which was the superintendent's office. Shortly a husky man saw Joe and came out of the tent to discuss the sale of Joe's beef. Adelina, not too concerned with what was going on, waited patiently for her father. The mine employee then entered his tent and exited carrying a large, shiny, red apple, which he offered to Adelina, patting her on her shoulder affectionately. Adelina was naturally elated upon seeing this beautiful apple, which were few and far between at the station and to her this husky, rough-looking gentleman reminded her of Santa Claus minus the white beard and red suit.
- 89 -
On the way back to Culling's Well, Joe told Melina that her "Santa" was none other than Andrew Carnegie, the U.S. steel magnate and philanthropist. He was fifty-eight years of age at the time and quite wealthy, but hard work was nothing to him and rather enjoyed being out in the wilderness. The gift of the apple to Melina was just the beginning of his philanthropic endeavors, for in 1900 he began to set up the vast number of charitable and educational institu­tions for which he is remembered.
Adelina wasn't too impressed by the name of Andrew Carnegie, as she was only seven years of age, but as she says in her memoirs, "I did not know who Andrew Carnegie was but I kept repeating his name. Such a nice man, I thought. I doubt that anyone in Arizona Territory had ever received such a nice red, juicy apple from Andrew Carnegie."
That winter, when Adelina was eight years old, the family decided to remain at Culling's Well instead of returning to Phoenix and school. The reason for this decision is uncertain but Joseph Drew decided to hold classes right there at the station for his youngsters. He wanted to insure that the school-age kids didn't miss any of their studies while there.
That Christmas (1893) Maria decided to spend the holidays with her mother, whom she hadn't seen for some time.
Martina was still residing at the Harquahala Mining Camp and running her boardinghouse. The distance to the mine was not far and the trip was made in no time and without incidence, although the air was turning rather chilly.
Christmas Eve found Maria and the children snug and warm in the larger of the two rooms at her mother's house. Martina occupied the other. Light, beautiful snow was falling on this bustling little community and the ground and buildings were coated with the white, fluffy snow creating a truly winter wonderland. People
- 90 -
hurried about, heavily bundled against the cold, with the women wearing their long heavy skirts and bonnets and doing their last-minute shopping.
That same evening one of Martina's boarders stopped by to give each girl a doll. Evidentially, these were the only dolls to be had at this isolated mining camp and they were tiny Chinese dolls. These beautiful dolls were gaily dressed in purple, pink, blue and green kimonos. The girls were understandingly excited over these unexpected gifts and to them Santa had arrived a bit early but they didn't mind too much.
Martina had an elderly friend at the mining camp and she lived just beyond the little stream of water, in a small two-room house, that wound behind Martina's house. This old lady owned a number of Mexican Chihuahua hairless dogs. These animals always accompanied her when she paid her visit to Martina, trotting along ­side of her while she carried a small one in her arms. Upon arrival at Marlina's, she always kept this dog on her lap when sitting down.
The old lady's face was like a piece of ancient parchment, wrinkled and with­ered, and when she laughed, which was often, she displayed a toothless mouth.
She had two sons, who were miners there, and one daughter.
Martina, Maria, and the children decided to visit this old friend on Christ­mas Eve.
The front room was gaily decorated with lovely handmade paper flowers and colorful garlands gaily hung from the ceiling. Over the doors and windows she had placed white lace curtains and in one corner she had set up a nativity scene with a beautiful small doll, wrapped in swaddling clothes, representing the Infant Jesus. Around this crib were lighted candles giving off a soft, warm glow and giving the small room a scene of beauty and serenity. Throughout the evening various friends and neighbors came by to visit. Miners, with their guitars slung over backs, would drop in to play and sing Christmas Carols and even to coax the
- 91 -
guests into a dance or two. In the other room the table was laden with a variety of food, while on the stove pots of steaming hot tortillas, tamales and other spicy dishes, together with a large pot of coffee, beckoned the cold and hungry visitors. Yes, indeed, there was plenty of room in this inn.
This feast extended until the wee hours of the morning since the hostess felt that that was how the Christ Child was welcomed in joyous anticipation.
In due time the family retreated back to the station to recuperate from the feasting and tiring fun-filled holidays.
The following year (1894), the family returned to Phoenix where the children continued with their schooling.
In 1894 Joe was still busy selling beef to the camps, which seemed to be mushrooming everywhere, especially the Harquahala Mine. This mine was now pro­ducing millions of dollars in gold.
Gold from the Harquahala mines was deliberately cast into large bars to dis­courage theft. Robbers intent on stealing it while it was being transported to the railroad at Sentinel would find it difficult to carry away a chunk of bullion on horseback weighing one to two hundred pounds. The idea worked and bandits never tried to rob the buckboards carrying the bullion.
Since the Harquahala Hine was as large as it was, having attained a popula­tion of one hundred and fifty by July 1891, with a new school being constructed the following spring, new miners and their families were arriving there almost daily. Martina had set up a boarding house at the site. She had moved there with her teenage children, Frank, Val and a daughter, Micaela. Martina was widowed, her husband, the abusive Jesus Osuna, having been shot dead in a brawl fourteen years earlier.
Martina had to work hard to support her family and Micaela was a great help to her at the boarding house. Micaela was slender, with black hair, and had a
- 92 -
natural beauty mark on her chin, just below the corner of her mouth. Being quiet and reserved, she seemed almost aloof to passerby's.
Maria was now expecting her ninth child, so Joe decided to take her to the Harquahala Mining Camp so that she could be with her mother when she delivered the baby. Joe knew that Martina would take exceptionally good care of his wife and it was fortunate that the mine employed a good and capable doctor from New York there, so Joe felt very confident about Maria's welfare.
Josephine Drew was born in June 1894 and it was a good deli very. This little joy was very pretty and was endowed with blonde hair.
The doctor and his wife, who was also living at the mining camp with her hus­band, had been married for some years, although both were still very young and were childless. Since they didn't know Maria's background or, in fact, anything about her, they assumed that she was the wife of a poor miner from camp. After being there a few days, Maria made her preparations to return to Culling's Well. At that time the good doctor and his young wife approached Maria and asked her if she were willing to let them adopt baby Josephine since they loved children and would probably not have any of their own. Besides, both of them came from well ­to-do families and they would be able to provide for this child, giving her the best money could buy: Education, clothes, or anything this child would ever de­sire. Maria was understandingly perturbed and indignant that they would dare to make such an offer -- as if her child was for sale. She told them, in so many words, that her baby was not for sale, adoption, or anything of the kind, and with these words, she picked up Josephine and hurriedly left the camp, leaving a rather perplexed and disappointed couple behind.           
By late 1896 the ore had been exhausted at the Harquahala Mine and the mine ceased operating.
Joe was thrilled to be the father of such a pretty little girl and named her
- 93 -
his "Wild Rose of the Desert."
            Maria's arrival at the station was cause for a celebration. Josephine's brothers and sisters were delighted with the new addition and Christian Berry was besides himself. Even the Indian squaw came over to offer her congratulations and to admire the white baby. Chona, Lola's daughter, just couldn't do enough for Maria and for Josephane. With all of this attention, Maria felt that she was in good and capable hands.
Daniel was now twenty-one years old and he and his dad, with the help of Christian Berry, did most of the heavy labor at the station. Daniel was a quiet young man who, when r~t doing his assigned chores, spent hours reading anything he could get his hands on: Books, magazines, newspapers and other periodicals of the time. His room was a virtual library and he kept everything neat and tidy. In this respect, he took after Maria in being very meticulous and organized. His bed was always made up and his clothes were always clean and he never went around looking dirty.
Charles, who was now eighteen years of age, on the other hand, was more the rugged type. He was strong and looked like a cowboy, and spent all of his free time breaking in broncos and, in this, he was the best at Culling's Well. He enjoyed rounding up the stock. A handsome lad, with large gray eyes and brown wavy hair, like his father, Charles knew what he wanted out of life. Contrary to popular belief, not all cowboys packed a six shooter strapped to his waist and Charles was no exception. Charles did not have to depend on a gun to protect himself. This he proved one day when another cowboy picked a fight with him. Charles gave the troublemaker a sound thrashing with his fists and that convinced the rest of the crew that he could handle himself. He was left alone after that.
Charles, due to his association with "Apache John" and later with Lola's Indian son, Tom, could speak Apache quite fluently. He and Tom enjoyed riding
- 94 -
horseback for miles around and to Charles this was what life was all about.
One day, while everyone was busy doing their chores, and without advance notice, a band of Apaches arrived at Culling's Well while traveling through. Since it was a convenient stop with water available, and with long stretches of empty desert between waterholes, the Indians decided to camp nearby for a while.
Adelina recalls noticing a little Indian girl at their camp busily making something, so she went over to see what the young girl was up to. The Indian child was making miniature pottery from clay. Each dish and other items were perfectly created and "Addie" was amazed upon seeing these delicate pitchers with minute handles and necks and she knew that this talented child was truly an artist. Apparently, the young Indian girl had been creating these beautiful miniatures for some time because she showed "Addie" a number of pottery that she
had stored behind the station. She had even created figures of Indians on horseback, which were also beautifully made. "Addie," being a curious and "nosy" girl, reached for one of these figurines to get a closer look at it when she felt a stinging slap on her wrist. Obviously, the Indian girl did not want her creations touched by a white girl and she felt that the only language Melina understood was a slap on the wrist. The stubborn "Addie" hadn't had enough wrist slapping because, once more, she went for a piece of pottery and, once more, she was soundly smacked by the Indian. Although furious with this un-seeming treatment, Adelina decided to stop harassing the Indian girl while she was still in one piece.
An old timer, while visiting with Joe and Maria Drew, told this story regarding the "Old Squaw Mine."
He claimed that he was an acquaintance of the old squaw, Chacha, who had guided Charles Culling to the Harquahalas in search of the mine. Chacha was living in a reservation but occasionally she would travel to Wickenburg to do housework
- 95 -
or laundry. Chacha was working at this old timer's home when she casually asked him if he were interested in finding a rich gold mine. She even volunteered to guide him there.
This old timer agreed to go with Chaeha and so she led him up the Harquahalas in search of this legendary and fabulous gold mine. As they neared the site of the mine, she sat down on a flat rock and said that the mine was close by and refused to go any farther. Instead she suggested he should continue the search by himself.
The old timer methodically searched the area but found no trace of the mine or of any gold nearby.
Although the old timer, like many others, failed to find the mine, fate did not deem this mine to lay dormant for long.
Ed Schlieffen, the celebrated discoverer of the Tombstone mines, is said to have heard the tale of the "Lost Squaw Mine" and located the Indian woman. She would not take him to the place, but did describe it for him. He went looking for the mine but was never able to find it.
It was in 1888 that three prospectors, Stein, Watton and Sullivan, made the Harquahala bonanza strike.
Schlieffen is supposed to have remarked that the mine was in an area that perfectly matched the place the squaw described.
Melina remembers the occasion when the three miners (Stein, Watton and Sullivan) brought out the first load of gold nuggets on their way to Phoenix. "The young men had a rather small buckboard, the back of which was filled with large gunny sacks, heavy with gold.
They stopped for a few moments at the station and excitedly called dad over.
One of them opened a sack, took out a good-sized chunk, and handed it to my father. We examined it with awe, turning it around and around. Father had seen gold like
- 96 -
this before but realizing that this was just one nugget, compared to so many in the sack and still more in the mine, caused us to gaze at it almost with reverence."
On March 22, 1895 Maria filed a deposition in the United States Court of Claims in support of a petition she had filed in the same court on June 2, 1892.
This was an Indian Depredation Claim against the United States Government (Claim No. 2460), pursuant to the Indian Depredation Act of 1891, Chapter 538, Fifty-First Congress, Session II, dated March 3, 1891.
The total estimated value of property that Charles Culling lost to the Apaches between 1872 and 1876 amounted to $27,815.
After years of wrangling, the Court of Claims dismissed the case due to the fact that neither Charles Culling nor Maria Culling Drew were U.S. citizens at the time of the alleged incidents. Also, dismissal of the case was due to lack of sufficient evidence and witnesses. Moreover, Culling's Well was located on government property and on land owned by Charles Culling. Not one cent of that claim was ever paid to Maria.
On October 17, 1896 Joseph S. Drew was appointed postmaster of Culling's We11. The post office at the station was discontinued on March 31, 1902.
Joseph is also listed as the postmaster at the Alexandra Station in Yavapai County, which was established on August 6, 1878 and discontinued on March 25, 1896.
Christian Berry was still doing most of the cooking at Culling's Well and. whenever Joe and the family would return from a trip to the Harquahalas in search of gold, they always looked forward to the hot meal that awaited them in the afternoon. Delicious corned beef and mustard, steaming biscuits generously coated with molasses, and good strong coffee. Joe would purchase large sacks of dried fruit and Maria would make jams and jellies. Maria also made her own
- 97 -
cheese and butter, as milk was always plentiful since by now Joe had a large herd of cattle. There were also plenty of steaks, so tender they could melt in your mouth. Times were good then and all were thankful to God for his bounties.
In Phoenix, the Drew family was also well provided for since the fruit trees and grapevines provided them with many jars of preserves.
Maria had planted a large rose garden on the east side of the house and this little bit of heaven was her pride and joy. She enjoyed caring for these beautiful roses and when outdoors it seemed like all her cares and worries vanished like a will-of-the-wisp.
Maria worked hard, for there always seemed to be an endless stream of chores to be done. For the station, she made rugs for the floors, carefully dying each strip of material by herself.
For her home in Phoenix, her windows were covered with white, starched organdy curtains which had deep ruffles. Her beds were also covered with white organdy coverlets. Even the pillows were covered in like manner.
She also made all the clothes for her daughters as well as her own. The dresses the girls wore at the turn of the century were white pinafores, well starched, with large ruffles at the shoulders and with a large bow in back. Covering their legs were long, black, cotton stockings.
In those days the women and girls wore their hair long, for cutting the hair short was frowned upon. In fact, it was considered almost indecent to go around with short hair.
"Addie" recalls that, "her hair swept up in a pompadour, then down to the nape of the neck where it was secured with a large bow. The rest of the hair hung loosely or in a braid down the back."
The older women wore their hair either in a bun at the top of the head or at the nape of the neck. This was secured with a large hairpin, usually two, from
- 98 -
which two or three rings dangled. It was a lovely style -- very feminine.
As the Drew girls grew older, their skirts became longer and underneath they wore at least two or three petticoats. These were made of fine white cotton trimmed with laces and ribbons and very carefully starched.
The girls took turns ironing. It was an all-day affair. The heavy irons were heated on the wood stove and one petticoat after another was laboriously ironed then hung in a large closet with the other clothes already in there.
After the devastating floods of 1891, full recovery from this disaster was hastened when Phoenix was connected by rail with the north in 1895 when the Santa Fe Railroad built a line by way of Ash Fork, Prescott and Wickenburg.
Despite man's greatest efforts, progress came to a standstill in the late 1890's, one of the blackest periods in Phoenix history. The saguaro continued to grow, but the city withered, for the desert has both the power to sustain life and destroy it. The dreaded torture of drought descended in 1897. For two more seemingly endless years, the rains that came hardly dampened the earth. Men abandoned decades of work; the population dropped at an alarming rate.
In 1900 the water came -- in the form of a flash flood that destroyed diversion dams and all hope of Spring crops.
The Joseph Drew family somehow survived these natural disasters and were back at Culling's Well in the Spring of 1898.
Christian Berry, who was getting on in years, being now in his late sixties and in failing health, had only one vice and that was alcohol.
Soon after receiving his paycheck, he would hitch two gentle horses to the buckboard and head for the nearest saloon where he would spend his hard-earned money. But before returning to the station, he would always buy a bag of assorted candies to give to the younger children of Joseph and Maria. Adelina recalls a specific routine that Christian Berry always followed religiously upon arriving
- 99 -
at the station with the candy. "When he came home, we would dance around him, pleading for the tag of candy but Berry would remain unmoved by our howls of protest and we received one piece of candy each every day until the bag was empty. But how we did implore him for all the candy at once."
On one occasion Christian routinely hitched the horses to the buckboard and took off for town.
Returning home after an all-night binge in town, Christian Berry, lulled by the long ride home, combined with a little over-indulgence, fell asleep and pitched forward onto the ground and beneath the horses. When he awoke the following morning, with the sun shining on his weather-beaten face, and dry mouth, he was exactly where he had fallen beneath the horses' bellies. These gentle animals had not moved an inch all those hours and had waited patiently for Christian to lead them home again. There was no doubt in anyone's minds that his guardian angel was riding alongside of him on that buckboard. He painstakingly climbed aboard the buckboard and made it home with no further incidents.
By now Daniel had married and was living in Congress, where Martina was also residing due to the closure of the Harquahala Mining Camp. In the years to come, Daniel and his wife, the former Ruth "Cuca" Compoy, became the parents of ten children and even adopted two more to make it an even dozen. Daniel was a firm believer that they were "cheaper by the dozen."
Charles remained at the station where he became an excellent cowhand. He was very versatile and, besides breaking new broncos, he used to enter horse races in town and handled the livestock.
Charles' association with Lola's son, Tom, gave him a better understanding and appreciation of the Apache Indians. Many were the times when he would sit around an Indian campfire at night laughing and talking with them. These Indians, too, got to know Charles well and accepted him as one of their own -- almost like a blood brother.
- 100 -
The Indian boy, Tom, had grown up to be a tall and handsome lad and he, too, eventually married and moved away from Culling's Well. From time to time Tom would make the trip to the station to visit with Joe and Charles for he never forgot them.
In time, Joe had to depend more and more on Christian Berry and on Charles for the daily chores around the station.
One particular day Christian Berry fell ill and could not leave his bed. He was in great pain and Maria and Joe did all they could think of to ease his pain and to make him comfortable. Joe diagnosed Berry's symptoms as an attack of kidney stones. He then decided to send Christian to Congress, where Daniel lived and where medical facilities were more readily available.
Upon hearing about Joe's intentions, Christian remained silent but Maria could tell by the expression on his face that he was not too anxious to leave Culling's Well, his home for twenty-six years, and became terribly depressed.
On May 10, 1898 Maria was awakened early one morning by a loud noise. She sat up in bed and listened intensely for its source. All seemed quiet and for a minute she thought that she had either been dreaming or that the wind or the livestock had created the noise. She went back to bed but was unable to go back to sleep and laid awake until she arose earlier than usual prepared to check on Christian Berry's welfare. She fixed some coffee, placed the cup on a tray and went to his room. Before entering, she knocked on his door and called his name but there was no answer from within.
She cautiously opened the door, started to enter, then froze in place -- almost in shock - for there, sprawled on the floor, gun in hand and blood covering his head and face, Christian Berry had committed suicide by shooting himself in the temple.
- 101 -
Maria was speechless and had to hold on to the door frame to keep from collapsing on the floor. It was a horrible sight - a sight that was to haunt her for months to come.
Joe and Charles, hearing the commotion, rushed to Christian's room to be met by this bloody sight. Joe could not reconcile himself to his friend's death and kept questioning, what he considered, Christian's unreasonable act.
Joe realized that the authorities would want to conduct an inquest into Christian's sudden death. Without touching anything, he locked the door to Christian's room and drew the shades to keep the children from looking into this gory sight. He then hitched up the buggy and asked Maria to take the kids and ride to Sentinel to report this tragedy.
Soon after their arrival at Sentinel, the Sheriff and coroner left for Culling's We11 with some lumber and other necessities to bury Christian Berry. Maria and the children remained at Sentinel until Christian Berry was laid to rest besides the grave of Charles Culling.
The loyal and devoted Christian Berry was now resting in his beloved Culling's Well -- his home for all those years and the place where he lived the happiest days of his life with a family he called his own.
A white regulation marble headstone was erected over his grave by the War Department. The unusual thing about this headstone is that it carried no date, simply the soldier's name and regiment: "Christian Berry, Co. H, 7th Cal. Inf." Christian Berry's death dealt a heavy blow to Joe, Maria and the kids for they loved this gentle and caring man for so many years through thick and thin.
The sadness and grief continued for a while but time is a great healer and little by little the family resigned themselves to this great loss and became accustomed to being without him. Eventually, another ranch hand was hired and he occupied Christian Berry's room.
- 102 -
"Addie" recalls several unforgettable incidents that occurred at the station after Christian Berry's death.
"One day, as I was strolling about the station, I came upon a bunch of little baby chicks, which had just hatched out. Since I was always picking up pets, I decided to keep and tend to these chicks. I found a large round can and carefully put them in, one by one. Later I placed them underneath the wood stove to keep them warm and left to do some chores. When I returned later to feed them, I was horrified to see that some coals had dropped out of the stove door and the poor little things were all smothered and scorched."
Another event that happened to Melina while living at Culling's Well concerned another pet.
"Another day when we went out in the desert to gather firewood, I happened to see a tiny cottontail. It was so small and was half-hidden in the shelter of a bush. I placed it in a little box that I had and I also found, to my delight, a pretty little brown turtle crawling along the sand. When we returned home, I excitedly showed them to my mother. That night these two animals somehow crawled out of the box and into the desert and I never did find them."
A final story of yet another pet is related by "Addie."
"One day a man in a small buckboard stopped at the station. He had a pretty mare, which was hitched to the buckboard, and a two or three-day old colt that was following the mare.
This stranger, upon seeing me told my dad that he was going to give me this colt if I wanted it. He also mentioned that this colt was a thoroughbred and in time would make a nice riding horse. He felt that the colt was slowing him down and also was afraid that the colt would die from the heat of the desert.
I said I would like to have it, for I was simply delighted but dad declined the offer saying that I was incapable of taking care of it. I was determined to
- 103 -
have this colt and promised dad that I would care for it. Dad weakened and agreed to let the man turn the colt over to me.
Dad then told me to put the colt in the corral to keep it from running off. We had plenty of milk, so I took some warm milk and placed it in a bottle and it soon learned how to suck the milk from, it.
I was very faithful in keeping the colt well fed because dad warned me that if I didn't feed it regularly, it would surely starve slowly and he would then be forced to shoot it to put it out of its misery.
With this threat hanging over my head, I would hurry down to the corral with warm milk and feed it during the day.
After a few weeks the colt began to get fat and sleek. It was a lovely animal, a bay, with a light golden mane and whenever I would approach it, it would run up to me and rub its little nose affectionately against my arm. It seemed to know me well.
One morning mother arose feeling very ill. She had suffered for some time from gallstones. The attacks would come on suddenly and the pain was almost unbearable.
She had to stay in bed and get as much rest as possible and since I was the oldest of the girls, I had to take over most of the household duties, which included taking care of the younger children as well as cooking the meals, and all the other endless chores normally done by my mother.
I found myself busy from the moment I arose in the morning until I crawled into my bed at night, hardly taking time out to eat.
This went on for several days until mother showed any improvement.
About the third night I went to bed thoroughly exhausted and, undoubtedly, this brought on a strange dream that I had that night.
In my dream, I suddenly became aware of my poor little colt in the corral
- 104 -
with no food or water. Frightened, I ran down to look at it and to feed this animal, but when I looked where the colt was to have been, I saw only a large ring of trampled sand and dirt where the colt had fallen in agony and had twisted around and around. I could see its little hoofprints on the sand. Heartbroken, I began searching for my colt and finally found it in the small barn. My beautiful colt was lying dead in the southeast corner.
Next morning, when I awoke, the dream had so impressed me that I was filled with terror. I immediately started looking inside the corral and all I found was a ring of trampled sand and dirt, exactly as I had dreamed.
My eyes filled with tears as I rushed over to the barn and there in the southeast corner, lay my little colt dead, and my dream had come true.
I never got over this strange occurrence and even now this sad and tragic event in my young life often comes back as real as it happened so many years ago."
Since Maria had recovered somewhat from her bout with gallstones, the family decided to return to Phoenix so that she could consult with a doctor there about this problem.
Apparently, her doctor helped her so much that she never experienced another gallstone attack again.
Eventually the family returned to Culling's Well as it was still summer. Things at the station were proceeding normally with the Indian, Lola, and her daughter, Chona, still living nearby and with the Apaches refusing to move to the reservation, living in the nearby mountains, and still clinging to their old ways and customs.
Adelina remembers watching an Apache squaw washing her hair. "She, the squaw, gathered up some soil in a clay pot and added enough water to the soil to make a thick mixture. This mixture she placed completely on her head so that the hair was entirely covered with a turban of mud. This mud was left on her
- 105 -
head the entire day while she sat in the sun. Later, when it was dry and hard, she removed this dirt-turban by simply breaking it off and shaking her hair out until it was clear of all mud residue. Her hair was glossy and sparkling clean and the treatment also destroyed any lice that she might have."
One hot afternoon a band of Apaches, who were on the way to the Congress Mining Camp to seek employment, arrived at Culling's Well from their camp on the Harquahala Mountains.
Amongst their band was a very sick Indian and they asked Joe if they could stay near the station so that their medicine man could administer to this ailing Apache. He was in very poor health and, to all appearances, he was suffering from Tuberculosis.
After Joe gave them permission to remain there, they immediately set about constructing some wikiups by Lola's shelter. Joe, Maria and the children walked over to their encampment to greet them and to see what they were up to.
The braves had arrived on their ponies, followed by the squaws bearing the heavy loads on their backs. They carried these loads in large cone-shaped baskets hanging from the backs and supported by a stout strap placed around their heads. These baskets were loaded with all their necessities, including their babies.
The young Apache children were shy and refused to associate with the Drew children. However, one little girl, about six years of age, approached "Addie" and beckoned "Addie" to follow her and join her under a large mesquite tree.
This child had a small basket, just like her mother's, strapped to her back. She pulled the basket off and began showing "Addie" all of her prized possessions, mostly dolls which she had made herself. The dolls were very small but their wee faces and limbs were remarkably lifelike. Each doll was wearing a colorful dress trimmed with ruffles, laces and bits of ribbon. They were even wearing underwear.
- 106 -
Her mother explained, in broken English, that her daughter had indeed created these dolls and that the dolls' clothes had been fashioned from discarded scraps of materials, which she had found near a mining camp.
To "Addie" it seemed almost impossible that these uneducated, war-prone savages could be so creative.
That evening Maria and her children went to the Indian encampment to see what they were doing.
The Apaches were sitting around a number of smoldering fires with the sick Indian in the center of the group.
They had placed him flat on his back, on top of a blanket. The medicine man held a small, sharp knife in his right hand and he was going over the sick man's naked upper body making small, short scratches. Upon closer observation it was noted that these slight scratches, although not deep enough to cause a large flow of blood, were nevertheless creating a small amount of bleeding. The medicine man would keep up this ritual for about thirty minutes while the rest of the band sat silently by. Without warning he would rattle a large gourd then he would throw back his head and give a loud, terrible and unearthly scream, which was enough to scare Maria and the kids half to death, but they remained almost spellbound by these weird and unusual tactics.
Although the little Indian boys thought nothing of this ritual, they were bemused by the reaction of Maria's children to these activities.
Maria and the children had seen and heard enough for one day, so they returned to the station somewhat shaken up by what they had just experienced.
The horrible screams of the medicine man could be heard all night by those living at the station but the children, once tucked in the security of their beds, slept soundly as most children tend to do regardless of what is transpiring elsewhere.
- 107 -
The next morning Maria returned to the encampment to see how the ill Indian was doing. The band was sitting around a blanket-covered body, quiet and solemn, for he had died during the night.
The Apaches, superstitious as they were, did not want to remain very long where the brave had died, so they took the body to a site not far from the station and dug a large and very deep pit. Into this pit they set the deceased gently down, wrapped in his blankets, then threw in his clothes, saddle, and all other earthly possessions, including his pony, which they had killed. He was now ready to make his final journey to the "Happy Hunting Grounds." They filled the pit with dirt, making a large mound atop the grave.
They did not lose much time in leaving but pressed hurriedly towards their intended destination.
The year, 1898, was swiftly coming to an end and it seemed impossible that so many things had happened during that time.
But in September, Maria and. the youngsters were back in Phoenix.
The fruit trees and grapevines in the backyard were still yielding an abundance of luscious fruit and Maria was kept busy canning the fruit and making her favorite jams, jellies and preserves. The small cellar was well-stacked and ready for old man winter's arrival. A fig tree produced a wonderfully-tasting fruit that qas as sweet and tasty as honey.
Maria's rose garden was thriving, for she spent many hours watering, weeding and just babying it. She had almost every color of roses except white. These beautiful flowers were often taken to St. Mary's Church where they graced the altars.
Sometime that summer Maria heard from Daniel, who, as we mentioned earlier, was married to "Cuca," that his life was very ill at the mining camp.
Martina, due to ill health, was unable to do much for Ruth except feed
- 108 -
Daniell's two sons, ages 14 and 12.
Since no doctor was available at the mining camp at this particular time, Maria, without giving it a second thought, packed her bags and, with Adelina in tow, took off for the camp.
Upon their arrival, Maria was certain that Ruth "'Cuca" was indeed very ill. Maria, without wasting any time, set about cleaning and scrubbing. She even bathed "Cuca" and gathered "Cuca's" sons and bathed and fed them too. She also took the time to give each an overdue haircut.
When Maria felt that "Cuca" was well enough to travel, she took her and the two boys to Phoenix so that "Cuca" could be seen by Maria's doctor.
Upon visiting with the doctor, he proclaimed that "Cuca" was suffering from a severe sinus infection with proper medication, "Cuca" soon regained her health and was able to return to Congress and to her husband, Daniel.
Taking care of the sick and needy was nothing new for Maria. Many were the times when she would leave her family, and the comforts of her home in Phoenix, for as long as two weeks in order to nurse a sick neighbor or friend. She would not only tend to the sick person, but would also cook and scrub, as no task seemed too distasteful or too difficult to her.
Maria had a neighbor who had always been very aloof and downright unfriendly towards her and her family. In fact, she avoided Maria like the plague and seldom spoke to her.
This neighbor had no husband and had only one son living with her.
One day the neighbor's son came to Maria's home looking extremely distressed.
He said that his mother had been ill for some time and that she was getting progressively worse. He was at a loss as to what to do.
Maria immediately went over to see this hostile woman and determined that the lady needed to see a doctor fast. Maria contacted her personal physician and
- 109 -
had him come over to examine the neighbor.
The doctor diagnosed her illness as of a terminal nature, who would require constant care and attention.
Maria, being the caring and compassionate woman that she had always been, took it upon herself the task of feeding, bathing and consoling this dying woman. Many a time Maria came home after performing the disagreeable task of cleaning this woman's body sores, due to her lying in bed unattended for such a long time and Maria was unable to eat her dinner meal. Marla was now pregnant with her tenth child. Still, she kept returning to this woman's home day in and day out until the woman passed away.
Such was Maria's merciful nature towards the ill and needy. Acts of mercy, which she repeated over and over again during her lifetime.
According to the scriptures, "Acceptable to the Lord is the person who showeth mercy."
Marla was renown throughout Phoenix amongst friends and neighbors and whenever misfortune struck, the panacea was to call Maria.
All was not solemnity and hard life with Maria Culling Drew. She had a zest for life, humor and good times. In most cases, Maria was the life of the party, so to speak. She enjoyed dancing and visiting with the friends she knew, and she had many.
On a brisk, cold day in November 1898, Maria gave birth to a boy, her tenth and last child. She was now forty-one years old.
Maria wanted to name the baby Joseph but her husband thought that perhaps Samuel would do since that was Joe's middle name. And so Samuel it was, or "Sammie," as the family affectionately tagged this newborn.
"Sammie" was rather sickly but the family's primary concern was Maria, who shortly after giving birth to her son, became seriously ill with what was known in
- 110 -
those days as "Childbirth Fever." The birth had been difficult and the doctor had to use forceps to deliver the baby.
Maria's half-sister, Micaela, came to Phoenix to help with the household chores and the older girls were instructed as to the care of young Samuel. Joe, of course, spent his time attending to Maria.
Everyone was concerned for Maria's health and were all frightened thinking that Maria would die from her ordeal.
For nearly a month, Maria lay in a semi-coma and the doctor was at a loss being unable to diagnose her problem. As Adelina recalled, "All we could do was wait and pray while dad sat up half of the night beside her bed."
Micaela, who was now twenty-two, and single, and Adelina, now age thirteen, were responsible for "Sammie's" care and welfare.
"Addie," in looking back upon this event wonders, "how Sammie survived our inept handling and care, but survive he did. We fed him whenever he cried, so this kept him in fairly decent health in spite of our lack of knowledge regarding the feeding of infants. There was a night, though, when "Sammie" cried and cried and next morning, when we turned him over as we were changing his diaper, I saw, to my horror, that a tack was imbedded in his back all the way to the tack's head. I pulled it out in a hurry and Micaela now knew why the poor little fellow had cried all night."
After all these weeks of hovering near death, Maria's condition suddenly took a turn for the best and her recuperation was rapid.
She had been semi-conscious for all this time and wasn't even aware that she had given birth to Samuel Drew. It was then that she was brought the baby and she very tenderly took her young son cradling him in her arms.
With the recovery of Maria, and with Micaela and Adelina having received the proper instructions as to the care and feeding of "Sammie," the baby was now
- 111 -
looking a lot better than he had since he was born.
Since Maria, was now up and walking around again, Adelina returned to her school studies and Micaela made preparations to leave for Martina's home at Congress. Daniel, his wife, "Cuca," and their children were still residing at Congress.
Micaela was now a young lady and was meticulous, almost to a fault. Her clothes were immaculate and in good taste. She was never without gold earrings, her ears having been pierced when she was a child, which was the custom among the Hispanics at the time. She had a small classic face and her beauty mark gave her a rather striking appearance.
Micaela had never married but loved children, and when she was ready to depart for Congress, she asked Maria if she could take John, now age 8, and Josephine, age 4 1/2, to Congress with her until such time as Maria felt strong enough to care for them. Reluctantly, Maria consented with the understanding that the children be sent back by stagecoach
- 112 -
CHAPTER IX
The Lighthouse In The Desert
Joe had to return to the ranch but before he left he told Maria that he would send Charles for her in the summer for her usual stay there.
As soon as school was out, Charles appeared in Phoenix with the horse drawn buggy.
Charles wasn't too sure that Maria was strong enough to make this long and bumpy trip to Culling's Well. Besides, the horse pulling the buggy was a balky mare, which had been left at the station by an old prospector. This mare, according to the prospector, was as stubborn and cantankerous as a Missouri mule. He added that once it got going, there was no stopping her. Maria assured her son that she was fit as a fiddle, and anxious to join her husband at the station.
Early the following morning the bags were loaded, the youngsters clambered aboard, and the family began their annual pilgrimage to their old haunting grounds.
The trip progressed without a hitch. The mare behaved beautifully and before they realized it, they had reached the Hassayampa River near Wickenburg. Of course, they still had some ways to go before reaching their final destination and it was at this time that things started to happen.
Just southwest of Wickenburg they came to a steep hill. The mare pulled the buggy to its crest and then and there she absolutely refused to go one step farther. Charles was hopping mad. He tried pulling this stubborn beast forward with the bridle and when this failed, he tried whipping her, but the mare refused to budge one single inch. To add insult to injury, the buggy, loaded as it was, began to slide backwards and down the hill. Charles hollered to Maria and to the kids to jump off, while he scrambled to keep the buggy from going down
- 113 -
the hill by placing rocks behind the wheels to hold it in place. Now, it was obvious that this animal was willing to go backwards down the hill but she had no intention of moving forward until she was good and ready to do so. She emphasized this by eyeing Charles balefully.
For hours the impasse remained with Charles yelling, cursing and threatening, and with the mare just standing there and doing absolutely nothing.
Maria was getting a bit worried since she had baby "Sammie" with her. Charles finally got a bright idea. He walked around, still mumbling to himself, picking up the driest (sic) grass he could find. This he piled under the mare. Telling all to stand back and grasping the reins tightly, he touched a match quickly to the dry grass.
Immediately, a large blaze flared up right under the mare's belly. When the mare felt the heat, she leaped forward and started galloping down the hill with Charles still holding on to the reins for dear life. It was truly a sight to make anyone present roll on the ground with laughter. Charles was running alongside this frightened animal, trying to keep up the pace and at the same time trying with all his might to stop the headlong rush of the mare. Charles finally was able to somehow stop the mare and buggy before too much damage was done.
Maria and the children then hopped aboard and the mare behaved admiringly for the remainder of the trip. In fact, she trotted merrily all the way to Culling's Well.
A few days after arriving at the station, the stagecoach arrived and out jumped John and Josephine. It was a joyful family reunion, for it seemed like ages since the two youngsters had left with Micaela to grandma's house at Congress. Grandmother, wonderful cook that she was, had fed the two youngsters so well that when the family saw Josie's fat and rosy cheeks, they all roared with laughter.
- 114 -
She had gotten so fat that when she sat down she was unable to get up by herself.
They hadn't been at Culling's Well very long when a young man alit from the stage and asked Joe if he could remain there for a while.
His name was Torn and he claimed he was a veteran of the Spanish-American war, which was fought in 1898, and he wanted a nice quiet place to recuperate. Joe gave his consent and during his stay there he proved to be a very energetic young man. He helped Joe and Charles with all the chores, from hauling water from the well, to repairing the buggy, which Joe had been working on.
Besides Tom, the Drew's had two other guests at the station at the time.
One elderly man, whose name was Forbes, was a spell-binding story teller of the first degree. He looked not unlike an old biblical prophet, with his long hair and flowing beard. His yarns were too unbelievable and fantastic to be accepted as gospel truth, but he had an entertaining mien and the kids listened to his tales with wide eyes and fascination.
Forbes was a chain-smoker but he never bought cigarettes on his own. Instead, he used to bum them off anyone he came in contact with.
The other, whose name is unknown, was very quiet and reserved and he kept to himself while at the station. It is believed that he was an author. He appeared to be well-educated and when he spoke, his words were precise and extremely interesting to listen to as he was very knowledgeable about all sorts of subject matter.
It was mid-summer and the heat was almost unbearable during the day, but in the afternoons, after sunset, cool, comfortable breezes could be felt.
Joe had ordered one of those new-fangled "Edison's Talking Machines," as the phonograph was called in those days. This amazing machine had been invented by Thomas Alva Edison in 1877 and had become a very popular entertaining media in
- 115 -
just the few years that this product appeared on the market.
This sensational gadget had a large horn and the music was etched on a small black disk. The volume was rather restrictive but the entire family and guests enjoyed it tremendously.
The evenings, after the tasty dinner had been consumed and the dishes washed and put away, were spent either in the hallway, where the breezes could be felt, or in the front yard. These were the times when all would gather together to discuss the day's events or just to converse about anything in general. Forbes would spin his never-ending yarns; Tom would tell his war stories; Maria would talk about her early years at Culling's Wall and her experiences with the Apaches; the reclusive author would reminisce about his travels. Thus the evenings would pass swiftly as the shadows lengthened and the nights darkened.
One morning Joe asked Forbes if he would like to make himself useful.
The following morning, Joe wanted Forbes to go with him to the mountains to search for honey. Joe had seen a swarm of bees near the Harquahala Spring during one of his trips there and was certain that there was honey somewhere in the vicinity.
The next morning Joe convinced Maria to go with him and Forbes in search of this liquid gold. Leaving Tom in charge of things at the station, they departed armed with wide hats, mosquito netting, and heavy gloves.
Upon their arrival at the spring, Joe located the hive in a large dead Saguaro, which had a crack running vertically down one side.
While Maria placed herself on a rock, a safe distance from the hive, Joe and Forbes built a fire near the Saguaro using green mesquite to create plenty of smoke in order to pacify the bees and to force them away from the hive. It wasn't long before the bees swarmed out and attacked Joe and Forbes. Apparently, these insects had not been sedated enough and were very aggressive. Joe and Forbes were not prepared for this unexpected attach and so they panicked
- 116 -
and took off running with the bees in hot pursuit. Fortunately, the hats, netting and gloves protected them somewhat; however, some of these critters managed to inflict some stings on the unprotected parts of Joe's and Forbe's bodies.
Joe and Forbes were determined to rob the precious honey, so they stood their ground. Eventually, things quieted down and then they chopped down the old Saguaro and, to their delight, it was loaded with the sweet honey.
They were able to salvage enough honey and honeycomb to fill a five-gallon container.
Upon their arrival at the station with their precious cargo, they were the targets of laughter and jokes, for by now the bee stings had caused their faces to swell and Joe had one eye swollen shut. Both honey robbers felt that the pain and discomfort they had endured was well worth the effort, for all present at Culling's Well were able to enjoy and relish this delicious nectar, which the bees had created from mesquite blossoms and other wildflowers.
One evening, just before Maria and the children returned to Phoenix, the family was sitting around talking when they heard a buggy approach the main building. Two men hurriedly jumped off the buggy and approached Joe. They told him that on their way from Wickenburg they had come upon a dead body some half a mile from the station. They had seen a red handkerchief hanging from a limb of a mesquite bush off the main road and, upon investigating closer, they had found the body.
Joe had them go to Sentinel to notify the Sheriff of their find. Meanwhile, Joe, Charles and the other men took off to check on the dead person.
They found a nice looking young man lying under a large mesquite tree and upon this lad's chest they found a Catholic prayer book. Inside this prayer book was a letter with instructions to send the letter to his mother. Apparently, the
- 117 -
youth knew that he was dying of thirst and in his last moments of life, he had written the letter to his mother.
With the Sheriff's permission, Joe and the others buried this poor unfortunate fellow in a shallow grave on the spot pending receipt of a letter of instructions from his beloved mother.
This tragic death saddened and depressed the entire family. Joe was certain that the young man had perished during the night without knowing how close to the station, and to lifesaving water, he had been.
In about a week word was received from the young man's mother. In this letter to Joe she mentioned that, if possible, she would send for her son's remains. In the meantime Joe decided to bury him in the closest cemetery which was at the Harquahala Mining Company.
In order to afford the deceased a decent burial, Joe sent word to Daniel at Congress to round up some men and instructed him to bring some lumber for a coffin. Daniel arrived sometime later with the lumber, but he was alone since he couldn't convince anyone to help with the grizzly job of exhuming the body from the shallow grave and re-burring him elsewhere.
By now the body was in advance stages of decomposition and the stench was unbearable, but Joe and Daniel built the coffin and laid the remains in it. They then buried him at the cemetery.
Maria and the family had to return to Phoenix before the start of the school year and Joe was left alone at the station.
One evening, not long after the finding of the young man's body, and during the hottest part of the summer, Joe sat in the station alone, reading by the light of a lamp. A young German lad came staggering to the watering tank near the station. He was weak, exhausted and nearly dead from thirst. He had actually lain down to die in the desert when he saw the rays of a light in the distance. He
- 118 -
Followed the light until he came to Culling's Well.
Joe placed the boy on a cot and fed him liquids until he regained his strength, and in due time he recovered sufficiently enough to continue on his journey thanking Joe for having saved his life.
By this time, two miners had expired by the roadside within sight of Culling's Well, and all of these incidents, not to mention how many more stragglers were out there in this harsh environment who, like the German lad, were also collapsing from the heat and dying of thirst within rifle shot of the station, started Joe to thinking.
Joseph S. Drew, a man possessed of both imagination and a true sense of humanity, got a bright idea.
He got his buggy, hitched a horse to it, and took off for Wickenburg. There he purchased a very long pole, a lantern, and a pulley and brought these items to Culling's Well.
He put up the pole beside the house and fixed the lantern in such a way that he could readily pull it down during the daytime. In the evening he would add fuel to it, light it, and pull it to the top utilizing the pulley -- very much like lowering and raising a flag.
This life-saving beacon of light, like the towers that rise above the dashing waves of the Atlantic's shores, but not marked on the mariners' charts, could be seen for miles across the lonely, dark expanse of this unfriendly, yet unrepulsive (sic), desert.
It has been said that the road leading from the Hassayampa River to Culling's Well is "Blazed" by the graves of those who have died of thirst upon their way. Joe Drew was determined to overcome this problem, and indeed he did with what he affectionately called his "Lighthouse in the Desert."
From 1899 on, Culling's Well was commonly known as the "Lighthouse in the Desert,"
- 119 -
As long as Joe Drew lived at the station, he performed this ritual of raising and lowering the lantern daily. To him people gave the name, "Keeper of the Desert Lighthouse."
            The Phoenix Daily Enterprise had this to report on September 11, 1899:
"Decomposing Body is Found on the Desert Near Wickenburg. Supposed to be Peter Bateman, a prospector and formerly of Ohio, on the desert and without water supposed to have brought him to his death.
Probate Judge N. A. Morford this morning received a letter from J.A. (sic) Drew, of Culling's, stating that the decomposed body of a supposed prospector had been found Saturday three miles from Culling's on the Wickenburg road. He is described as being a man of 50 or 55 years of age, grey hair and mustache. The letter stated that the body was badly decomposed and it is thought he had been dead for four or five days when found Saturday."
On September 12, 1899 the Arizona Republican reported another story regarding Peter Bateman's demise: "Dead on the Desert - Peter Bateman Succumed (sic) to Thirst Near Cullen's (sic) Wells.
Last Friday the dead body of a man was found about three miles from Cullen's (sic) Well on the Wickenburg road. He was a victim of thirst and the desert. The body was so badly decomposed that the features were no longer recognizable and it was buried by the finders, one of whom, J.S. Drew of Cullen's (sic) Wells, wrote to Justice Gray about the discovery and sent along such things as were found on the body: a letter, some pension papers, and $2.70 in money. Mr. Drew said that from the gray hair and the mustache, the dead man, he thought, must have been fifty of fifty-five years old. He was about five feet six inches, had small feet and hands and the index finger of the left hand was missing. The body was dressed in a brown coat and overalls and had on nailed shoes nearly new. Mr. Drew concluded from the letter that the name of the dead man was Bateman. He
- 120 -
thought he was a prospector and from the fact that he had no canteen, that he might have been lost while hunting his horses which had strayed away.
The letter was addressed to Peter Bateman and was from A.J. Bateman of Detroit, Mich. It began 'Thank God you are still alive, and went on to say that the writer had not heard from his brother for ten years and had long since given him up a s dead. He had just received word in a roundabout way through an old acquaintance that he was engaged in mining somewhere south of Ash Fork. It was a long and very brotherly letter. The writer said he expected to make a trip to California soon, when he would stop off and visit Bateman.' Bateman was an old soldier, having served in the Civil War in the Fourteenth Ohio Volunteer Infantry. He was a pensioner and his name and description given to the missing finger of his left hand, which constituted the disability on which the pension was issued appear among Captain Gray's pension records."
After this incident, Joe proposed to the county the placing sign boards along the desert roads to assist the traveler.
According to the Arizona Republican of September 20, 1899 this matter had already been tossed around some years earlier and some effort had been made to do just that but apparently this idea proved inadequate since there were never enough signs to go around. Moreover, these signs that were constructed and put up were very inaccurate and misleading regarding the mileage from place to place.
The paper goes on to say that "This would make no serious difference to a horseback traveler but those crossing the desert on foot prepared for a twenty-mile tramp are overcome and no doubt, sometimes perish, when the distance lengthens out to nearly twice as far."
Prospectors, am many of there new to the country, were forced to travel on foot and could not carry any great amount of water.
The paper continued: "Very frequently travelers arrive at Culling's almost
- 121 -
demented by thirst, having been misdirected or lost their way, though some, of course, perish through simple ignorance of desert travel."
It is a well know fact that traveling this desert land was as hazardous an adventure as navigating the shoals and bars around stormy Cap Hatteras, or rounding the Horn in sailing ship days. In fact, the waterless trail more or less paralleling present-day U.S. 60 was known as "The Trail of Death."
Rude crosses marking the graves of the many who died were almost as common alongside the trail as highway markers are now.
It is not known exactly how many lives were saved by Joseph Drew's ingenious lantern since nobody ever kept an actual count.
What is definitely known, though, is that a number of lives were saved based on a number of articles that have been written since that time.
An article in the Prescott Sun of June 8, 1988, written by Claudette Simpson, places the number of lives saved by the "Desert Lighthouse" in the thousands. This, of course, is rather exaggerated since there is no way in the world that Joe could have accomplished this feat in a matter of seven years or so.
The important thing to remember is that Joseph Drew did save lives because of his caring and compassionate nature.
It was around 1900 that a potentially rich mine was found and lost in the western Arizona desert.
The lost "Six-Shooter" silver ledge was found and lost by Billy Orme, a man who knew the desert like the back of his sunburned hand. But he was drunk when he found it as he was on the day's-long trail that led from it. When his head cleared, he had only a blurred, hazy memory of the silver. The back trail was a long mirage of dream-like images, interspersed with great stretches of nothing-ness.
He saw, a half-mile ahead of him the light at the Culling's Well stage station.
- 122 -
The light was a lantern suspended from a long pole; the station was called the "Lighthouse in the Desert."
Joseph Drew served Billy dinner and put the drunken prospector to bed. Next morning Orme showed Joe samples of silver ore and told how he happened to find them.
He, Billy Orme, had been on his way to meet his partner, but a sandstorm forced him to take shelter at the base of an overhanging ledge. After the storm was over, he realized the ledge was full of rich silver ore. He put his pistol on the rise and built a monument over it. By the time he reached Culling's Well, he didn't know how to find his way back to the ledge. He spent the remainder of his days looking for that ledge and the silver it contained, but he never found it.
Later in the day at the station, Orme, having recovered from his ordeal, had a few more drinks, tucked a new bottle into his saddlebag, and rode eastward to Bullard Peak Mine.
Billy Orme's partner, Jacob Hamblin, upon hearing of Billy's find, closed the Bullard Peak Mine, dismissed the Mexican hired hands and tried to back track the Orme trail. It was in vain and after a month Hamblin gave up. But not Billy. He bought two little Spanish mules and a spring wagon and spent years trying to remember and trying to find. He never did.
A severe drought early in the 1900's, which lasted seven years, affected the lives and fortunes of many citizens living in those years.
In Phoenix the Salt River gradually dried up and the water tables sank lower and lower creating a hazardous situation.
At Culling's Well, the well started to run dry. Sometimes the well yielded perhaps a bucket of water a day, and sometimes not even that. This was in contrast as Joe Drew suffered sometimes from too much water. The Centennial Wash
- 123 -
runs down the center of McMullen Valley, which is thirty-five miles long. Culling's Well was situated at the edge of the Wash, which becomes a raging torrent in the rainy season, but for the better part of the year is a so-called "dry wash." Culling's Well was actually flooded out on several occasions.
At the beginning of the drought, Joe had about nine hundred head of cattle at the station, but as the underground water supply receded the cattle began to die of thirst.
Construction of the Parker cut-off in 1905-6 eliminated the need for the old station at the crossroads and this, plus the drought, convinced Joe that maybe it was about time he called it quits at Culling's Well and move to Phoenix permanently.
Joe had resorted to feeding the remaining stock on cacti and he even made several trips to Phoenix to purchase hay in order to keep the cattle alive.
Joe rounded up the remaining few hundred head of cattle and prepared to drive them into Phoenix for whatever he could sell them for.
Joseph Drew, the "Keeper of the I,ighthouse in the Desert," lowered his lantern for the last time – "A light of promise to the traveler, a lifesaving beacon not marked on the mariners charts."
- 124 -
CHAPTER X
Conc1ussion
Joe did move to Phoenix permanently.
By now he was tired and discouraged and his health began to fail. When he finally went to see a doctor, he learned that he was diabetic. Since Insulin was not available at the time (discovered in 1921), nothing could be done for this disease except put the individual on a strict diet and pray.
Charles had married some years earlier and was no longer at home. With the loss of Culing's Well, the Drew family found themselves with no income to speak of.
Fortunately, Joe and Maria owned their own home so they didn't have to worry about mortgage payments.
Since there was such a shortage of water, the fruit trees and grapevines withered and died.
Adelina and Laura were able to find clerical jobs downtown in some dry goods stores and even though their salaries were very low, the extra income was sufficient to keep the family alive and for this they were grateful for God's mercies.
Steaks were selling for a quarter but this luxury was denied them as they had to lead very frugal lives. This situation continued for five to six years but somehow this determined family survived.
During one of these depressive evenings, when the family was seated around the dinner table, they became aware of a horse-driven wagon entering their driveway. When Maria looked out she noticed that the wagon, which was loaded with mesquite firewood, was driven by an Indian. She thought nothing of this since Indians usually came into Phoenix to sell firewood and other commodities.
The Indian knocked on the door and Maria went to answer it. She asked him
- 125 -
how she could help him but without uttering a single word, and with a big grin on his face, he walked in carrying a large, fat turkey under one arm and sack of white beans under the other. The Indian could see that the family was bewildered by this and he turned to Maria and asked her if she recognized him.
Maria could not imagine who he was and said so. It was then that he told her that he was her "adopted" son, "Apache John."
The last time they had seen each other was some thirty years earlier when "Apache John" had been about fourteen years of age and Charles Culling Sr. was still alive. It seemed like an eternity but Maria welcomed him with open arms. "Apache John" had not forgotten Maria during all these years. He was now living on the San Carlos Apache Indian Reservation, had married, and was the proud owner of a farm. He also owned cattle and was doing quite well financially.
It was like a family reunion and, although the Drew children had never met "Apache John," they knew about how he was left with Charles and Maria when he was but nine years old and the wonderful five years he had spent with his "adoptive" parents. He was told about what had transpired at Culling's Well during those years after he had gone with the Apache band into the mountains never to return. He was also made aware of the station being abandoned due to the drought and of the hard times they were now, experiencing. The evening passed swiftly by as they all recounted their experiences and happenings with plenty of laughter and a few sad tones.
The next morning "Apache John" left them some firewood and, waving goodbye, left for the reservation.
"Addie" mentions that, "there had never been a turkey in our big wood-stove oven for a long, long time and mother cooked it to a golden brown, tender and moist. It was delicious and we had beans for several months. 'Apache John's' appearance, after so many years, had proven to be a blessing for us and gave us
- 126 -
hope that perhaps things would improve even though these were austere times for us all."
After this initial visit, "Apache John" made it a point to visit the Drew's whenever he was in Phoenix, and he never failed to bring them some food.
After Joe sold out, Culling's Well was occupied for a time by Charles Duchet, who had been a Graham partisan and fighting man in the Pleasant Valley war.
Pete Massey had corrals there years later.
Soon after "Apache John's" initial visit, Maria's health started to deteriorate.
She was worried about Joe, who had lost a lot of weight and seemed exceedingly restless at times. He also suffered a severe hearing loss and Maria became very nervous and easily upset. She would scold her older daughters often and accused them of being careless about their housework. She would loss her temper and this was so unlike the mother they had known all of their lives. Although she never complained about any illnesses, she may have been suffering from, it was obvious that something definitely was creating this change in her.
Maria was still very close to her faith and twice a week she would go to St. Mary's Church where she would sit before the Tabernacle for extended periods of time in prayer and meditation.
Adelina recalls in her memoirs that one particular Sunday her sister Laura did not have a decent dress to wear to Mass. Maria had some dress material on hand but, try as she could, she simply could not make it fit, although she measured this dress over and over again. For one reason or another there was not enough material available and this seemed to depress her even more. The girls knew that their mother was an excellent seamstress and this action greatly distressed them.
- 127 -
Soon after this fiasco, Maria came into the girls' bedroom early in the morning and woke them up for she had something interesting to relate to them.
She went on to tell them that the previous night she had had a vision. In this vision it seemed that God was speaking to her. The voice appeared to be originating from one corner of her bedroom, where Maria perceived a soft glow - - almost like the rays of moonlight. According to Maria, the Lord told her to gather all of her children the following morning and to recite the Rosary together. God also told her to exercise patience with her children, and to refrain from scolding them too much and, above all, to shower them with kindness, understanding and love, as all mothers should to their offspring. In addition, God asked her to go out in the vacant lot and plant vegetables in order that they would have food to eat (Maria had neglected this chore for some time). Finally, the voice advised her to try one more time to make Laura's dress and that shortly things would improve and everything would be alright.
The girls were, to say the least, speechless regarding their mother's revelation, for they knew that she was not in the habit of seeing visions or of hallucinating. No, Maria had always been sensible and reasonable. As Maria had spoken, the girls observed that their mother seemed very serene and calm. Gone was the harassed and tense look. She seemed very happy, almost radiant, as if she had just received some wonderful news and was overwhelmed with happiness.
She then had the children gather around her and together they recited the Rosary. Afterwards, Maria took up the unfinished task of making Laura's dress and ere long she was finished. The dress fit her daughter perfectly. In time she and her family planted a vegetable garden and were rewarded by the abundance of this bounty. There were even able to contribute the surplus vegetables to needy neighbors. After this, Maria was back to being herself, always cheerful and accepting whatever came with great forbearance.
- 128 -
This lasted for a few years and eventually Maria' s health began to fail visibly, while Joe remained unchanged.
Maria was looking forward to a very special occasion -- Samuel's First Holy Communion, which was coming up soon.
On the day of this event, a Sunday, everyone hurried about preparing for "Sammie's" ritual and making sure that he was ready.
"Sammie" came through with flying colors and Maria seemed extremely happy and telling her children how wonderful it was for her to have lived long enough to have witnessed her youngest child make his First Holy Communion. Then she remarked that she was now ready to die. She felt that the time of her death was coming very soon. This statement brought cries of indulgence from Adelina who couldn't see how her mother would be dying while still as young as she was. Maria then patiently explained to "Addie" that during her illness of a few years back, she didn't expect to survive, but that she had implored God to let her live until "Sammie" had received that Sacrament and now she felt that her time to pass on was arriving presently.
"Addie" was unable to truly comprehend this omen and became very apprehensive, thinking of what her mother had predicted. She wondered if Maria had a premonition regarding her death based on the vision she had experienced at the time of her illness.
The following day, Monday, Maria was her useful self, bustling about the house and then decided to work in her rose garden, which had miraculously survived the drought.
She had planted some new rose bushes and they had bloomed beautifully except for one bush which was without flowers. She was anxious to see the color of the flowers and she wondered why it hadn't produced anything although it was already springtime.
- 129 -
Unexpectedly, Maria dropped her garden tools and dashed into the house, her long skirt soaked in blood. Fortunately, Melina was home that morning when she saw the horrible red stains darkening her mother's dress. Adeline immediately called the doctor. He managed to stop the hemorrhaging and scheduled an appointment at his office for a thorough examination of her mother the following day.
Late in the evening, on the day of the examination, when "Addie" returned from work on the streetcar, her father was waiting at the streetcar stop. 'This surprised "Addie" because Joe never met her at the stop and she knew that something was terribly wrong. In a quavering voice, Joe told "Addie" that her mother had been diagnosed as having cancer. "Addie" felt devastated. She recalls the day wel1. "We walked home in stunned silence, like sleep walkers, and I felt mother's strong, capable hands slip away from the helm of our lives."
Maria lay dying in her bedroom. She had been bedridden for three weeks and there was nothing that could be done for her. The doctor suggested surgery but was uncertain of the outcome. In the end the family agreed to surgery.
Early one morning on May 18, 1910 Maria seemed to be in agonizing pain and Melina went to her bedroom to see if somehow she could make her mother a bit more comfortable. A short while later Maria seemed better and fell into a deep sleep. It was a hot, oppressive night and "Addie," tired as she was, stepped outside for a breath of whatever air was present. The scene that met "Addie's" eyes was indeed awesome: "The Hotel Adams downtown had caught on fire and I could hear the clanging of the bells and sirens of the fire-fighting equipment as it rushed to the conflagration. Huge flames were shooting up and casting an ethereal glow across the heavens. Since it was early in the morning, the moon was still out and it had turned a blood red. Next to it Halley's Comet loomed ominously, with its great luminous tail spread out like a fan which seemed to touch the distant horizon. The sky was deep blue, very beautiful, but eerie and
- 130 -
I was filled with forebodings as I gazed up at the heavens in awe. Mother was dying in the next room and father was in the grip of a fatal illness. I have never forgotten this night."
Halley's Comet appeared visible to the human eye during the month of May, 1910. Between May 6 - 15, it appeared the brightest. In Phoenix, people lit huge fires on the lawns and gathered around in small groups at night to watch this unearthly spectacle in fear and superstition.
To ancient minds, the saber-like appearance of a brilliant comet was a harbinger of war and famine, an ethereal weapon forged by spirits. Although our ancestors were familiar with the gradually shifting positions of the planets, comets appeared suddenly and unpredictably. Imagine a bright comet, edging closer to the sun each day, its frightful tail stretching halfway across the heavens; it kisses the sun and rising higher in the sky, fades into oblivion. Such a sight must have filled even the stoutest of hearts with horror.
It was no wonder that Adelina felt the way she did with all of these unnatural events happening during her parents illnesses.
The days passed and the comet was, more-or-less, forgotten as more pressing problems were at hand.
Maria was now suffering from unbearable headaches and she was unable to stand the rest of her bodily pains. On May 11, 1910 she asked the doctor to operate as soon as possible and the doctor proceeded to make the necessary arrangements in the Sisters Hospital. Surgery was performed at 7 a.m. that morning but her physical condition was so poor that she was at death's threshold when she was brought out of the operating room. She had received the last Sacraments of the Catholic Church the previous night and was well prepared to meet her maker. She revived for a short time after the operation, then lapsed into unconsciousness, passing away in a few hours. She had slipped away easily
- 131 -
and peacefully with a sweet smile on her lips. It was just one month after her youngest son's First Holy Communion.
Soon after Maria died, the last rosebush bloomed. The first blossom to appear was a beautiful cream-white rose.
Maria was buried at St. Francis Cemetery. She was 53 years old.
Less than two years after Maria's death, Arizona achieved Statehood. Territorial leaders knocked on the door of Congress for 49 years before Arizona was admitted into the Union as the 48th State. The Enabling Act was passed in 1910 and Arizona voters ratified a state constitution the next year. President Taft delayed statehood, however, until the people voted to remove the recall of judges provision from the constitution. After this was done, he signed the statehood proclamation on February 14, 1912.
When the good news reached Phoenix by telegraph at 8:55 a.m., steam whistles were blown. People took to the streets and still were celebrating when Governor elect George W.P. Hunt of Globe walked from the Ford Hotel to the capital to take the oath of office.
A few years after Maria died, her mother, Martina, passed away. Martina died of Pneumonia probably brought on by her habit of taking a cold bath early in the morning. She had worked almost to the day she died. She was 84 when she passed away; was blessed with good hearing, keen eyesight, and still had most of her original teeth. Martina had been a hardy and strong-willed woman during her entire lifetime as was evidenced by her long life.
After Maria's death, Joe's health became more fragile as the months went by.
He grieved over the loss of the woman who had been his wife for close to 28 years, and who had bore him seven children during those years. Sometimes he imagined he saw Maria in the twilight, standing against a large honeysuckle vine, which grew by the bedroom window. It must have been the play of light and shadows that he
- 132 -
saw and in his grief he fancied he beheld his beloved Maria again.
The next five years were difficult ones for Joe. His health was worsening due to his diabetes. The strict diet helped in some way but it bothered Joe since he was used to eating well ever since he was at Vulture. Nevertheless, the years went by during which time Laura and Josephine married and left home. Adelina was offered a job with the telephone company but she was required to move to Florence. Since Joe was to be left alone, "Addie" had him move to Florence with her where she was able to care for him as much as possible.
While in Florence, Joe developed a severe kidney infection and it was necessary for
"Addie" and Josephine to move him back to Phoenix for better medical care.
On a Sunday, a week after moving back to Phoenix, Joe seemed to rally somewhat and he felt well enough to sit in the front porch where it was pleasant and cool, for it was October and the days were brisk with only a touch of winter yet to come. The Chrysanthemums were blooming and Maria's rose garden was ablaze with color.
Daniel had arrived the day before and on Sunday he was in the garden carefully cutting some long-stemmed buds and roses while Joe watched from his seat on the porch. Suddenly, Joe toppled over from his chair. He had suffered a heart attack.
While "Addie" and Josephine froze in shock and disbelief, Daniel rushed up to Joe and put his arms around him as the roses fell and scattered around Joe's feet. Joe died quietly in Daniel's arms on October 24, 1915. He was 70 years old.
The "Keeper of the Lighthouse in the Desert" was dead and a great Arizona pioneer had gone to his eternal rest.
- 133 -
Joseph Samuel Drew was buried in the Greenwood Memorial Park Cemetery in Phoenix.
- The End -
Carlos L. Hernandez August 13, 1990
- 134 -
Epilogue
Today, far out in the windswept wastelands near Wenden, and almost within hearing distance of traffic on the busy highway, stand the remains of the once famous Culling's Well and stage station, site of "The Lighthouse in the Desert." Nothing remains of the station. Scattered here and there are pieces of timber, square nails, some strands of barbed wire, broken glass and other bits of rusted hardware -- Mementoes of the past.
The famous old well gapes treacherously, surrounded by rotting timber. A stone dropped down the well takes some time to hit the bottom. Listening, the thrower gives up and turns to leave, only to stop in his tracks when the rock finally comes to rest with a dull thud.
Gone are the adobe walls which through the years had been bleached by the searing sun and ravished by the desert wind as they were left abandoned in the broad McMullen Valley -- between the Harcuvars on the north and the Harquahalas on the south, and on the edge of Centennial Wash.
The chirping of desert birds, the relentless wind, and the purple-gray mountains combine to lend a strange, yet timeless, atmosphere.
- 135 -
Bibliography
Arizona: A State Guide. American Guide Series, 1940.
Barney, James M. Lighthouse on the Desert. Arizona Highways Magazine, Phoenix,
October, 1941.
Bentz, Donald N. The Light in the Desert. The West Magazine. Denver, March 1971.
Brown, Carol Osman. The Story of a Community 100 Years Young with a Future of Glorious Promise. Arizona Highways Magazine. Phoenix, April, 1970.
Egerton, Kearney. The Lost Six. The Arizona Republic Newspaper, Phoenix, June 12, 1983.
Faulk, Odie B. Arizona - A Short History. Norman, University of Oklahoma Press, 1970.
The Geronimo Campaign. New York, Oxford University Press, 1969.
Ford, Walter. Trail of the Graves. Desert Magazine, Phoenix, January, 1970
Green, C.R. The John Drew Family, as Connected with Osage County History.
"Early Days in Kansas, Vol. II.
Heatwole, Thelma. Lighthouse on the Desert. Arizona Republic Newspaper. Phoenix,
October 12, 1958.
Kutac, C. How to Find Productive Old Well Sites. Treasure Magazine, January, 1982.
Love, Frank. Mining Camps and Ghost Towns. Los Angeles, Westernlore Press, 1974.
Loza, Adeline "Addie: Drew. Lighthouse in the Desert. Memoirs of life at Culling's Well, 1960.
McGreeney, John. Charles Culling. Radio show presented by the Butane Corporation. "Arizona Adventure" program. Phoenix, December 14, 1949.
- 136 -
Hurbarger, Nell. "Ghosts of the Adobe Wells." Los Angeles, Westernlore Press, 1964.
Pare', Madeline Ferrin. Arizona Pageant – A Short History of the 48th State. Tempe, Arizona Historical Foundation, 1974.
Paters, Alan H. & Gallagher, John S. Arizona Post Offices. Lake Grove, OR, The Depot Press, 1988.
Reddy, Francis. Backtracking the Comets. Astronomy Magazine, August, 1982.
Sherman, James E. & Barbara H. Ghost Towns of Arizona. Norman, University of Oklahoma Press, 1969.
Summerhayes, Hartha. Vanished Arizona - Recol1ections of My Army Life. Philadelphia, J. B. Lippincott, 1908.
Wagoner, Jay J. Early Arizona. - Pre-History in Civil War. Tucson, University of Arizona Press, 1975.
Arizona Territory, 1863 – 1912, A Political History. Tucson, University of Arizona Press, 1970.
Welch, Kenneth A. Phoenix - The City That Couldn't Be. Phoenix Magazine, October, 1970.
Wilson, Roscoe C. Ruin, Soldier's Grave Mark Culling's Well. Arizona Republic Newspaper, Phoenix, January 28, 1951.
Old Newspapers Yield Wealth of Information. Arizona Republic Newspaper, Phoenix, April 9, 1961.
Youth's Companion. A Desert Lighthouse. The Arizona Graphic. Phoenix, March 3, 1900.
ACKNOWLEDGEMENT:
Gratefully acknowledge Mary Hernandez and family, for giving approval to the Arizona Pioneer & Cemetery Research Project (APCRP) to publish this wonderful historical writing on Culling's Well, Authored by her late husband Carlos L. Hernandez.
Arizona Pioneer & Cemetery Research Project
Presentation
Version 101107
All Rights Reserved © 2007 APCRP
WebMaster: Neal Du Shane
n.j.dushane@comcast.net