HOME | BOOSTER | CEMETERIES | EDUCATION | GHOST TOWNS | HEADSTONE
MINOTTO | PICTURES | ROADS | JACK SWILLING | TEN DAY TRAMPS
Arizona Pioneer & Cemetery Research Project
Internet presentation
121310-2
CERBAT GHOST TOWN AND CEMETERY
By Kathy Block,
APCRP Historian
<![if !vml]>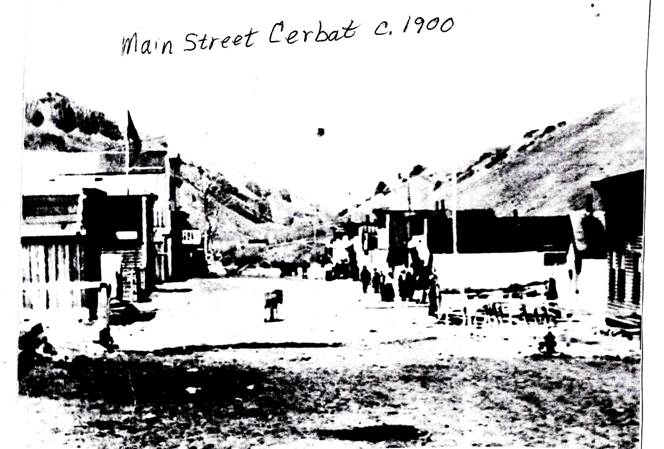 <![endif]>
Cerbat c.1900. Courtesy Mohave Museum of History and Arts, Kingman
Cerbat Cemetery hides amid clumps of cactus and brush slightly southwest of the ruins of the old mining town of Cerbat.  The name "Cerbat" means "Big Horn mountain sheep" in a Native American language. These sheep once were common in the area.  The area and town has a turbulent history, reflected in information about some of the people buried in this cemetery! There were murders, suicides, and a hanging
The town of Cerbat had its beginnings in the Cerbat Mountains about 15 miles N.W. of Kingman, Arizona.  Gold and silver deposits were discovered in the 1860's in this range that lies directly east of the 130-mile long Black Mountains range. The two ranges are separated by the Sacramento Valley, which becomes the Detrital Valley further north between the Black Mountains and the White Hills. These valleys drain to the northwest into southern Lake Mead near Temple Bar.  The Cerbat range is 23 miles long trending slightly northwest/southeast. A series of peaks towards the southern end of the range includes Packsaddle Mountain at 6,431 feet and Cherum Peak at 6,983 feet. The northern section is now Mount Tipton Wilderness, with 7,148 foot high Mount Tipton.
<![if !vml]>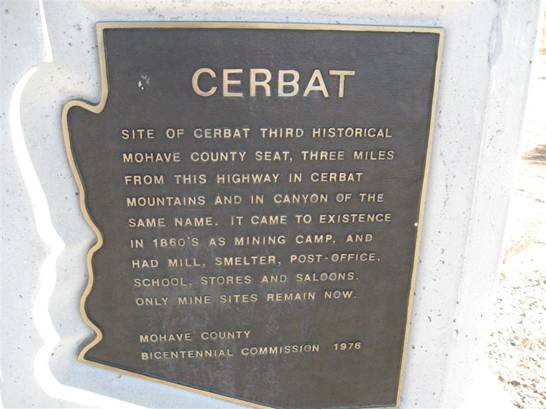 <![endif]>
Sign along highway 93
Photo courtesy Ed and Kathy Block
<![if !vml]>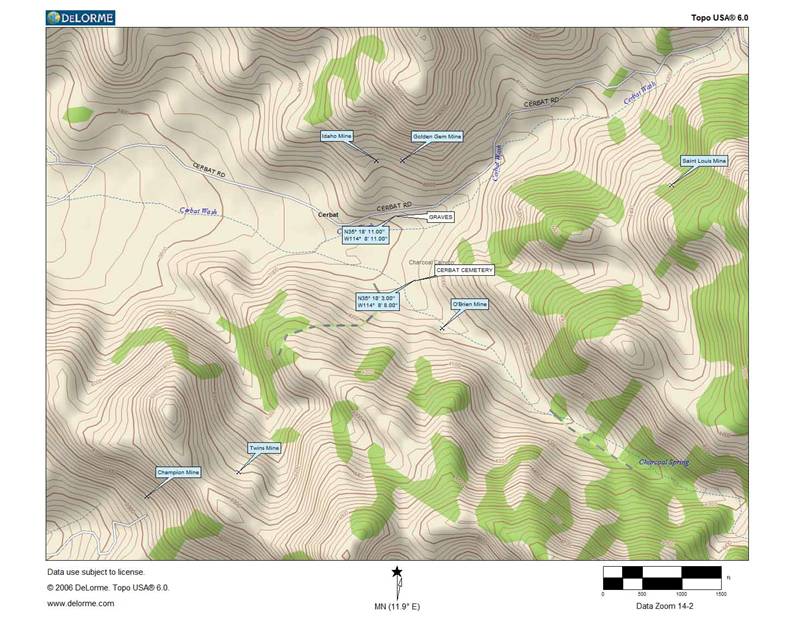 <![endif]>
Map by Neal Du Shane
As prospectors gradually settled and mined in the area, Cerbat mining camp began to take shape in  remote Cerbat Canyon running west from the mountain range. The town was reached by a three hundred mile steamboat trip up the Colorado River to Hardyville, then by stage over a wagon road for thirty-eight miles.  By 1872 population had grown enough that a $6,000 dirt road was carved over the pass to bring Cerbat residents closer to Fort Rock, Camp Hualapai, Williamson Valley, Prescott, and civilization to the east. In 1884 the California and Arizona Stage Company, run by James Stewart, made weekly runs to Prescott to Hardyville via Mineral Park (to the north), and Cerbat, and to the south of Chloride. The routes used two toll roads, the Fort Mohave and Prescott Toll Road and the Mineral Park and Hualapai Valley Toll Road as a direct route thru the Cerbat Mountains to Mineral Park, then crossed Sacramento Valley, west to Union Pass, and on to Hardyville.
<![if !vml]>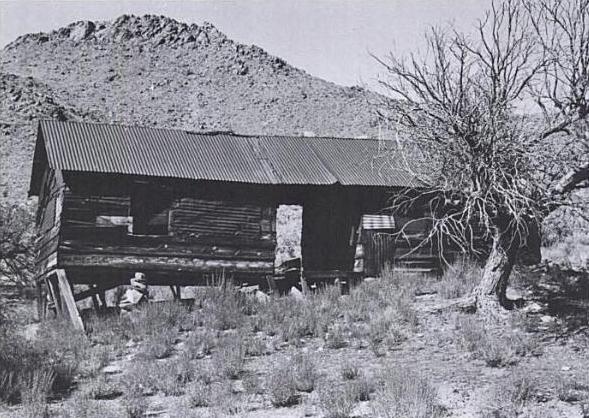 <![endif]>
Post Office Courtesy Mohave Museum of History and Arts, Kingman
Mines began to open, including the Esmeralda, Golden Gem, and Vanderbilt. There were enough inhabitants of Cerbat for it to be the third Mohave County Seat in 1871, but the town lost it in 1877 to nearby Mineral Park. (Now it is in Kingman.) From June 25, 1890 to October 24, 1902, the town was known as "Campbell."  A post office was opened in Cerbat on December 23, 1872.  On July 12, 1877, the Mohave County Miner printed a letter to the editor that complained that the county had contracted with a "gentleman" to carry the mail from Aubrey to nearby Mineral Park for $1,750 per year. The steamers had refused to carry any more and the contractor refused to carry mail to Mineral Park,(and possibly to Cerbat also) so "we are without mails and if we cannot get all that is due we had better have none." The postmaster had the right to sort out and throw out mail, and the contractor could refuse to carry only a part." The writer called for an investigation! When the population declined as the mines closed, the post office was discontinued on June 15, 1912.  Although Cerbat had cabins for about a hundred residents and was very isolated, it managed to have two doctors and two lawyers. One of the recorded burials in the cemetery was Amos Johnson, 1823-1888, who was a lawyer and also a Justice of the Peace in Hackberry. Miners and their families were served by merchandise stores, saloons and shops. Two merchants are on the cemetery roster: William Jones, merchant, and George R. Musser, who was a manager of Taggart Mercantile. Today, the only stone building amid crumbling foundations dug into banks and along the wash is the old jail. Before you reach the site of Cerbat, there is an old ore processing mill on the west side of Cerbat Road.
<![if !vml]>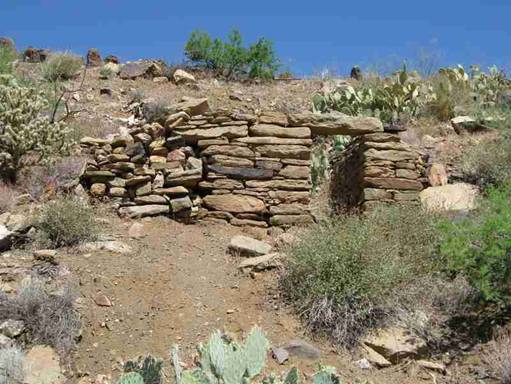 <![endif]>
Photo by Ed Block, Ruins of stone jail building NE of cemetery
The mines in the Cerbat area were very productive, giving miner's money to spend in town. An early report from 1876 noted that there were many mineral veins of great extent and richness in the Cerbat Mountains. The mineral lodes weren't as large as further south, but extremely rich. Some of the veins were argentiferous galena, but there were also lodes of gold and silver, some as wide as ten to one hundred feet wide.  The main mine near town was the Golden Gem. Its head-frame and shaft are on a hill just below Cerbat Canyon where the town was located.  Workings included a 435 foot deep shaft with about 1,200 feet of tunnels and stopes on the 130 foot level only. There was also a steam-powered arrastra. The dangerous, unfenced shaft, is below the ruins of the head-frame.
<![if !vml]>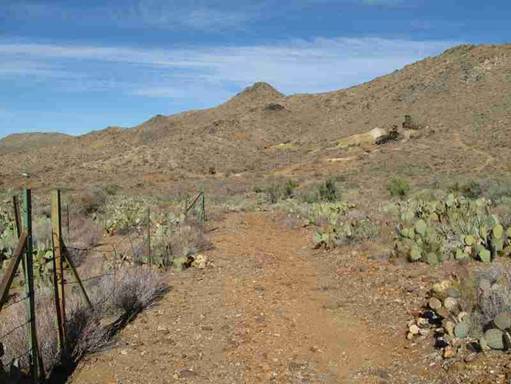 <![endif]>
Photo by Kathy Block
Ruins of Golden Gem mine above turnoff to Cerbat Cemetery
Mining continued into the twentieth century. Between 1871 and 1907, the Golden Gem Mine produced $400,000 worth of gold, silver, lead and zinc. Other important mines nearby that contributed to the support of Cerbat were the Idaho, Flores, Night Hawk, and Big Bethel. A company on the Internet offers old mining stock certificates and books for sale. Some for Cerbat included Altata Mining Company that operated on a regular basis after the railroad to Chloride was completed in 1899. In 1909, one could buy a $25.00, 5 year, 6 percent first mortgage gold bond. It is now for sale for a $50 to $100 bid!  A company called Grand Cons Development Co. in Kingman had claims near Cerbat. Assays in 1908 reported 70 percent lead, 12 ounces silver, and $11.00 gold per ton. But the company was idle in 1910. One final company to mention was the Horseshoe Gold Mining and Milling Company. In 1907 its Esmeralda mine near Cerbat produced $90,000 in ore consisting of pyrite and chalcopyrite with gold and silver. One carload of concentrates shipped from the mine reportedly ran 13.42 ounces of gold and 40 ounces of silver to the ton!
Mining was very dangerous work, sometimes associated with murder and suicide! Seven of the known burials in Cerbat Cemetery were miners, who often died of silicosis, usually diagnosed then as "pneumonia" or   "consumption". One miner, James Stewart, was a laborer who was "crushed in a mine accident" in 1907 according to his DC.  The stress of mining led to 2 suicides listed on DCs among those on the roster. The DC of Juan Mannique noted, morbidly, that he died, June 16, 1912,  of a "pistol wound of the brain inflicted by party unknown to jury." Another miner, Manuel Villa, was murdered in August 30, 1901. An interesting news article from the Mohave County Miner, June 1, 1912, reads: "Archie Monroe, a well known miner of the Cerbat section was declared insane by the probate department of the Superior Court late last week and he was taken to Phoenix....The poor fellow had suicidal tendencies and had he not been restrained, it is probable that he would have killed himself." His DC shows that he died in the Arizona State Hospital, from TB, age 45, on Dec. 29, 1914, having been at place of death "2 years, 7 months, 2 days." The single white miner was buried in the "Asylum Cemetery."
A violent murder resulted in the hanging of Michael DeHay in Cerbat on January 14, 1876.  H.C. Hodge, a reporter for the Miner newspaper in Prescott, interviewed the condemned man the day before he was hanged. The story was "Confession of murderer, Michael DeHay of Cerbat, AZ, 1876"  A few highlights from this article give the flavor of those early violent times.
Michael DeHay began by describing his early life in various mining towns in  California, Nevada, and Arizona.  He was born in Mongoup, Sullivan County, New York on April 10, 1830, and was 45 years old on his last day of life. In 1850 he crossed the plains to California.  In Wisconsin, on a return trip to the Midwest, he met and married Esther Hemstock in 1856.  The tragedy began in August 1875. His wife "had left my home, taking with her my children, team and wagon and most of my household goods, and had started towards Arizona with a Mr. Suttonfield (from Nevada), an entire stranger to me, and who I learned had camped for a few weeks on my ranch."  When the deserted husband pursued the pair, "My first and great object in following was to get possession of my dear children. I passed them at Chloride, six miles from Mineral Park, where they had camped." He went on to explain, "Had I then followed the dictates of my almost crazed brain, I should have then and there stopped and shot both the man and woman who had, as I felt, brought ruin on both myself and children, but my better judgment prevailed and I went on to Mineral Park." There, he met with a lawyer, but nothing came of it. He then got a house, in Mineral Park, went to work in a mine, and bought provisions. His wife and children moved into his house, but things were not as they had been. He "tried by every means to induce my wife to live with me as before and was willing to forgive the past. To all my appeals she turned a deaf ear, continually declaring that she never would resume her marital relations with me."
A few days later, he learned she was visiting Suttonfield at his house. "This continued pressure upon my mind affected me both by day and night."  The night he murdered his wife, "I was completely weighed down with trouble and sorrow, and being suddenly awakened from my troubled sleep, saw, or thought I saw, my wife standing over me with a butcher-knife in her hand. She had been sleeping in one room in our only bed with some of the children and I in an adjoining room on the floor."
Then, DeHay jumped up, "clutching my revolver, which was under my head  and rushed after her into her room. She jumped into the bed and curled down, and I, in my frenzy, fired at her and drew her out on to the floor. When I saw the blood, and saw what I had done, I was horror-struck and rushed out of the house, determined to take my own life."  He fired his pistol into his breast twice and ran into a hay-loft. He claimed "at the time I committed the deed, my brain seemed to be on fire and that my head was the center of fire and maddened frenzy."
DeHay mused that he'd never thought of murdering his wife, but "I had at times meditated on revenge upon Suttonfield, as I felt he was the cause of all my misery." His final statement before he was hanged in Cerbat was, "I make this statement with a full knowledge that my end is drawing nigh, and that another day will launch me into eternity, where I shall meet my Maker face to face. I forgive all who have wronged me, as I hope myself to be forgiven by a kind and merciful God."
I could not find a DC for DeHay or his wife. On the LDS genealogy site I did find a George W. Suttonfield and his wife Sarah listed on the 1880 census as "keeping station" and "housekeeper" at Mountain Springs Station, near Kingman.  She was from England, age 40, born in 1840 and he was from Indiana, age 54, born in 1826. Whether he is the same adulterous man can't be determined, but he had an unusual name!
Cerbat Cemetery, the final resting place of many who met a violent end, has 17 documented burials on the roster, out of at least 21 "detected graves" in April 2001 when it was visited by site stewards. Seven of these are members of the Jones family.  The "patriarch" was Reese Morgan Jones.  He was born on February 23, 1832, in Glamorganshire, Wales, and died in Cerbat on February 11, 1902, of pneumonia. He was a pioneer in the area and a miner. His wife, named Lucy Farrell, was from Lawrence, Arkansas. He had at least 3 sons and 2 daughters who were buried at Cerbat cemetery. He may have had more children. One daughter, Lucy, was born on February 19, 1890, and died July 10. 1892.  Reese and Lucy are the only two intact headstones in the cemetery and are placed back to back. The markers have been invaded by cactus and are quite cracked.
| | |
| --- | --- |
| <![if !vml]><![endif]> | <![if !vml]><![endif]> |
L, Reese Jones, father of Lucy Jones - R, Lucy Jones, buried behind Reese
Photo's courtesy Ed and Kathy Block
One of Reese Morgan Jones' sons was William, born in 1885. He was married to Florence Ida Shull and had at least eight children.  The last  child recorded was born in 1929 when William was 44 years old.  William was a merchant.  Some of Reese's grandchildren went on to marry into the Cornwall family, who are buried at Sandy (or Wikieup) Cemetery.  Some of the Jones family eventually moved to Chloride. While living in Cerbat, the large family was crowded into a stone cabin.
<![if !vml]>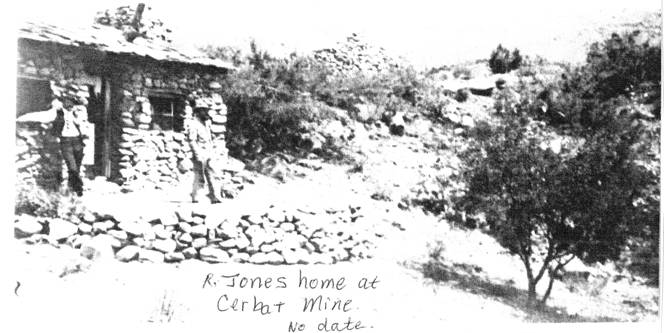 <![endif]>
Jones home at Cerbat Mine, no date
Courtesy Mohave Museum of History and Arts, Kingman
<![if !vml]>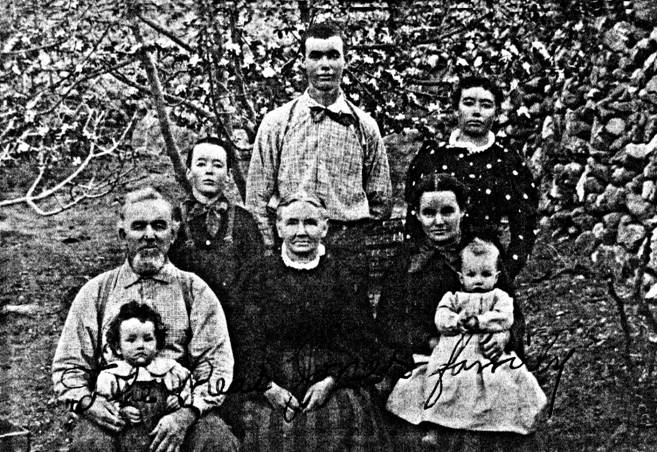 <![endif]>
Photo of Reese Morgan Jones family, taken possibly around 1900? 
Courtesy Mohave Museum of History and Arts, Kingman
Left to Right: Back Row: William Jones (aka Willie) young boy; Alvah Thomas Jones; Clara Baldridge; Morgan Jeffries Jones. Front Row: Reese Morgan Jones (the family patriarch); Lucy Ferrell Lawrence (Lawrence is maiden name) Jones.  No names of the little children. (Courtesy librarian, Mohave Museum of History and Arts.)
Cerbat cemetery is extremely derelict.  Large prickly pear cactus and catclaw bushes make research virtually impossible. Ed and I both were picking cactus spines out of our legs for days after our visit. I was only able to approach nine of the graves for research!  A fence erected by BLM surrounds the irregularly shaped cemetery, and a gate on one side along a washed-out track gives access to a crude path to the graves of Reese and Lucy Jones.
<![if !vml]>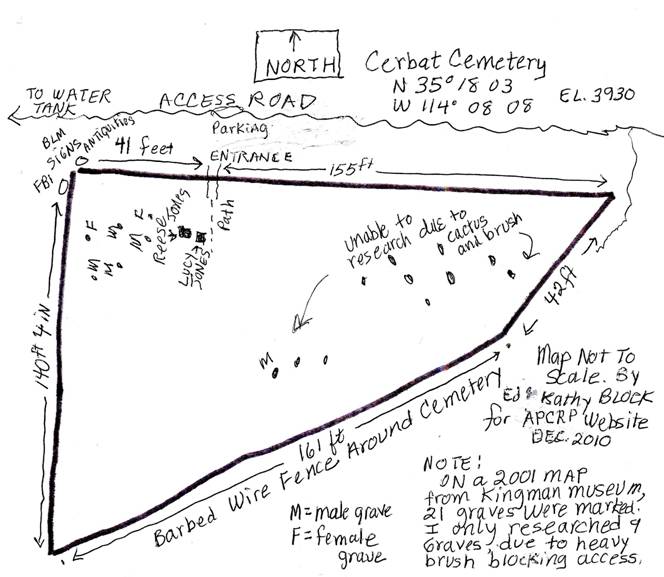 <![endif]>
Map of Cerbat Cemetery. By Ed and Kathy Block
On two sides of one corner are placed by a site steward. One reads: "FBI Investigates Thefts of Government Property. The theft, embezzlement, illegal possession or unlawful destruction of any property belonging to the United States Government or being manufactured under contract for the government is a Federal violation punishable by a maximum penalty of 10 years in prison and at a fine of $10,000. A THEFT FROM YOUR GOVERNMENT IS A THEFT FROM YOU. NOTIFY THE FBI IMMEDIATELY OF ANY VIOLATIONS. To contact the FBI, consult page one of your telephone directory."
The other sign reads: "U.S. Department of the Interior. BUREAU OF LAND MANAGEMENT. NOTICE. You are on Federal lands. Cultural resources in the vicinity of this notice are fragile and irreplaceable." …."Penalties prescribed by law may be up to $250,000 fine, imprisonment, for up to six years or both. Forfeiture of vehicles and equipment and other civil penalties also may be imposed.  Permits to excavate or remove artifacts can be issued only to qualified persons for the purpose of furthering knowledge in the public interest." In an earlier contact with the site steward when I unsuccessfully tried to get directions to Cerbat Cemetery, he was quite worried about vandalism or grave digging (which is an Arizona Urban Legend)!  As you can see in the photos, this would be extremely difficult and unlikely!
| | |
| --- | --- |
| <![if !vml]><![endif]> | <![if !vml]><![endif]> |
| <![if !vml]><![endif]> | <![if !vml]><![endif]> |
UL, Signs on fence. UR, Fence around cemetery, showing gate, surrounding cactus and brush.
LL, Plants like the graves. LR, FBI sign.
Here are directions to Cerbat Cemetery. A high clearance vehicle is necessary, and even 4x4, if you drive all the way to the cemetery gate!
From Highway 93 that goes between Kingman and Hoover Dam, turn east at Milepost 62, where there are signs for a "Historical Marker." The marker reads: "CERBAT. Site of Cerbat third historical Mohave County seat, three miles from this highway in Cerbat Mountains and in canyon of the same name. It came to existence in 1860s as mining camp, and had mill, smelter, post-office, school, stores and saloons. Only mine sites remain now. Mohave County Bicentennial Commission. 1976." Go .7 mile and go left at a fork instead of straight ahead.  Travel another .6 mile and go right, instead of straight ahead. At a ranching/mining site, turn left.  There is a faded sign on your right as you approach the junction that says "Cerbat" with a left-pointing arrow. Follow the increasingly rough road another 2 miles, past an old ore processing plant on your right.  You will come to a junction below the ruins and head-frame of Golden Gem Mine. Turn right towards a visible cattle watering tank. Unless you have an ATV or 4x4, stop and park at the edge of a steep rocky track that goes into a wash and walk from there. Go about 1/4 mile to the cattle watering tank, which is on your right.  Turn left immediately in front of it on a badly washed out track.  About 150 yards ahead, on your right, is the gate that goes into Cerbat Cemetery.
| | |
| --- | --- |
| <![if !vml]><![endif]> | <![if !vml]><![endif]> |
L. You may want to walk from cattle tank. R. Road up from wash.
Cattle tank where turn left is in background.
Photo's courtesy Kathy Block
On a previous visit to unsuccessfully try to locate Cerbat cemetery, we may have found possibly eight or nine graves at the junction below the mine, on the southwest corner below the road.  I have located no information about them. They could have been graves of miners from the Golden Gem Mine?  More research is needed. We did not attempt further research during this visit, as a road grader had been working and mounds of dirt were piled over part of the area.
<![if !vml]>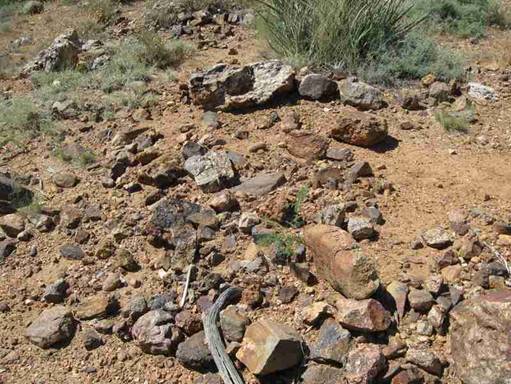 <![endif]>
Possible graves at junction to cattle water tank.
Photo courtesy Ed & Kathy Block
If you drive slightly further east on the main Cerbat Road into the canyon, you can park and explore the stone foundations and walls that were the town, and speculate on the lives and deaths of the isolated town of Cerbat. The road thru the pass over to the east side to the Hualapai Valley and Stockton Hill Road was in almost impassible condition at the time of our visit, with the wash filled with sand, debris, and boulders.  A bypass went sharply uphill to the left, but we did not attempt it with our 4x4 Toyota pickup.
Cerbat was briefly advertised for sale in 2007 as: "Ghost Town for sale in Cerbat, AZ. Historic old ghost town of Cerbat, AZ. Complete with mineral estate rights. Buildings, roads to properties, etc. Seller wants to sell unit complete. Can be used for a new RV resort, custom home sites, etc. Could also be used for alluvial sand & gravel pit." Fortunately, this million-dollar property was "off the market" in early 2010, so access to the cemetery should still be possible.
<![if !vml]>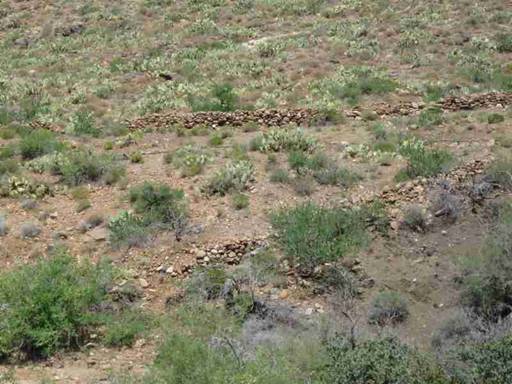 <![endif]>
Ruins at Cerbat
Photo Courtesy Ed & Kathy Block
Arizona Pioneer & Cemetery Research Project
Internet presentation
121310-2
WebMaster: Neal Du Shane
Copyright © 2010 Neal Du Shane
All rights reserved. Information contained within this website may be used
for personal family history purposes, but not for financial profit of any kind.
All contents of this website are willed to the Arizona Pioneer & Cemetery Research Project (APCRP).
HOME | BOOSTER | CEMETERIES | EDUCATION | GHOST TOWNS | HEADSTONE
MINOTTO | PICTURES | ROADS | JACK SWILLING | TEN DAY TRAMPS