HOME | BOOSTER | CEMETERIES | EDUCATION | GHOST TOWNS | HEADSTONE
MINOTTO | PICTURES | ROADS | JACK SWILLING | TEN DAY TRAMPS
Arizona Pioneer & Cemetery Research Project
Internet Presentation
Version 012009
AGUA CALIENTE CEMETERY
By: Kathy Block
Agua Caliente is Spanish for "hot water". Various peoples, beginning with Native Americans, Spanish missionaries (in 1748 and 1750), King Woolsey (a prominent landowner and resort developer in the late 1800's), miners, cowboys, all enjoyed the hot springs and facilities were added for their comfort. By 1870 there was a ranch and resort and hotel. One famous guest at the hotel was Arizona's first governor, George Hunt, in the late 1800s. Farmers irrigated crops from the waters also.
<![if !vml]>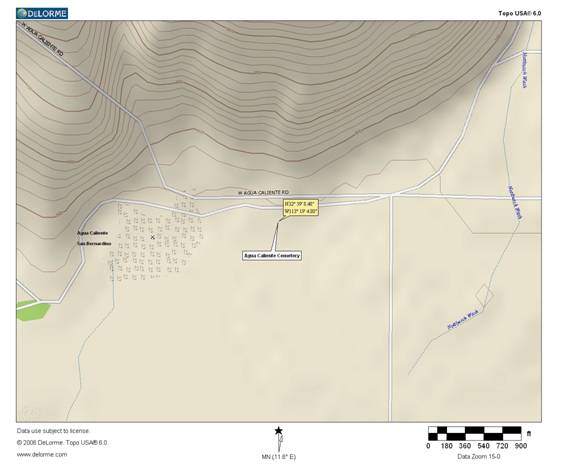 <![endif]>
The resort faded until WWII when a swimming pool was constructed for military officers who used the resort. After this, though, the resort continued to decline. Causes of the decline were mainly the bypass of Agua Caliente by the Southern Pacific Railroad, Arizona State Hwy. 85, and I-8. Also the water dried up from either over-irrigation or that the springs were destroyed when developers blasted to expand the resort area.
Today you can see the ruins of the 22 room hotel, crumbling buildings. Access changes, it was posted and gated when we visited there approximately in 1998, but some recent web sites suggest one can again explore the ruins.
Fourteen miles NE of Agua Caliente is the ghost town of Sundad, once a mining settlement. The only remains are small foundations, mine shafts, and unique rows of light colored rocks laid out to spell the name "Sundad" that also line pathways and depict arrows and other symbols.
<![if !vml]>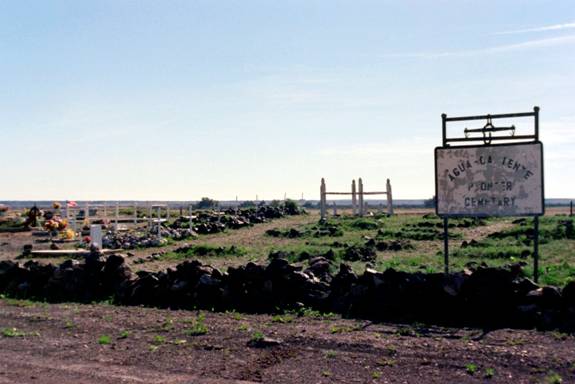 <![endif]>
Agua Caliente Pioneer Cemetery, Agua Caliente, Arizona
The Agua Caliente Pioneer Cemetery is on a built-up mound on the south side of the Old Agua Caliente Highway. Directions to access: Take Exit 87 off I-8 (Sentinel), go north 10.6 miles to Agua Caliente. Turn west on the blacktop road the cemetery is .6 mile. The defunct hot springs are one mile further west past the cemetery.
The cemetery has 116 total interments, 71 of which are unmarked graves, with at least 45 marked graves and the cemetery is still used. Some of the burials have U.S. Military headstones.

The earliest grave is 1896 of Roman Amavisca and the most recent is 2007 of Joseph Amavisca, a US Navy veteran, Vietnam.
<![if !vml]>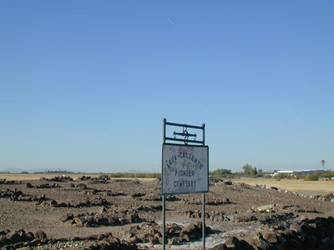 <![endif]><![if !vml]>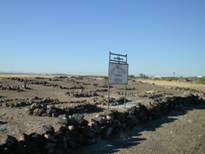 <![endif]><![if !vml]>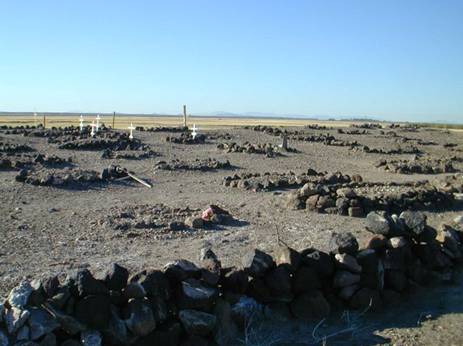 <![endif]><![if !vml]>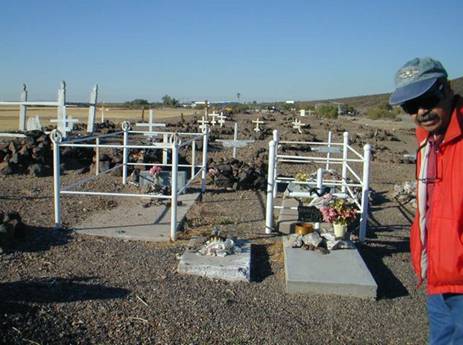 <![endif]>
Agua Caliente Cemetery, Ben Loucks c. 2003
An obituary for Joseph Ray "Peewee" Amavisca in the Yuma Sun, April 17, 2007, is rather interesting. When he was born in Yuma on December 2, 1941, he was so small he fit in a shoe box. His uncle Enes Amavisca cupped the newborn in his hands and said, "He sure is a pee wee." The nickname lasted. Joseph was raised part of the time in Yuma as well as on the family's cattle ranch in Agua Caliente and surrounding areas. He was buried with his ancestors who raised cattle along the Gila River in the 1800s, including his parents, brother, aunts, uncles and other family members, most with the last name of Amavisca. One can speculate that from the first burial of Roman Amavisca that this cemetery may have begun as a family cemetery.
One headstone is for Steven Duane Eddy, who died at age 22 (Feb.27, 1952 to May 22, 1974.) Photo of the headstone shows a nice carving with a saguaro cactus on the left, a mountain in the center, and an elk on the right. Below the name and dates it says: "Came to Hyder in '65. Didn't leave here alive. RIP. Steven."
<![if !vml]>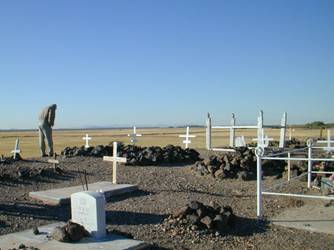 <![endif]><![if !vml]>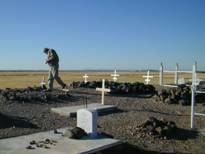 <![endif]>
Agua Caliente Pioneer Cemetery, Larry Behrens c. 2003
Photographs Courtesy: Richard Pierce
Arizona Pioneer & Cemetery Research Project
All Rights Reserved – © APCRP 2009
WebMaster: Neal Du Shane
Copyright © 2009 Neal Du Shane
All rights reserved. Information contained within this website may be used
for personal family history purposes, but not for financial profit of any kind.
All contents of this website are willed to the Arizona Pioneer & Cemetery Research Project (APCRP).
HOME | BOOSTER | CEMETERIES | EDUCATION | GHOST TOWNS | HEADSTONE
MINOTTO | PICTURES | ROADS | JACK SWILLING | TEN DAY TRAMPS