HOME | BOOSTER | CEMETERIES | EDUCATION | GHOST TOWNS | HEADSTONE
MINOTTO | PICTURES | ROADS | JACK SWILLING | TEN DAY TRAMPS
Arizona Pioneer & Cemetery Research Project
Internet Presentation
Version 052510LBB
ANNIE NARRON - SEE
Died May 18, 1892
Spring Creek, Gila County, Arizona
By Loren and Betsy Bykerk
Annie was murdered in the backyard of her brother in law, William Gaan. Located at Spring Creek, Salt River area and was buried there until weather changed to winter and they were going to bury her in the Globe, AZ Cemetery. Research has not revealed a record that can verify she was exhumed from this grave and reinterred in the Globe Cemetery.
<![if !vml]>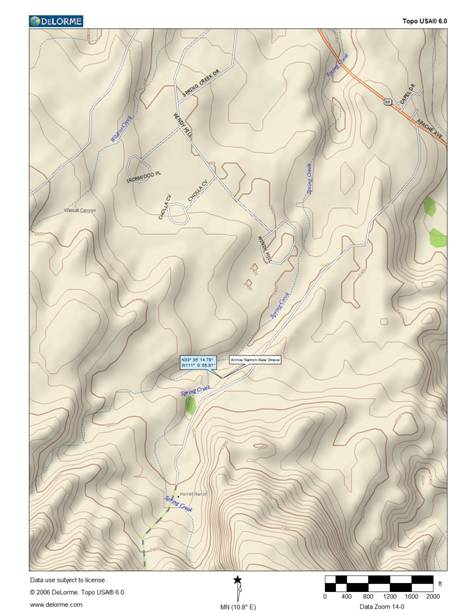 <![endif]>
Map by Neal Du Shane
Loren and Betsy Bykirk visited old friends that now live at Lake Roosevelt in 2010.  While out on our trail rides, he took us to the grave-site of Annie See, not too far from his home.  If you are not familiar with Annie's incidence here is what I've been able to research to this point.
John and Annie were married in California in 1867. They had a child by the name of Charles Frank See, born on May 17, 1890 in Gila County, Arizona.
In 1892 John and Annie See were husband and wife, John came home to discover that a man had been there visiting during his absence which caused Annie to be late milking the range cow.  John assumed the worst, went into the house, got his gun and fired two shots, killing Annie.
Her brother and sister-in-law were there but didn't actually witness anything except for the flashes from the pistol (it was dark).
<![if !vml]>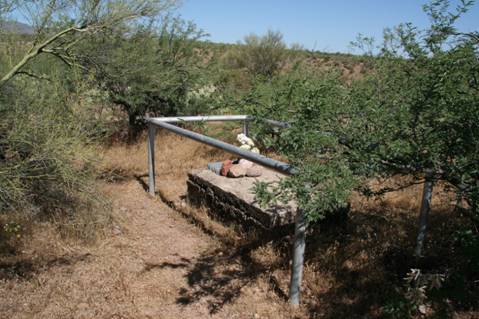 <![endif]>
Lone Grave of Annie Narron-See
Photo by: Loren Bykerk
Her maiden name was Annie Narron and she was shot to death by her husband, John Morgan See on May 18, 1892. John promptly fled to Mexico, and supposedly changed his name to John Moreno, remarried and raised a family. 
Link to a genealogy website that has her listed.
http://wc.rootsweb.ancestry.com/cgi-bin/igm.cgi?op=GET&db=:2519739&id=I553157422
Herson is said to have placed the cement, and the forest service I'm told placed the iron pipes around it.
Loren & Betsy Bykerk
Arizona Pioneer & Cemetery Research Project
Internet Presentation
Version 061210GB
The Annie See Story
6/12/2010
By George (Andy) Brunson
Annie See was born Nancy Ann Narron to John Calvin Narron and Angelina J. Adams in 1871 in Missouri. The actual date seems to be lost to history.
As the family grew to include her older sisters Mary E. Narron (born 1867) and Martha Alice Narron (born 1868) who were both born in Missouri as was Nancy Ann.
Then the family starts moving west to Kansas where William S. Narron (born 1875), Lillie E. Narron (born 1877) and Merty L. Narron (born 1879) were all born.
The family again moves west where they find themselves up near Slate Creek near the junction of Tonto Creek north of Globe, Arizona when Nancy Ann's sister, Martha, marries William Thomas Gann on Jan 9, 1887 and moved to his ranch on Spring Creek.
The See family also started out in Missouri but were in California where most of the children were born. Robert Lee (born 1863), Emma J. (born 1865), John Morgan (born 1867), Ida May (born 1869), Louisa L. (born 1872), Mary Ellen (born 1873), Elizabeth Marion (born 1874), Fannie Amelia (born 1877), Clara Rebacca (born c1881). Then after the move to Tonto Beulah Belle was born in 1883.
John Morgan's dad, John Shelby See and his wife Louisa Costley apparently had a small hay ranch somewhere near the box of the Tonto as this was where most of the folks on the north end of Tonto Basin lived at that time. The other areas folks lived in were a town called Grapevine and another called Livingstone. Livingstone was at the mouth of Pinto Creek and junctioned with Salt River and Grapevine was about half way between Livingstone and the Junction of Salt River and Tonto Creek. All these places were pretty much covered or destroyed by the building and filling of Roosevelt Dam.
Then, on the 2nd of March, 1889, Nancy Ann finds herself in Globe applying for a license to marry one John Morgan See.
He is 22 and she is 18 when they go before Justice of the Peace Job Atkins in Globe to marry.
It appears they moved to a small place in either Grapevine or Livingstone where they started their married life.
A son, Charles Frank See was born at Livingstone on 17 May, 1890.
It now appears that there were some problems in the marriage whether it is actual or assumed but there was considerable friction between Annie and John.
Annie finally left John and, according to the Arizona Silver Belt of May 21, 1892, "Mrs. See had separated from her husband some time before, owing to his profligate habits, his association with various characters and for abusive treatment and failure to provide for her and her child. Her refusal to live with him longer is supposed to have been the motive that prompted him to commit the cowardly and brutal murder. He had followed his wife from place to place, importuning her to live with him, and failing to regain her favor he determined to kill her."
From the same article in the Silver Belt we find the following:
"All the circumstances connected with the dreadful crime show conclusively that it was premeditated. For several days he had been hanging around the Gann place, where Mrs. See was staying with her sister. On Wednesday evening when the supper hour arrived he was asked to join the family at the table, but declined, and remained outside near the corral, evidently having decided upon the milking hour as the most favorable time for the perpetuation of his fiendish crime. He had secreted his pistol in the corral, and when Mr. Gann, Mrs. Gann and his unsuspecting victim came out to milk he proffered his assistance.
They had milked two or three cows when, unobserved, See secured the pistol and approached his wife. No word was spoken by either party, so far as we have learned. Mrs. Gann looked up from her milking when See was on the point of firing his first shot. He was only a few feet from his victim and his aim was unerring. The bullet entered the left side in the region of the heart, passed through the body and broke the right arm. The shot was instantly fatal, as Mrs. See sank to the ground without uttering a sound, but to make his diabolical purpose doubly sure, the fiend fired a second time, the ball taking effect in the abdomen."
The following articles are provided to show the local attitudes:
MRS JOHN SEE
Arizona Republican Newspaper
May 21, 1892
Globe--The horrible murder committed on Salt River Wednesday evening has created great excitement here. All the men on the river have joined the pursuit and if captured, the murderer, See, will probably be lynched.
Great indignation was felt when the news was brought to Globe of a terrible murder which was committed on Salt River. John M. See shot and killed his wife at the residence of her
brother-in-law, Mr. Gann. See, who is a worthless scoundrel has not lived happily with his wife and some time ago, exasperated by his cruelty she left him and at the time of her death was living with her sister, Mrs. Gann. See hung around the house all day trying to have her go back to live with him but she refused.
About 6 o'clock she went to the corral to milk and while she was thus engaged See came up behind and shot her twice. The first bullet entered over the heart and the second entered at the pit of the stomach. Deputy Sheriff George Pemberton left for the river yesterday morning. See was but recently released from jail.
Silver Belt, 28 May 1892, Globe, Arizona
W. H. Beard arrived from Tonto yesterday morning to engage the services of Indian trailers from San Carlos to assist in the pursuit of John See, the wife murderer. Sheriff Thompson had joined the pursuing party and the trail, supposed to be that of John See and his brother Bob, was discovered leading into the four peaks country, where trailers will be indispensable in following it. Two trailers were furnished by Acting Indian Agent Johnson, and arrived yesterday evening and left almost immediately with Mr. Beard for Tonto.
Silverbelt
June 4, 1892
Saturday
The father if John See, the wife murderer, is anxious to get out of the country. His principal possession is a quantity of hay and he offers to throw in his ranch on Tonto to the purchaser of the hay.
Silverbelt
June 4, 1892
Saturday
Sheriff Thompson, W'H' Beard and the Indian trailers returned from the Tonto country on Wednesday having abandoned the hunt for John See the wife murderer. See was trailed to his fathers place on Tonto and from there a trail supposed to be that of John and Bob See was followed down and across Tonto Creek and into the Four Peaks country. Rain, however, obliterated the trail before the Indian trailers arrived on the ground and it was useless to proceed farther into such rugged country.
Silverbelt
June 11, 1892
Saturday
PROCLAMATION OF REWARD
EXECUTIVE DEPARTMENT TERRITORY OF ARIZONA
To whom it may concern
Whereas, it has come to my knowledge that on the 18th (typo – should have been 28th) of May AD 1892 at Gann's Ranch on Spring Creek in the County of Gila, this Territory, one John M. See did brutally did murder his wife and did then make his escape to parts unknown and is now a fugitive from justice.
Now, therefore, I N.O, Murphy, Governor of Arizona, by virtue of the power and authority within me vested do hereby offer a reward of three hundred dollars for the arrest and conviction of the said John M. See the murderer aforesaid.
In testimony whereof I have hereunto set my hand and caused the Seal of the Territory to be affixed.
Done at Phoenix, the Capitol, this 1st day of June 1892
N. O. Murphy
Silver Belt, 10 June 1892, Globe, Arizona
$500 REWARD
The above reward will be paid for the arrest and conviction of JOHN M. SEE, who on the 18th of May 1892, willfully murdered his wife Mrs. Annie See, near Salt River, Gila County, Arizona.
Description:
Age about 24, height 5 feet 7 inches, weight about 160 pounds, chunky build and round shoulders, hair auburn, mustache light, eyes light blue or grey, complexion light, drinks moderately, chews tobacco and smokes cigarettes – gambles occasionally, speaks Spanish fluently.
I will pay ONE HUNDRED DOLLARS, in addition to the above reward for his arrest and delivery to me, anywhere in the United States.
Address all communications to
J. H. THOMPSON, Sheriff
Globe, Gila County, A. T.
John Henry (Rim Rock) Thompson was Sheriff at the time of this incident and, apparently unwittingly, became a part of it. The following is an excerpt from "Back Trackin" by Jynx Pyle in 2004:
"Thompson was elected sheriff of Gila County at the general election held Nov. 4, 1890. During his term, he was involved in some very eventful history.
On May 18, 1892, he stopped by the John See Ranch on Spring Creek to speak to John who had not paid a fine for shooting and breaking up a country dance. John was not there, so Rim Rock visited a few minutes with his wife, Annie See, who had a 6-month-old baby in her arms. Her sister and brother-in-law, Alice and W.F. Gann, were present, as well as her dad, J.C. Narron. Annie usually milked four cows each evening but hadn't done so because she had been talking to the sheriff. When her husband arrived home and found the cows not milked, he shot his wife twice, killing her instantly. Annie See was buried among the flowers on a mesa about a hundred yards from where she died. John See escaped into Mexico where he changed his name to Juan Moreno, married, and had two more children."
Noting that this was the same day she was shot and killed questions quite naturally came up relating to just how much did Rim Rock have to do with it!
Then, after checking with the Superior Court Clerk at the Gila County Courthouse and finding that the records of the case were 'sealed' this writer became even more curious!
All sorts of things ran through my mind so when, after two weeks, I was finally granted a hearing both the judge and I had somewhat of a dilemma – first because it was a 'Territorial' case and second no-one had ever asked about the case details.
At any rate this writer wishes to thank Judge Peter Cahill for his support and understanding and for opening up these 'sealed' records.
So, why were they sealed?
It seems that, in capitol cases, when the 'alleged' perpetrator is not served for a set period of time the case itself is sealed. Since John See ran to Mexico and no-one was ever served as well as no-one ever asking about the case it simply slipped into a hole!
In reality there wasn't hardy anything in the case file since it never went to court so pretty much all we have is the statement from the Grand Jury.
But, now we know the rest of the story!
What about 'Rim Rock' (the Sheriff) – did he do something he should not have – probably not since, according to Jynx Pyle:
"Thompson was appointed sheriff of Gila County. He took the oath of office on June 9, 1890. Gila County was still fierce, wild country. The Apache Kid, who had killed Sheriff Reynolds, was still at large. Rim Rock offered a $500 reward for him -- dead or alive.
In 1892, Rim Rock was again elected Sheriff of Gila County. During this term, he would deal with Phin Clanton, one of the surviving members of the notorious Clanton Gang. Old Man Nick Clanton and his boys had lived in Globe in the 1870s and knew the country well. After the shootout with the Earps and cohorts in Tombstone, Ike and Phin Clanton spent most of their time in Apache County, but they kept the trails hot between Tucson, Globe and Silver City, N.M. Lawmen killed Ike Clanton on Eagle Creek, and Phin was captured. After serving a term in Yuma Prison, he returned to Gila County. Thompson had a warrant for Phin's arrest for robbing Sam Kee, a Chinese gardener, at gunpoint. Rim Rock arrested Clanton at the Clanton Ranch in Globe, and he was released on bail.
In 1907, Sheriff Rim Rock Thompson prevented a mob lynching. About two miles east of the Roosevelt Dam, then under construction, lived Harvey Morris, his wife, Laura, and their five children. Laura baked bread and Harvey delivered it to stores at the construction camp. On Jan. 31, 1907, Laura Morris and her daughter, Arminta Ann (age 4 1/2), were home alone. They were brutally murdered with a knife.
Sheriff Rim Rock Thompson was re-elected to his seventh term in 1910 -- the same year another murderous incident occurred in Gila County -- the murders of 12-year-old Myrtle and 14-year-old Lou Goswick. These daughters of Wes Goswick were murdered on June 23, 1910, at Horseshoe Bend on the Salt River. The circumstances of the murders have been written about in an earlier Back Trackin' column (Jan. 21, 2004)) so I won't go into too much detail here other than to say that this incident created a lot of controversy and Sheriff Rim Rock Thompson was at the helm of law enforcement. The man accused of the murders, Kingsley Olds, was shot in his jail cell before he could be tried.
Sheriff John Henry "Rim Rock" Thompson was a colorful character and served as territorial sheriff longer than any other man in the United States. He should be remembered."
And, I am happy to say, this writer agrees with Mr. Jynx Pyle!
George A. (Andy) Brunson
To the best of my ability, it is believed this information to be accurate and factual however I am always receptive to clarifications and correction! Andy Brunson.
Version 061210AB
Arizona Pioneer & Cemetery Research Project
Internet Presentation
Version 052510LBB
Version 061210AB
WebMaster: Neal Du Shane
Copyright © 2010 Neal Du Shane
All rights reserved. Information contained within this website may be used
for personal family history purposes, but not for financial profit or gain.
All contents of this website are willed to the Arizona Pioneer & Cemetery Research Project (APCRP).
HOME | BOOSTER | CEMETERIES | EDUCATION | GHOST TOWNS | HEADSTONE
MINOTTO | PICTURES | ROADS | JACK SWILLING | TEN DAY TRAMPS