<![if !vml]>

<![endif]>
All Book Proceeds Donated To Arizona Pioneer & Cemetery Research Project for continued research.
Order Information At The Bottom.
This is a sample of some of the contents.
<![if !vml]>
<![endif]>
Neal Du Shane
Version 012208
TABLE OF CONTENTS
HISTORY OF COLUMBIA, ARIZONA. 7
COLUMBIA AERIAL PHOTOGRAPH. 16
MAP OF COLUMBIA AND AREA MINES – 2007. 19
JACK SWILLING KNOWN TO HAVE VISITED COLUMBIA  23
COLUMBIA - GRAVES AND CEMETERIES. 25
DEATH CERTIFICATE OF COLONEL C.W. NORTH. 27
ORVILLE PERRY – DEATH CERTIFICATE. 29
T H E   C O L U M B I A   M I N E S. 33
EXPLORATION OF HUMBUG MINING DISTRICT. 36
ECONOMIC GEOLOGY OF THE COLUMBIA CLAIMS. 42
RODNEY "PUG" DALTON JR. REMEMBERS. 58
TROY GILLENWATER - MEMORIES OF "CURLY" McKIBBY  72
BLACK ROCK & RED ROCK CLAIM'S. 74
CURLY'S HELICOPTER ENCOUNTER. 76
CURLY McKIBBY'S DEATH CERTIFICATE. 79
'Curly': introduction to the desert 80
GILLENWATER DONATES $1,000.00 83
HISTORY OF CHAMPIE SCHOOL 1928-1978. 92
COLUMBIA AND CLAIMS FOR SALE. 131



COLUMBIA

, ARIZONA
Volume One
Version 041113
Copyright © 2007 by Neal Du Shane
No part of this book or Website page may be reproduced, stored in a retrieval system or transmitted in any form or by any means, electronic, mechanical, photocopying, recording or otherwise, without permission of the publisher.
Published by: Neal Du Shane, Fort Collins, CO 80525
First Edition
Published in the United States of America
Cover: This is as Columbia, Arizona appeared in 2000. Photo was taken from the hill looking toward the north - northwest. Photo courtesy: Kevin Hart 
All buildings were destroyed shortly there after by the BLM.
Neal Du Shane has been researching ghost towns for 40 years. Living in Colorado has allowed him to vacation and explore in the mountains for 30 years. Neal spent the winter reading, researching and the summer physically locating these ghost towns and mining camps. In 2002 Neal retired and became an Arizona "Snow Bird." Getting into the backcountry is in his blood and research started immediately in the Southern Bradshaw Mountains. Neal has compiled and written on Countess Minotto, "Arizona's Time Honored Legend - Jack Swilling", Shoot Out at Tussock Springs, Tip Top, Arizona, Humbug, Arizona, Swansea, Harrisburg and now Columbia, Arizona. In addition more than 90 pioneer cemeteries and graves have been found and recorded. This list grows daily as we learn of these derelict locations. Neal says "If we don't preserve these historical museums of our heritage all information will be lost forever."
Neal and his wife, Joyce, founded the Arizona Pioneer & Cemetery Research Project (APCRP) in 2003 documenting, recording, restoring pioneer cemeteries and graves in Mitchell County, Iowa and in Arizona. Currently Neal and the APCRP team are researching and finding hard to locate and derelict grave sites of our pioneer heritage.
Historic Arizona information is presently posted on two web sites:
http://www.apcrp.org
http://n.j.dushane.home.comcast.net/
Please visit these sites and review the historic information compiled by APCRP.
Figure 1.
<![if !vml]>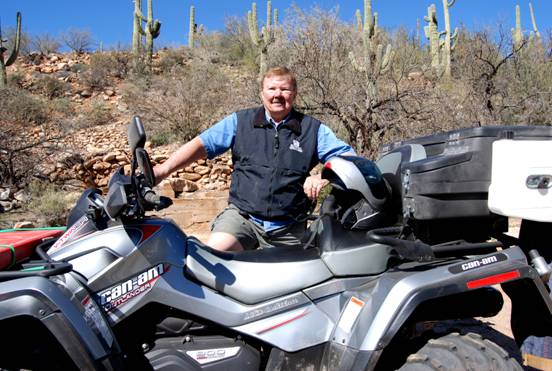 <![endif]>
Neal at Columbia, Arizona with his 2007Can-Am Outlander Limited ATV c. 2007.
Photograph courtesy: Bruce Colbert
<![if !vml]>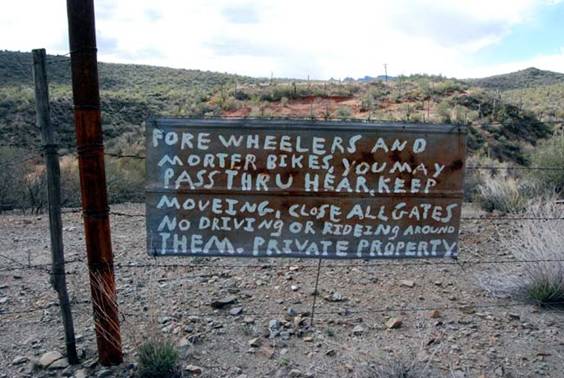 <![endif]>
Figure 2. Columbia is Private Property and posted. Any perceived theory on the sign painter's ability to spell does not diminish their ability to shoot trespassers. Photograph by: Bruce Colbert
Quote In-part: Robert W. Service, "The Spell of The Yukon"
I wanted the gold, and I sought it;
I scrabbled and mucked like a slave.
Was it famine or scurvy – I fought it;
I hurled my youth into a grave.
I wanted the gold, and I got it –
Came out with a fortune last fall, -
Yet somehow life's not what I thought it,
And somehow the gold isn't all.
There's gold, and it's haunting and haunting;
It's luring me on as of old;
Yet it isn't the gold that I'm wanting
So much as just finding the gold.
Arizona has been shaped by many cultures, inventions and events. Native Americans, Spaniards, Mexicans and Europeans are just a few of the cultures that have made their marks and their homes in the Grand Canyon State.
Pioneers, prospectors and miners came to this area in the 1850's exploring the region following in the foot steps of Spanish miners. Miners aban­doned the region by 1867 giving the name "Humbug" to the creek flowing out of the mountains. Humbug is an archaic term meaning "hoax", or "jest."
From 1882 thru 1934 there was sporadic mining in Humbug, Rockwall Gulch, Carpenter Gulch, Swilling Gulch, and Gold Hill Mountain. There were well over a hundred mines and claims, a few of which Dave Burns, historian and caretaker of Humbug, knows a little bit about.
The Beacon Light Mine has an extremely interesting history. The owner had a good mine although extremely inaccessible in Swilling Gulch. He owned the mine, store, saloon, whore house, and boarding house, all at the mine property. Not much money left the area except in his pocket. After he was done mining, he moved to Phoenix and started a Bank.

Other mines in the district were the Sidewinder that produced about 2,000 oz gold for Charlie Champie, Mountain Chief Mine produced about 5,000 oz gold for Charlie Champie, Little Annie Mine about 1,000 oz gold for Frank Hyde, Uncle Sam unknown amount in silver.

Lizzie Lee Mine (Figure 3), Acquisition Mine (Figure 26), Betty Lou Mine, Top Notch Mine, Gold Spring Mine, Little Joseph Mine, Crescent Mine were all producers, but Dave doesn't have figures on their production. There were many more that were only prospects.
Swilling Gulch was notable as there were at least 50 different mines and prospects there.
The first mining was in the late 1870's when placer miners worked their way up Humbug Creek and found some small lode deposits. This started a small gold rush.
Charlie Champie showed up around 1882 and worked up at Humbug. People came and went and mining continued until the mid 1930's.

The Little Joe mine was from the early 1930's. Newt White (Figure 26) worked there during the first phase of mining when Charlie Champie's grandson, Joe Stockdale, (according to Champie Family Historians, Joe Stockdale was Charlie Champies Grandson) was in charge. Joe lost the contract, however, and someone else took over. They moved to a different spot on the vein, and did quite well.

Records from the 1870's era are almost non-existent, just stories I heard from Newt. I don't know much about the Lizzie Lee mine near Lizzie Lee Spring, except that it had a reputation as a good producer.
Figure 3
<![if !vml]>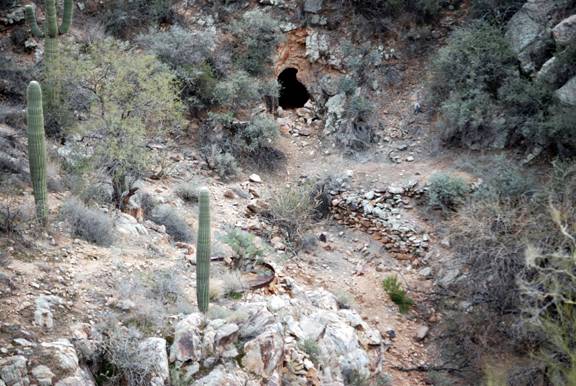 <![endif]>
Lizzie Lee Mine in Swilling Gulch. Photograph courtesy: Bruce Colbert c. 2007
Charlie Champie came to the area and developed placer mining at Humbug, Arizona then moving down stream on Humbug Creek a mile to a mile and a half, near the area of Columbia in 1882. Built a stone house and the Champie Mill on a peninsula about ¾ mile north of Columbia where the Humbug Creek and trail to Acquisition Mine turns Northeast. It is believed there is a cemetery at this location where his baby is buried with up to 4 or 5 other individuals buried there. 
Allan, Cordes, Clairann
Arizona Department of Mines and Mineral Resources
Arizona Pioneer & Cemetery Research Project (APCRP)
Arizona State University
Black Canyon Historical Society
Burns, Dave: Historian – Miner – Caretaker - APCRP
Cordes, Cathy – Historian - APCRP
Cordes, Claire Champie – Author - "Ranch Tails and Short Tales"
Dalton, Jr. Rodney "Pug" - Miner
Gill, Larry & Betty: Historian – Miner – Caretaker - APCRP
Gillenwater, Troy – Historian – friend of "Curly" McKibby
Grant, Gary – Historian – Pilot - APCRP
Hall, Allan – Historian - Author – APCRP
Hanchett Jr. Lee - Author
Hart, Kevin – Historian – Author - APCRP
Losee, Richard D. & Jo Ann
McBride, James – Historian - Arizona Mining
Tewksbury, Ann – Historian – Champie Family
Zarbin, Earl – Author - The Swilling Legacy
Please visit the Arizona Pioneer & Cemetery Research Project Web Sites to see other historical information on Tussock Spring, Tip Top, plus other interesting historical information relating to Pioneer Arizona etc. at:
http://n.j.dushane.home.comcast.net
 and
http://www.apcrp.org
The book contains 136 pages of history on Columbia, Arizona and surrounding area. Historical information on many of the local residents and miners in and about Columbia. Approximately 70 historic photographs. The book has earned high reviews from the people that have read it.
Books can be ordered by mail:
Neal Du Shane
Columbia Book
10729 W. Cinnebar Ave.
Sun City, AZ 85351-4610
$25.00 + $5.00 S&H = $30.00 per book
Make checks payable to: Neal Du Shane
Please allow 30 days from the time you mail your order for the book to arrive.